NFL Playoffs 2012 Schedule: New England Patriots vs. Denver Broncos [PREVIEW]
8:00 p.m. ET Saturday (CBS)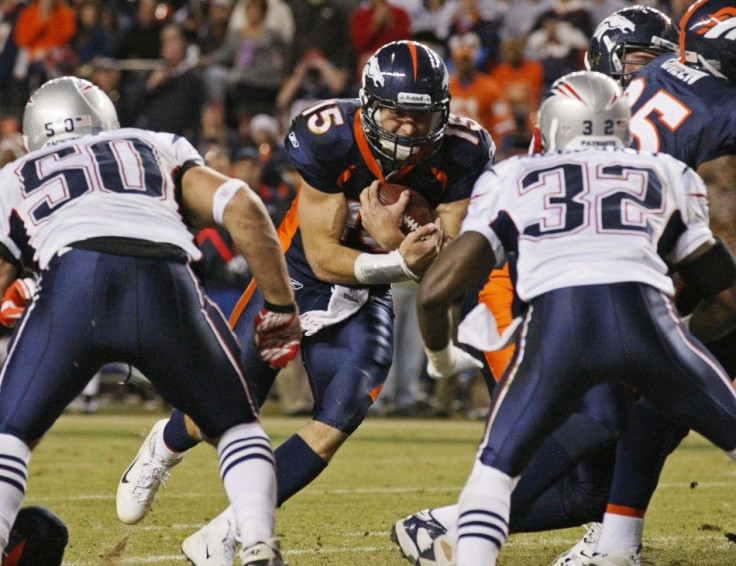 The Denver Broncos are heading to Foxboro, Mass., for a divisional playoff game Saturday against a New England Patriots team clicking on all cylinders, as the home team won its final eight games of the regular season. Meanwhile, Denver lost its final three games of the season, but was able to pull off an instant classic of a 29-23 overtime upset against the Pittsburgh Steelers and their first-ranked defense in a wild-card playoff game last Sunday.
Since being upset by the New York Giants in Super Bowl XLII in 2008, New England has lost both of its playoff openers, each of them at home. They are seeking to redeem themselves against a Broncos team that last made a deep playoff run in 2005, when it came to an end in the American Football Conference Championship Game against Pittsburgh.
Denver also is looking for redemption, as the Broncos lost to the Patriots, 41-23, on Dec. 18, In that game, the Patriots forced quarterback Tim Tebow to throw the ball and made him feel uncomfortable. As a result, he had just 11 completions for 194 yards and no touchdowns. New England's defense will likely implement the same game plan, but with one key change: safety help.
Tebow stunned the Steelers last week because he had four passes of at least 30 yards, including the game-winning, 80-yard bomb to wide receiver Demaryius Thomas on the first play of the overtime period. Because there were no safeties coming to help the cornerbacks practically all night, Tebow needed only 10 completions to amass his 316 passing yards and two touchdowns.
However, Patriot fans may mistrust the team's defense, which ranked 31st in the NFL this season. That unit has been notorious for giving up points -- and fast. As a result, it will be important for Denver to get off to a quick start. The Broncos won't give up their option plays, but every team and their mothers expect them. Tebow will have to disguise the offensive formation and mess with the heads of the New England defense a little. Oh yeah, and let's not forget the Broncos had the top-ranked rushing attack in the league this year, running for 164.5 yards per game.
For its part, Denver's defense has to get to quarterback Tom Brady, who obviously is not as mobile as Tebow. Defensive end Elvis Dumervil missed practice time this week with a right-ankle injury, and if he is unable to play, then it will be up to linebackers Von Miller and D.J. Williams, as well as defensive end Robert Ayers, to cut through New England's offensive line to get to the three-time Super Bowl-winning quarterback. Brady had a field day in the Patriots' previous match against the Broncos, throwing for 320 yards and two touchdowns -- and even rushing for a third score.
Denver has a little momentum going, and its players know the meaning of Saturday's game, so the Broncos won't let Brady go as far as rushing for a touchdown again. However, someone who could really mess with their game plan will be standing on the opposing sideline -- their former head coach Josh McDaniels, who will be making his return to New England's coaching staff after his stint as the St. Louis Rams offensive coordinator. The inside information McDaniels has can only benefit the Patriots offense.
Not that they need it. Without McDaniels, New England tallied 451 offensive yards against Denver last month without turning the ball over. And the Patriots defense actually played well, too, recovering three Broncos fumbles. However, the glaring statistic for the New England defense was the one showing it allowed 167 rushing yards -- in the first quarter alone. Had the defense not buckled down shortly thereafter, Denver might have pulled off an upset.
Brady -- who, along with Drew Brees, broke Dan Marino's single-season record for most passing yards this season -- leads the NFL's second-best passing offense, with 317.8 yards per game. Champ Bailey aside, the Broncos have no one that can match up with the array of receivers who play for the Patriots. The tight-end combination of Rob Gronkowski and Aaron Hernandez, who combined for 2,237 receiving yards during the regular season, is deadly. And Wes Welker, who recorded 122 receptions (his second season in the past three with at least 120) and a career-high 1,569 receiving yards, remains a threat. If any one of these three guys are double-teamed, then any one of the others can torch the defense and make it pay.
John Elway urged Tebow to pull the trigger Sunday against Pittsburgh, and he did. Coming off of a dramatic home victory, Tebow will definitely pull the trigger again against New England. However, there won't be a shot fired. The Patriots' offense is just too strong, and Denver's defense is just too banged up. Moreover, the New England defense won't mirror the Steelers' defense and allow big plays to develop. The Broncos' running game is what has kept them in games this season, and it is what will keep them in this one, at least for a while.
In the game to be televised by CBS on Saturday, beginning at 8:00 p.m. EST, it will be the Patriots over the Broncos, 27-17.
© Copyright IBTimes 2023. All rights reserved.