NFL Preseason Schedule 2022: Week 1 Start Times, Odds, How To Watch Every Game
Week 1 of the 2022 NFL preseason features 16 games across four consecutive nights. Every team is on the schedule, returning to action for the first time in over a half year.
The Las Vegas Raiders defeated the Jacksonville Jaguars in the Hall of Fame Game, while the other 30 make their preseason debuts this week. The schedule starts with the New York Giants and the New England Patriots Thursday night. The Tennessee Titans and Baltimore Ravens will also kick off Week 1 of the preseason.
Half of the Week 1 preseason games will be nationally televised on NFL Network. That includes four Saturday games, concluding with the matchup between the Dallas Cowboys and Denver Broncos. The Minnesota Vikings visit the Las Vegas Raiders Sunday on NFL Network day's lone contest.
Fans have the ability to watch all Week 1 preseason games live with a subscription to NFL+. The NFL's new service costs $4.99 a month or $39.99 for the year. NFL+ allows subscribers to watch all out-of-market preseason games live, as well as live local regular-season and playoff games on a phone or table.
Here's a look at the complete Week 1 preseason schedule, including the national TV schedule, start times and betting odds. Point spreads and over/unders come from FanDuel Sportsbook.
Thursday, Aug. 11
New York Giants (-2, 34.5) at New England Patriots, 7 p.m. ET (NFL Network)
Tennessee Titans (+3.5, 31.5) at Baltimore Ravens, 7:30 p.m. ET
Friday, Aug. 12
Atlanta Falcons (-1, 35.5) at Detroit Lions, 6 p.m. ET (NFL Network)
Cleveland Browns (+1.5, 33) at Jacksonville Jaguars, 7 p.m. ET
New York Jets (-1, 35.5) at Philadelphia Eagles, 7:30 p.m. ET
Arizona Cardinals (+2, 31.5) at Cincinnati Bengals, 7:30 p.m. ET
Green Bay Packers (+1, 32.5) at San Francisco 49ers, 8:30 p.m. ET (NFL Network)
Saturday, Aug. 13
Kansas City Chiefs (+3.5, 35) at Chicago Bears, 1 p.m. ET (NFL Network)
Carolina Panthers (+2.5, 37) at Washington Commanders, 1 p.m. ET
Indianapolis Colts (+1.5, 34) at Buffalo Bills, 4 p.m. ET (NFL Network)
Seattle Seahawks (+3, 35) at Pittsburgh Steelers, 7 p.m. ET (NFL Network)
Miami Dolphins (-1.5, 35) at Tampa Bay Buccaneers, 7:30 p.m. ET
New Orleans Saints (-1.5, 33.5) at Houston Texans, at 8 p.m. ET
Dallas Cowboys (+2.5, 32) at Denver Broncos, 9 p.m. ET (NFL Network)
Los Angeles Rams (+3.5, 29.5) at Los Angeles Chargers, at 10 p.m. ET
Sunday, Aug. 14
Minnesota Vikings (+3.5, 34) at Las Vegas Raiders, 4:25 p.m. ET (NFL Network)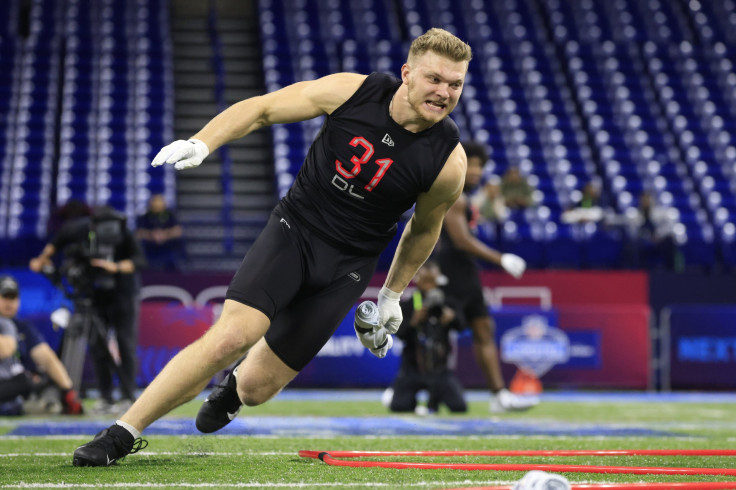 © Copyright IBTimes 2023. All rights reserved.