NFL Rumors 2017: Will The San Francisco 49ers Trade Draft Picks For A Quarterback? Eagles, Titans Want Wide Receiver Help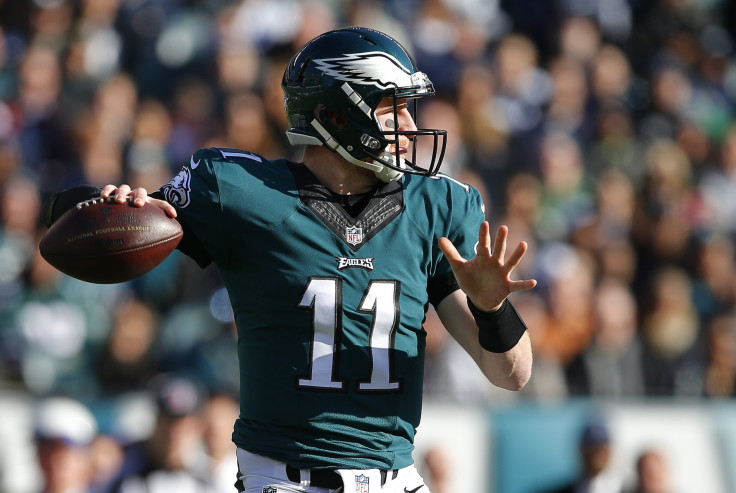 NFL rumors are heating up with the official start of free agency less than a week away. A few teams are eyeing trades involving high draft picks and proven players.
After finishing in last place a season ago, the Philadelphia Eagles are looking to upgrade their roster. They've been at the center of a few reports, looking to improve the weakest part of their team.
Quarterback Carson Wentz struggled in the second half of his rookie season, getting little help from his wide receivers. None of Philadelphia's receivers had more than 800 yards, and it appears that the team is looking to bolster the position. ESPN reported Thursday that the Eagles, along with the Tennessee Titans, are interested in trading for Brandin Cooks of the New Orleans Saints.
Cooks is certainly more accomplished than any wide receiver on either the Eagles or Titans. He's one of the NFL's biggest deep threats, and he recorded a second straight season with at least 1,100 yards and eight touchdowns in 2016.
"I wouldn't say he's on the trade block but certainly when a team calls, a team that's looking for a receiver – and we're looking to improve our defense – we're always listening," Saints head coach Sean Payton told the team's official website.
A few proven veteran wide receivers will be available in free agency. The Chicago Bears didn't use the franchise tag on Alshon Jeffery, and Brandon Marshall became available when the New York Jets released him Thursday.
There have also been rumors that Eagles backup quarterback Chase Daniel could be dealt. According to NFL Network's Ian Rapoport, Daniel is drawing interest on the trade market.
Daniel hasn't done much of anything since 2009. He's a career backup, and he's never thrown for more than 248 yards in a season. Last year, Daniel attempted just one pass.
The interest in Daniel is reflective of a weak market for quarterbacks. Kirk Cousins won't be a free agent after being franchised by the Washington Redskins, and the latest reports indicate that the New England Patriots won't trade Jimmy Garoppolo.
That makes quarterbacks like Daniel and Colin Kaepernick much more attractive to teams that need help at the position. Kaepernick is now a free agent after deciding to opt out of his contract.
With Kaepernick gone, the San Francisco 49ers don't have a starting signal caller for the 2017 season. Holding the No.2 overall pick in the upcoming draft, the team has a few options, including trading away their first-rounder for a quarterback.
"We're not closing the door on any options," new 49ers general manager John Lynch told ESPN's "NFL Insiders."
"We have the number 2 pick and that's a valuable asset. Fortunately for Kyle (Shanahan) and I, we weren't part of that 2-14 season. And so now we get to walk in and the good side of that is we have the number 2 pick, and I think that opens a lot of doors for people to try to talk to us about that pick, as well."
The Patriots might not be looking to trade Garoppolo, but considering Tom Brady is still the best quarterback in the league, New England might listen to an offer for a high draft pick. Tony Romo is almost certain to be traded this offseason, though it shouldn't cost a first-round pick and he's likely headed to a team that can contend for a Super Bowl.
© Copyright IBTimes 2023. All rights reserved.