NFL Rumors: Chiefs QB Mahomes Moving On From Super Bowl Debacle
KEY POINTS
Patrick Mahomes admits to playing inefficiently at Super Bowl LV
Mahomes is charging his Super Bowl loss to experience
Mahomes will review his lackluster performance to improve for next NFL season
Patrick Mahomes did not perform well during the recently-concluded Super Bowl LV, and he knows it.
He admitted that the loss left him and the rest of the Kansas City Chiefs sulking, but the obvious choice is to move on from it. The best they can do is treat it as a learning experience.
"What else can you say? All you can do is leave everything you have on the field, and I felt like the guys did that. They were the better team today. They beat us pretty good, the worst I think I've been beaten in a long time, but I'm proud of the guys and how they fought to the very end of the game," the one-time Super Bowl champion said.
Having fared well against proven quarterbacks like Deshaun Watson, Jimmy Garropolo and Ryan Tannehill in the past, Mahomes was unable to draw anything from his bag of tricks.
To make things worse, he lost his second career postseason game against Tom Brady.
The 25-year-old struggled as the Tampa Bay Buccaneers laid out a masterful plan to make life miserable for him. He went 26-of-49 for 270 yards and two interceptions, not to mention failing to throw a touchdown since Sept. 29, 2019.
It was a forgettable performance for Mahomes and the Chiefs and all they can do is move forward.
The former Super Bowl MVP plans to review the game and see what things they did wrong. That would be the first thing they need to do and try to get better even if doing so will not be easy, ESPN reported.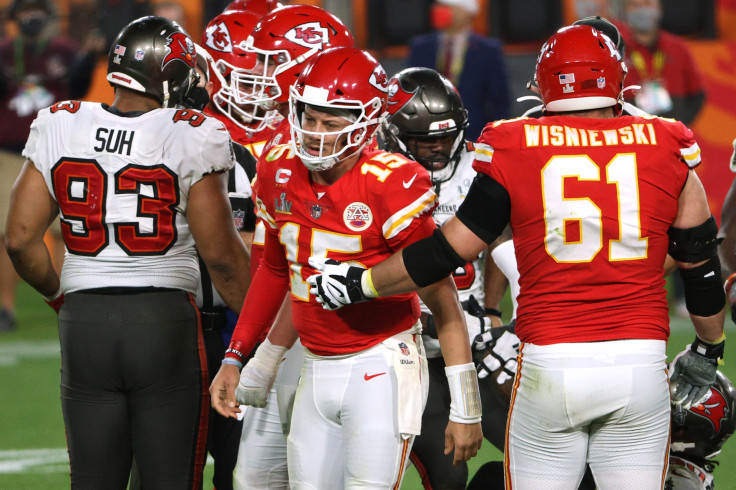 "Obviously with our offense and the success that we've had, when teams see the defensive plan that [the Bucs] had and how well it worked, they're obviously going to try to do the same things. So we'll try to find ways to combat that. It's the evolution of our offense where we're going to have to do better things and be more efficient," Mahomes explained.
The Chiefs may have suffered a sorry loss, but such is something that makes teams better. It appears Mahomes, being the leader that he is, is anchoring that with hopes of bouncing back hard for the 2021-22 NFL wars.
© Copyright IBTimes 2023. All rights reserved.