NFL Week 15 Predictions: Latest Betting Odds, Over/Under For All 12 Sunday Games
Several teams from both conferences are still in the hunt for the postseason but results from Week 15 should narrow the field. Indeed, there will be plenty of scoreboard watching all Sunday with 12 games on the schedule.
Below are picks against the spread for Sunday's slate of Week 15 games. All point spreads are from Vegas Insider.
Green Bay Packers (+5) at Chicago Bears - 47 points
The Bears' defense is simply too good and they will be playing at home against a Packers squad that probably is aware that there is little hope of earning a wild-card berth. Chicago would also love to snap Aaron Rodgers' streak of nine games without an interception.
Prediction ATS: Bears and Under
Miami Dolphins (+7.5) at Minnesota Vikings - 45 points
The Dolphins are coming off a miraculous victory, while the Vikings are desperate to reach the playoffs. Expect Miami to keep things close, though the Vikings should prevail.
Prediction ATS: Miami and Over
Detroit Lions (+2.5) at Buffalo Bills - 40 points
Josh Allen has come on strong for the Bills in recent weeks and Buffalo will be at home against a Lions squad that has looked solid on defense but may not play too inspired on the road. It should be a tight one.
Prediction ATS: Buffalo and Under
Tampa Bay Buccaneers (+8.5) at Baltimore Ravens - 46.5 points
The Bucs have a lot working against them in this matchup but should still manage to keep things interesting. Expect Lamar Jackson to finish strong for the Ravens at home as John Harbaugh's squad makes a stronger case for a playoff berth.
Prediction ATS: Baltimore and Over
Arizona Cardinals (+10) at Atlanta Falcons - 44 points
The Falcons have underachieved this season and no doubt want everyone to know that this season was an anomaly. Don't be surprised if Matt Ryan and Co. put up a lot of points in a shootout game against a Cardinals squad that is better than their meager record.
Prediction ATS: Atlanta and Over
Oakland Raiders (+3) at Cincinnati Bengals - 46 points
The Bengals offense has looked awful without A.J. Green, while the Raiders have made strides in recent weeks. Both trends should continue, though it won't look easy for Oakland.
Prediction ATS: Oakland and Under
Tennessee Titans (+1) at New York Giants - 43 points
No Beckham? No problem. The Giants have been quite effective without their star wideout and would love to silence their detractors against a Titans squad that is hoping to end the season strong. New York should pull out the win behind a strong game from Saquon Barkley.
Prediction ATS: New York and Over
Washington Redskins (+7.5) at Jacksonville Jaguars - 36.5 points
The Jags have not looked particularly sharp on either side of the ball and have dropped eight of their last nine games. The Redskins have hopes for a 9-7 season and seem ready to snap a four-game losing streak. Washington is due for a big win.
Prediction ATS: Washington and Under
Dallas Cowboys (+3) at Indianapolis Colts - 47 points
This is one of the more intriguing matchups of Week 15, as both teams have had a big second half of the season. The Colts haven't lost at Lucas Oil since an overtime defeat in Week 4 to the Houston Texans. But the Cowboys appear to be better than what many experts thought after the addition of Amari Cooper. This one might go down to the wire and Dallas probably pulls it out.
Prediction ATS: Cowboys and Over
Seattle Seahawks (-3.5) at San Francisco 49ers - 44.5 points
The Seahawks seem poised for a letdown, while the 49ers look like they're ready for another win at home. Pete Carroll's squad thumped San Francisco in Week 13 and the 49ers probably haven't forgotten. The Niners will play a lot harder this time around.
Prediction ATS: San Francisco and Under
New England Patriots (-2.5) at Pittsburgh Steelers - 54 points
Both teams are desperate for a win after how terrible Week 14 ended. The Steelers are in serious danger of not winning their division and will have a boisterous crowd behind them at Heinz Field. The Patriots will need a strong defensive effort to hold off the Steelers, which could be a tall order.
Prediction ATS: Pittsburgh and Under
Philadelphia Eagles (12.5) at Los Angeles Rams - 52 points
Nick Foles is expected to start for the injured Carson Wentz and maybe he can recreate his magic from last season. But the Rams are coming off easily their worst game of the season and want to capture home-field advantage in the NFC. Expect L.A. to thrive on both sides of the ball in front of their home crowd.
Prediction ATS: Rams and Under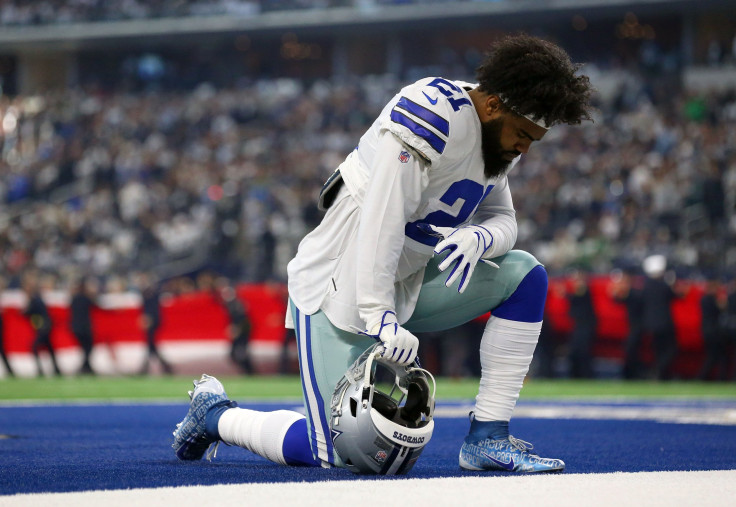 © Copyright IBTimes 2023. All rights reserved.