Nice Terror Attack Victims' Names And Nationalities Revealed After France Bastille Day Massacre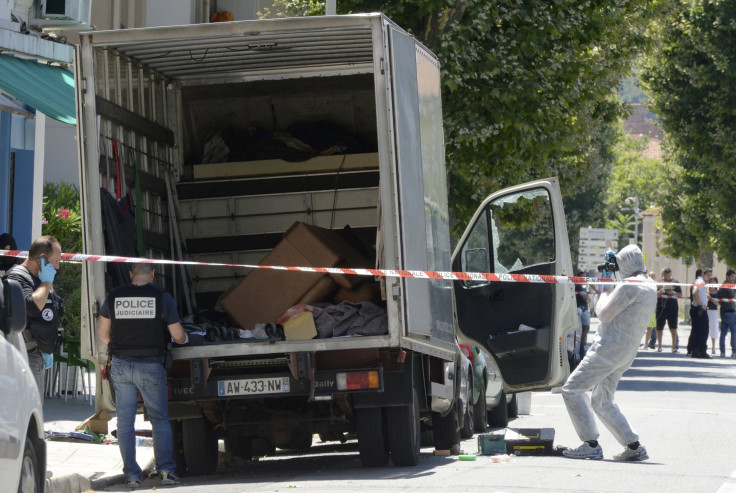 New details about a deadly attack in Nice, France, were emerging Friday as investigators learn more about the perpetrator and the at least 84 people who died after a large truck intentionally sped wildly through a crowd that had convened to watch fireworks in celebration of Bastille Day, the country's national holiday that falls annually on July 14.
Police have identified Mohamed Lahouaiej Bouhlel as the man who drove what appeared to be a semi truck along the Promenade des Anglais. The 31-year-old Frenchman of Tunisian descent, who was killed by police shortly afterward, is being called a terrorist for his actions that left more than 10 children dead, the Associated Press reported. French President François Hollande said during a press conference Friday that least 28 more children have been hospitalized in critical condition either from being hit by the truck or being trampled in the subsequent stampede.
Two of the children killed were Algerian, but the nationalities of most of the other children have not been disclosed. Other victims were being identified as various foreign nationals, including one Algerian woman and two Americans who were visiting while on vacation. Sean Copeland and his 11-year-old son, Brodie, both of Texas, were killed in the attack, Business Insider reported, citing confirmation from the U.S. Department of State.
A family statement was issued, saying in part, "We are heartbroken and in shock over the loss of Brodie Copeland, an amazing son and brother who lit up our lives, and Sean Copeland, a wonderful husband and father. They are so loved."
The son of a Muslim woman who died Thursday in the attack said his mother was the first person to die and that she practiced "real Islam," NBC News reported.
"There weren't any other bodies in front of her," a man named Hamza told the local L'Express news outlet. "She was an amazing mother. She wore the veil, she practiced real Islam — not like those terrorists."
At least one British national has been identified as being among the dead. That person's name has not been released, reported Euro News, citing confirmation from the British Foreign Office.
German authorities confirmed three Berlin residents were also among the dead, according to a BreakingNews.com alert.
A Tunisian citizen was among the dead, Tunisia's ambassador to France said Friday, according to a tweet from news outlet Radio Mosaïque FM.
Two Russians were killed, including a 20-year-old woman named Viktoria Savchenko, who was a student, BuzzFeed reported. Savchenko's friend, Pauline Serebryannikova, also a student, was reportedly hospitalized.
An Armenian woman, a 54-year-old Swiss woman and two Moroccans were also killed, according to Business Insider.
Three Australians were injured in the attack but were not killed, although the severity of their injuries was immediately unclear. An Irish man was hospitalized and was in critical condition, the Independent reported.
At least 50 more people are "between life and death," Hollande said Friday during a press conference.
© Copyright IBTimes 2023. All rights reserved.