After Nice Attack, Newt Gingrich Says Muslims Who Believe In Sharia Should Be Deported To Combat Terrorism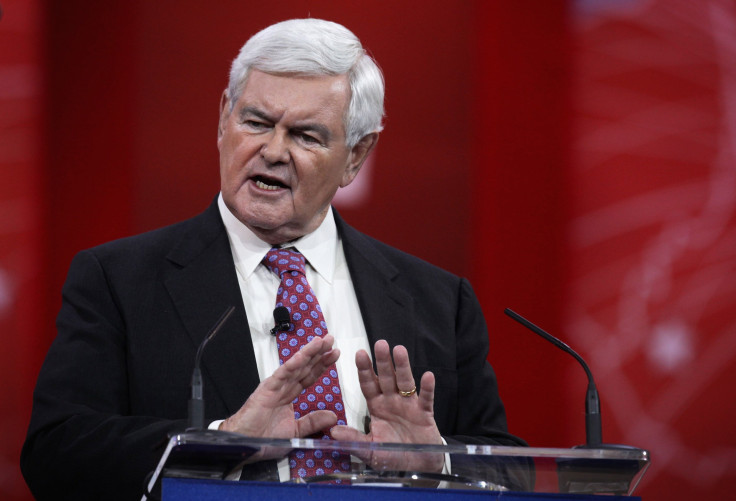 After Thursday evening's suspected terror attack at the French city of Nice, former speaker of the House of Representatives Newt Gingrich told Fox News that it was time to start testing Americans of Muslim origin in order to prevent such tragedies.
Talking to the news network's Sean Hannity, Gingrich said, " Western civilization is in a war."
"We should frankly test every person here who is of a Muslim background, and if they believe in Sharia, they should be deported. Sharia is incompatible with Western civilization."
He went on to say that he was "perfectly happy" to allow "modern Muslims" to remain citizens after they have given up Sharia but those who are "favoring ISIS, or al Qaeda, or other terrorist groups" should be jailed.
Attacking U.S. President Barack Obama's stand on calling out a particular community, Gingrich asserted, "Well I just want to tell you tonight, everybody who watches this video, this is the fault of Western elites who lack the guts to do what is right, to do what is necessary, and to tell us the truth, and that starts with Barack Obama."
The identity, or the religion, of the attacker in Nice has not been released yet, and Gingrich's statement condemning a particular religion is facing severe backlash on social media.
After Donald Trump's campaign signaled at picking Indiana Gov. Mike Pence as the Republican running mate for the presumptive presidential nominee, many consider this as Gingrich's desperate attempt to regain favor with Trump who has stood by his anti-Muslim rhetoric since he announced his decision to run for the White House.
In a video posted on his official Facebook page Thursday, Gingrich discussed his mass appeal as compared to Pence's.
"I think my appeal is probably more national. I have some appeal in virtually every state," he said. "I think Mike Pence would have a huge Midwest appeal. So, if you're trying to compete for western Pennsylvania, Ohio, Michigan, Wisconsin, Missouri, Illinois, there's a certain value to an Indiana candidate, I think."
Trump was expected to announce the vice-presidential candidate for his campaign at a press conference Friday, but tweeted his decision to postpone it in light of the Nice tragedy.
© Copyright IBTimes 2023. All rights reserved.
FOLLOW MORE IBT NEWS ON THE BELOW CHANNELS