Nigeria Decides 2015: In Gubernatorial Elections Ballot Theft, Violence Reported At Voter Booths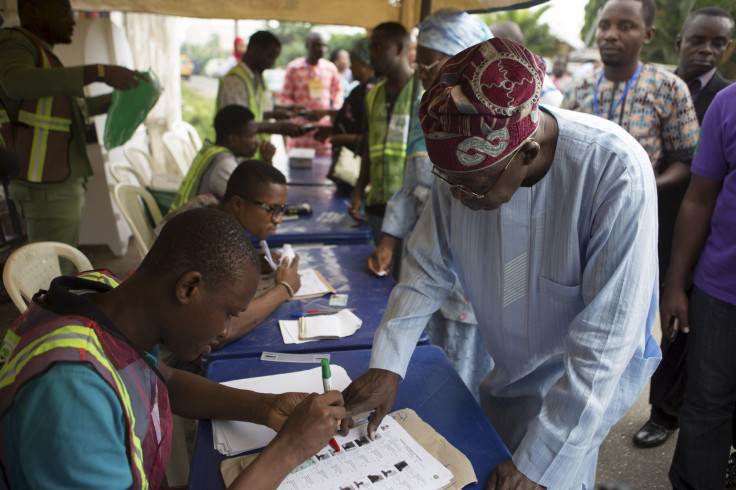 Africa's most-populous nation is holding elections for 29 of its 36 state governors Saturday, and multiple reports from the country suggest that like many in the past, voting has been marred by violence and apparent corruption. While All Progressives Congress presidential candidate Muhammadu Buhari became the first opposition candidate to be elected president Nigeria's history last week when he unseated the Peoples Democratic Party incumbent Goodluck Jonathan, governors have widespread authority over their states, making gubernatorial elections hugely important in Nigeria.
Unconfirmed reports claim police in Orodo Mbaitolo, Imo state shot dead two men attempting to steal ballot boxes at an election center. Ballot theft was reported "in hundreds" of polling stations, according to Al Jazeera. Police utilized tear gas and shot warning shots to break up angry mobs across the country, many of which were angry that voting material was delayed or did not arrive at their polling stations.
Al Jazeera confirmed one police officer was killed in Port Harcourt, Rivers state. Additional unconfirmed reports cited by Al Jazeera suggested three others were killed in Rivers, including an individual who was beheaded. An opposition party official was killed and three others wounded in the northwestern Kebbi state. The electoral commission office in Abonnema and state-owned vehicles used to distribute voting materials were also burned on Friday, according to Reuters.
A former governor of Lagos state and the current national leader of the All Progressives Congress, Asiwaju Bola Tinubu, told reporters on Saturday there were almost no police present in areas of Lagos where the establishment PDP is considered popular. That was because of an illegal Friday order from the PDP government that replaced the national police commissioner, who supervises the elections, with a controversial assistant inspector-general, Tinubu said. The motivation behind that decision is unclear, but a lax police presence could allow for ballot fraud, voter intimidation and violence. "From that, you smell rats," said Tinubu, according to Punch Nigeria.
More than 100 PDP politicians have defected to the APC following Buhari's victory two weeks ago, making gubernatorial elections particularly cutthroat this year. Darren Kew, a professor of conflict resolution at the University of Massachusetts Boston, said the defections and possible collapse of the PDP is concerning, because it may mean Nigeria becomes a one-party state.
Buhari and his APC cohorts promised to combat widespread corruption in politics and government and fight the insurgency of radical Islamist group Boko Haram in the rural northwest of the country. April 15 marks one year since over 200 girls were kidnapped by Boko Haram in the rural western Borno state. Jonathan and the PDP were widely criticized for not doing enough to rescue the girls, most of whom remain missing.
© Copyright IBTimes 2023. All rights reserved.