Nigeria Election 2015: Fraud, Violence Accusations Spread Ahead Of Saturday's Gubernatorial Contest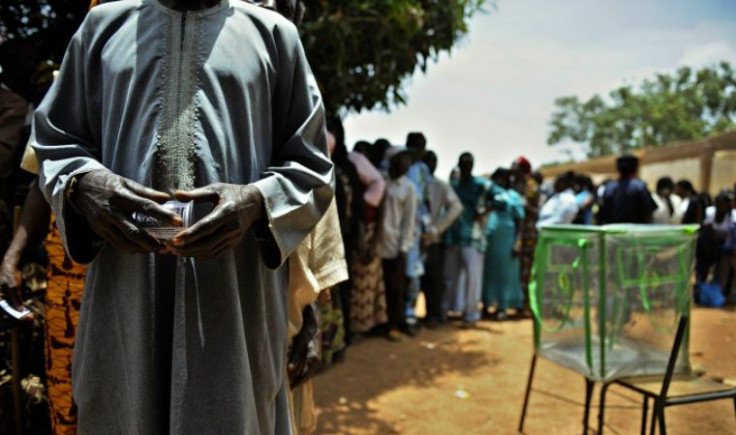 Nigerian officials were warning political parties against voter fraud and violence this week ahead of Nigeria's gubernatorial election scheduled for Saturday. The Department of State Services released a statement Tuesday asking residents to "shun all forms" of protest while people vote in the governorship and state houses of assembly polls, according to Pulse.
"We want to warn those stoking these embers of violence and disunity to desist, as this will not be tolerated," public relations director Marilyn Ogar said. "We should all strive to strengthen our nascent democracy as we work towards building a better Nigeria."
Police Inspector General Suleiman Abba also said officers would not tolerate violence, according to the Sun. He requested that voters stay calm.
On Wednesday, the All Progressives Congress (APC) asked the Peoples' Democratic Party (PDP) and Independent National Electorial Commission (INEC) to stay neutral, asserting that results from parts of the country indicated the PDP had manipulated votes during the recent presidential elections, according to the Osun Defender. Chairman Ogbonnaya Onu said the PDP tampered with voter card readers and filled out people's ballots themselves.
"This is not acceptable," Onu said at a press event Tuesday. "We hope that all the abuse, harassment and manipulations will not repeat themselves in the elections that will take place on Saturday."
INEC responded to the APC saying they are always neutral. Last month, voters elected Muhammadu Buhari to be Nigeria's new president over incumbent Goodluck Jonathan. The presidential and gubernatorial elections had been postponed from February over concerns about extremist group Boko Haram.
"All eyes will be watching the national institutions to see if they are ready to embrace the change that has come in spite of them, or they will like to persist in their old, unedifying ways,'' the APC said.
© Copyright IBTimes 2023. All rights reserved.