Nigeria Elections 2015: Foreign Journalists Still Await Press Visas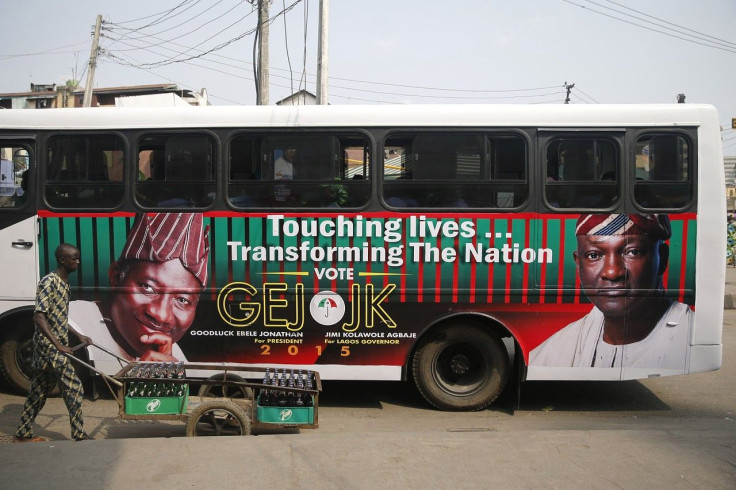 Nigeria's general elections will be held next week, but scores of foreign journalists have yet to receive their entry visas to cover the March 28 contest that will determine who rules the West African nation in the wake of Boko Haram's deadly insurgency. In an application process that typically takes one week, many British journalists are still awaiting their press visas since submitting applications months ago, the Telegraph reported.
"Sadly, if it's on-the-ground reportage you want, don't come to me. Or The Times or Channel 4 News. Or any of the 20-odd other British media outlets that have asked for press visas to cover the elections, and whose applications still languish in a pile at the Nigerian High Commission in London," Colin Freeman, a chief foreign correspondent for the Telegraph, wrote in an article Thursday. "Nobody has actually been refused outright. But given that the process normally takes only a week, and given that my application went in two months ago, I'm beginning to think the Nigerian government doesn't want me there."
According to Freeman, limited foreign media -- mostly local representatives of BBC News, Reuters and Associated Press -- have been granted clearance in the country. Freeman suggested the restricted foreign media presence was because of bad publicity surrounding the administration of President Goodluck Jonathan, who is running for a second term. "The Nigerian government accepted £305m [about $449.7 million] of British aid this year," Freeman wrote. "But when it comes to elections, it would rather we minded our own business."
Jonathan is running against primary challenger Muhammadu Buhari, a former military dictator. The ruling People's Democratic Party (PDP) has remained in power since 1999, often through blatant voter intimidation, vote rigging and other illegal practices, according to BBC News. But Jonathan's government has been criticized for its slow responses to the 2014 kidnapping of nearly 300 Chibok schoolgirls and other attacks by Boko Haram, which launched its insurgency in Nigeria in 2009.
Nigerians were initially scheduled to cast their votes Feb. 14 and Feb. 28, but the elections were postponed until March 28, after Nigerian security forces fighting Boko Haram said they could not ensure voters' safety, the Associated Press reported. The militant group has a self-declared caliphate that encompasses a large swath of northeastern Nigeria. But the election delay prompted suspicion from Jonathan's critics, who dismissed the security concerns and accused the incumbent of ballot rigging.
Freeman said most applications for press visas were filed ahead of the previous election date, which means the Nigerian government has had an additional six weeks to sift through the applications. But the Wall Street Journal reported in early February that many foreign journalists still had pending visa requests ahead of the original election date.
Nigerian government officials said they had no intention of barring foreign reporters from the country but that they had no control over Nigeria's security services, which screen visa applications. "As far as we are concerned we are happy to have foreign journalists come and cover the election," an unnamed official in Jonathan's office told the Wall Street Journal in February.
Freeman said even if his visa arrives just in time next week, it would not be conducive to giving the controversial elections proper coverage. "Countries that only let foreign press in for a few days around election times are observing the rules of the game but not the spirit," he wrote Thursday. "Which is why it's a tactic favored in less-than-democratic places like Iran and Belarus. A category to which I will now be adding Nigeria, unless it proves me wrong by granting those backlogged press visas pronto. I'll be happy to stand corrected."
© Copyright IBTimes 2023. All rights reserved.