Nikki Haley Black Lives Matter Race Speech: South Carolina Governor Future Of More Diverse GOP?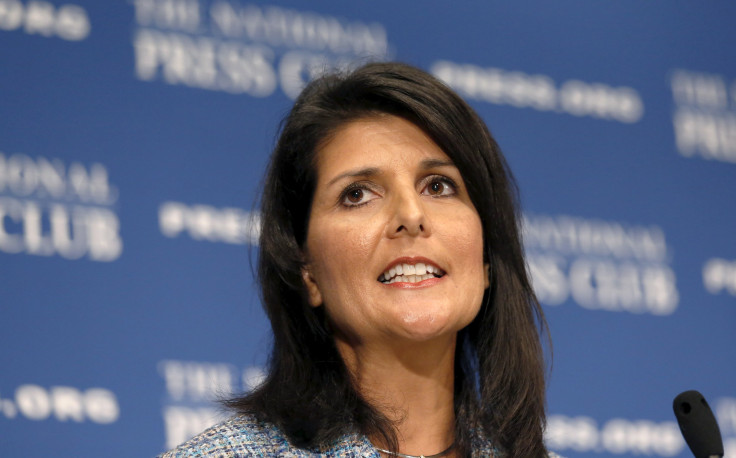 South Carolina Gov. Nikki Haley blasted the Black Lives Matter movement Wednesday for inflaming racial tensions that saw American cities such as Baltimore and Ferguson, Missouri, vandalized in the last year. Instead of rioting and screaming at police officers, activists should learn from the example set by black and white residents and officials in South Carolina, where an unarmed black man was killed by police and a hate-fueled shooting unfolded at a historically black church this year, said Haley in a sweeping speech on race and inequality at the National Press Club in Washington, D.C.
"Black lives do matter, and they have been disgracefully jeopardized by the movement that has laid waste to Ferguson and Baltimore," Haley said of the social justice group that has spread around the country in the last year. "Most of the people who now live in terror because local police are too intimidated to do their jobs are black."
The provocative remarks came as the Republican governor's national political profile has been on the rise. Haley became more prominent after her leadership on removing the Confederate battle flag from the South Carolina State House after the racially motivated June 17 shooting at a Charleston church. Haley, the state's first female and first minority chief executive and a potential vice presidential contender in 2016, is seen by many GOP officials as a draw for minorities who have voted in wide margins for Democrats in the last presidential election. But critics said a lack of diversity in her administration and her somewhat narrow view of racism betrays the idea that she is the new face of the Republican Party.
"What we saw in the extraordinary reaction to Charleston was people of all races coming together," said Haley about the local community's reaction to the fatal shooting of nine black worshippers at Mother Emanuel African Methodist Episcopal Church that was carried out by a professed white racist. She also noted the lack of unrest following the April 4 death of Walter Scott, a 50-year-old unarmed African-American man killed by a police officer as he fled a traffic stop in North Charleston.
"We didn't have riots; we had vigils," Haley said at the National Press Club luncheon. "We didn't have violence; we had hugs."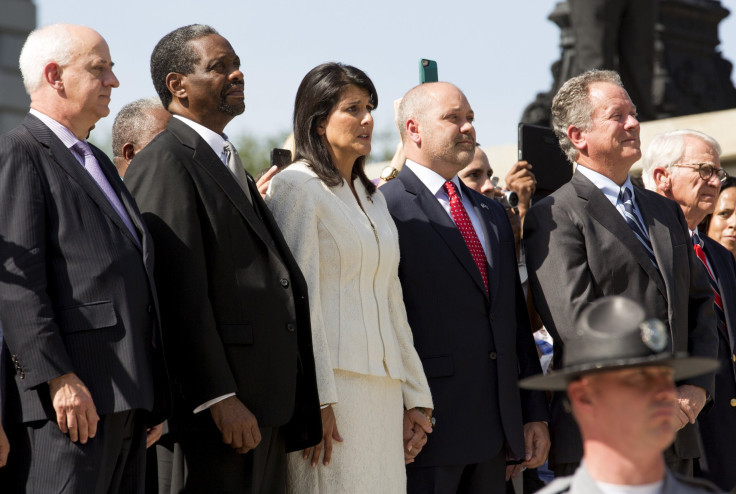 Haley has been credited with uniting black and white leaders in South Carolina around a decision to remove the Confederate battle flag from the state house grounds in Columbia. Following the church shooting, Haley said the racially divisive symbol that had been "an integral part of our history" could no continue to be flown there. After some debate, the state Legislature voted to remove the flag to a museum, and Haley signed the bill in July surrounded by victims of the Charleston shooting.
In the wake of the Charleston shooting, Matt Moore, chairman of the state Republican Party, called Haley "the voice of a new generation of Republicans," for her willingness to tackle issues of race and inequality with conservative principals. "That she is serving as governor was providential," Moore said in a phone interview Tuesday. "She has a unique ability to bring people together, despite their differences. To me, that's where leadership on race begins. It's about what brings us together and not what divides us."
After serving three terms in South Carolina Legislature, Haley, 43, made waves in the Republican establishment by handily winning the gubernatorial primary and being elected the state's first woman governor in 2011. She was reelected to a second term in 2014. As she began her speech, Haley acknowledged that she's the daughter of Sikh Indian immigrants and has not downplayed the effect that racial discrimination had in making her feel excluded from their majority-white state.
In her speech, she recalled a trip she took as a girl with her dad from their rural home in Bamberg to a fruit market in Columbia, the state's capital. Her father, a tall man who wears a traditional Sikh turban, began shopping, and Haley noticed that couple running the market grew nervous and phoned the police.
"A few minutes later, two uniformed police officers showed up," Haley said in her speech. "They stood there and watched us. My father continued to go about his business, and they continued to watch him." The governor said her father eventually paid for his produce and left the store without incident.
"Neither of us spoke the entire way home – Dad was hoping I didn't realize what had just happened," she said. "I, who understood exactly what had just happened, didn't want my dad to feel any worse than he already did. That is what the rawness of racial discrimination can do to us – render us speechless."
Wednesday wasn't the first time Haley addressed racism. In her 2012 book, "Can't Is Not An Option," Haley tells the story of how she was disqualified from a beauty pageant in Bamberg because contestants were judged in competitions based on two racial categories, and she wasn't white or black.
Critics of Haley on both sides of the aisle said her rhetoric would sound better if it was accompanied by actions that proved a commitment to social justice. From immigration reform and Medicaid expansion for the poor to voter ID laws and diversity in her administration, Haley agrees with her party's limited government approach on issues that impact on African-Americans and other minorities the most, said South Carolina's Democratic party, according to The State newspaper in Columbia.
Critics also were concerned about Haley's view of racism: that it's a relic of the past used to exclude minorities from equal participation in society and not a living, breathing institution to be dismantled by government intervention. South Carolina was 27.9 percent black, 63.9 percent white and 5.3 percent Hispanic in 2014, according to U.S. Census estimates.
"The civil rights movement is a critical part of the American movement and the American story," Haley said Wednesday. "It's a movement in which every person, regardless of their skin color, is treated equally under the law."
However, she said, the "New South" has evolved on racism in ways that most outsiders don't realize. "Long before the racially charged events of this summer, I would not have been elected governor of South Carolina if our state was a racially intolerant place," Haley said during her speech. "And I would not have won the Republican primary if we were a racially intolerant party."
Raynard Jackson, a veteran Republican political strategist in Washington, D.C., said Haley should start proving that idea in her administration. She helped make history by appointing Republican Tim Scott as the first black U.S. senator from the state when there was a vacancy. African-Americans have also served as the heads of the state departments of public safety and employment. But broad diversity in the government seems to stop with her, said Jackson, who is black.
"When you're having those key staff meetings at 8 [a.m.] and 4 [p.m.], are there any blacks at the table who are known to the general public?" Raynard said. "I'm considered a party insider. If she has some blacks around her, why do I not know them?"
Jackson said Haley "has a bright future" and will receive serious consideration as a vice presidential candidate once the party has chosen a nominee next year. But Haley should embrace more black leadership to help recast the party as minority friendly, he said.
"That's how you build a party's support among the black community. That's how you show the black community that it's okay to be Republican," he said.
In her 30-minute speech, Haley highlighted her successes at bringing jobs to the state -- among them, a Boeing jetliner plant in North Charleston. Many of the jobs have gone to African-Americans, Haley said Wednesday. Nearly one-fourth of South Carolina's 4.8 million residents were impoverished in 2014, according to the U.S. Census Bureau. Almost a third of both African-Americans and Hispanics lived below the federal poverty line of $24,250 in annual income, compared to 13.5 percent of the state's whites, according to media reports. The state had an unemployment rate of 6.4 percent in July, compared to the national rate of 5.3 percent, according to the U.S. Bureau of Labor Statistics.
Haley also championed education reforms that committed tens of millions of dollars for programs aimed at low-income children, many of them African-American, in the state's poorest school districts. In 2013, South Carolina's students were ranked 42nd nationally for the number of fourth and eighth graders meeting the math and reading standards of the National Assessment of Educational Progress test, according to the Washington Post.
"But let's be honest. Jobs and education are huge elements for creating opportunity for all. Jobs and education are the keys to the opportunity agenda. But when it comes to African-American communities in particular, there's also an equality agenda that goes further," she said during her speech.
© Copyright IBTimes 2022. All rights reserved.
FOLLOW MORE IBT NEWS ON THE BELOW CHANNELS