Nissan Motors Unveils New Self-Driving Car Technology [VIDEO]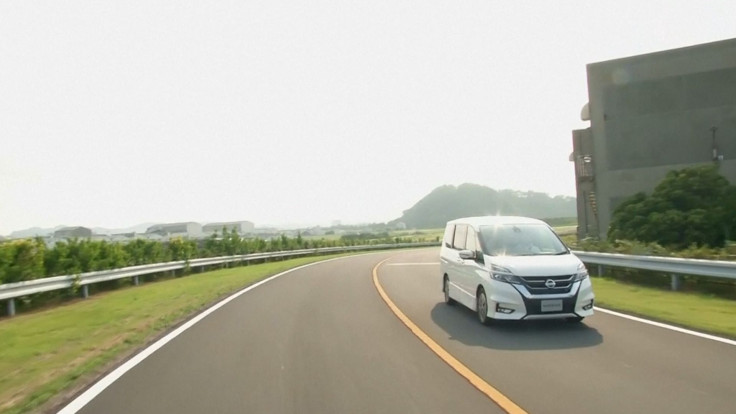 Japanese auto manufacturer Nissan Motor Co unveiled to the media on July 12 its new self driving technology 'ProPilot,' which assists the driver in maintaining speed during heavy traffic, changing lanes, and other driving maneuvers on a highway.
Nissan's 2016 model Serena will be the first model to have the ProPilot technology, which is made possible by relatively simple technologies including a front-facing camera, an electronic parking break, and a 7-inch display monitor inside the car.
"As part of the first step in (pursuing) our self driving technology called ProPilot, we are implementing the system into Serena. This is part of the company's roadmap, which in 2016 we begin implementing ProPilot (technology) that works within a single lane on highways," Nissan's Manager of Advanced driver assistance systems engineering department, Kiwamu Aoyanagi, said. By 2018, Nissan aims to have ProPilot be able to operate multiple lane changes, and by 2020, to be able to turn left and right at intersections.
In order to activate Serena's new self driving mode, the driver must first turn on ProPilot mode, drive at the appropriate speed, then press the set switch. The car will have then detected the car in front, and will maintain the appropriate distance while maintaining speed.
The front-facing camera also detects traffic lanes on the road, allowing the car to steer by itselfwithout the driver's help. The driver, however, must have their hands on the steering wheel at all times, as the car will raise an alarm if it does not sense a pair of hands on the steering wheel.
One issue that arose during the media demonstration was that the car's front-facing camera was unable to detect the car in front due to direct sunlight, which may occur on extremely sunny days or when the sun is setting.
Asked about Tesla Motors' recent accident involving a car model that had a self driving option, Aoyanagi said Nissan was making sure users don't trust the car's functions too much.
"I'm not in the position to comment much as it's another company, but we engineer it and communicate it in a way that doesn't make the user overconfident," he said.
Nissan's 2016 model Serena is expected to go on sale in Japan in late August.
© Copyright Thomson Reuters 2023. All rights reserved.