North Korea Vows Strict Countermeasures Against Japan Over Sanctions, Calls Tokyo's Decision 'Sinister'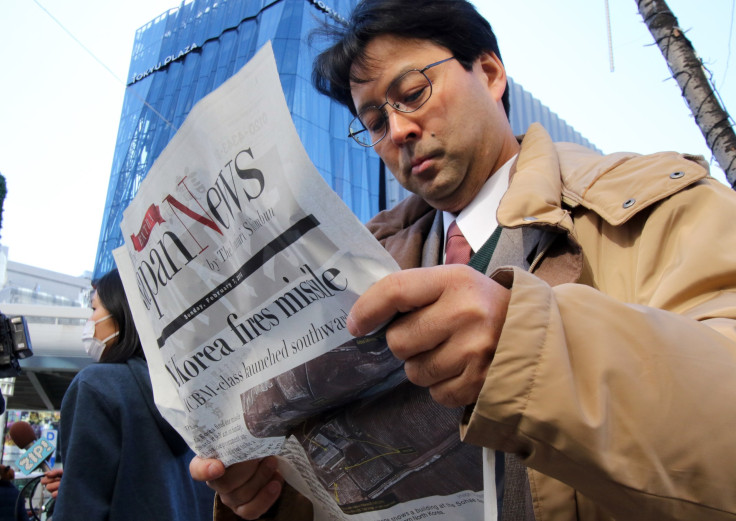 North Korea vowed to take strict countermeasures against Japan for imposing sanctions against Pyongyang over its claim that it successfully tested a hydrogen bomb last month and launched a satellite using a rocket earlier February. Japan issued the sanctions last week, in which it expanded travel restrictions between the two countries and ordered a complete ban on North Korean ships reaching Japanese ports.
The sanctions had also included the remittance and freezing of funds, which were part of those lifted in Stockholm in May 2014. The KCNA, North Korea's official news agency said Tuesday that the reversal and expansion of sanctions against North Korea would mean "a declaration of the abrogation of the Stockholm agreement by itself."
North Korea's special investigation committee said in a statement last week, cited by KCNA Tuesday, that with the sanctions, Japan "revealed its sinister intention to drive DPRK-Japan relations into a catastrophe and confront the DPRK to the last."
The statement from the special investigation committee also said: "As the DPRK's hydrogen bomb test and satellite launch were the exercise of legitimate and independent rights and just measures of a sovereign state, they are not the matter for Japan to pick a quarrel with."
North Korea also decided that it will "totally suspend comprehensive and full-scale survey of all Japanese it has conducted in line with the DPRK-Japan inter-governmental Stockholm agreement from Feb. 12, 2016, and disband the special investigation committee,"according to KCNA, adding: "more resolute countermeasures will follow against Japan's provocative anti-DPRK hostilities."
Over the last 10 years North Korea has conducted at least four nuclear tests and has launched six long-range missiles. All of them are in violation of resolutions by the United Nations Security Council, which is putting together the new sanctions.
The U.S. and China, which has been a main ally of North Korea but has also condemned the rocket launch, are also coming up with an appropriate set of sanctions against the Kim Jong Un regime.
According to a report Tuesday by Korea Times, a South Korean newspaper, there may be a resolution adopted this week itself. The report said, citing a source: "There is a consensus between the U.S. and China on the need for moving swiftly," adding: "I think the two sides could reach a certain level this week.
"It is unclear whether that's because of North Korea's missile launch or that's because it no longer can stall for time, but there has been moves" from Beijing over it, the source also said.
© Copyright IBTimes 2022. All rights reserved.
FOLLOW MORE IBT NEWS ON THE BELOW CHANNELS