North And South Korea Set Stage For High-Level Talks In Seoul This Week; Restarting Joint Projects Including Kaesong On Agenda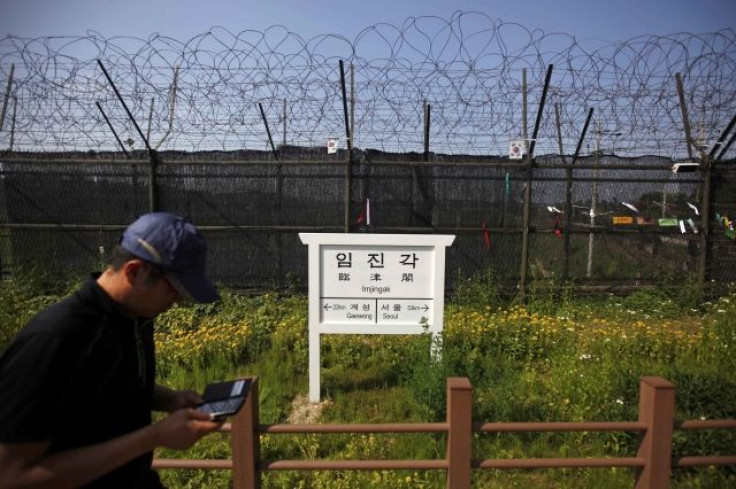 After a session that lasted 17 hours and stretched from Sunday into Monday, North and South Korea reached an agreement to hold further talks in Seoul this week, touted as the highest-level talks between the two countries in six years, but there was no consensus on the agenda.
The two-day meeting, starting on Wednesday, will focus on restarting cooperation projects, including the jointly run Kaesong Industrial Complex, although it remains unclear who will represent North Korea in the meetings, the Washington Post reported.
The announcement came after months of heightened tension between the two nations, after Pyongyang conducted a nuclear test in February.
The weekend dialog was held in the village of Panmunjom in the demilitarized zone between the Koreas, where the armistice that ended the 1950-53 Korean War was signed. The meeting involved low-level officials who set the stage for the Seoul talks, but the parties could not reach agreement on the agenda and delegation.
"Both sides issued separate statements on the outcome of discussions after failing to narrow differences over the level of chief delegate and agenda," South Korea's Unification Ministry said, according to a BBC report.
South Korea's Unification Minister Ryoo Kihl-jae is expected to lead Seoul's delegation and has requested Pyongyang to send as its representative Kim Yang Gon, the head of the United Front Department of the ruling Workers' Party, the report said.
Citing unnamed sources, South Korea's Yonhap reported that denuclearization will be discussed during the talks in Seoul, as the issue has consistently been on the agenda of past inter-Korean talks. However, the South Korean unification ministry declined to confirm whether denuclearization will have a place on the agenda this time.
"All matters that can enhance peace and stability can be discussed at the two-day talks," an unnamed ministry official told Yonhap. "Seoul may actually be more vocal since the North detonated its third nuclear device on Feb. 12 in the face of strong warnings by the international community."
North Korea said apart from inter-Korean cooperation projects, the two sides would also discuss the commemoration of previous inter-Korean declarations -- the thirteenth anniversary of one of them falls on June 15.
The declaration, jointly signed in the year 2000 by leaders of the two countries at the time -- Kim Jong Il and Kim Dae-jung -- pledged economic and cultural cooperation and the reunification of the two Koreas.
The two countries had been holding joint events to mark the anniversary of the landmark agreement until 2009, when then-South Korean President Lee Myung-bak's administration suspended the celebrations, refusing to honor the declaration or implement its provisions.
© Copyright IBTimes 2023. All rights reserved.