Nostalgia Factor, Revamped Gameplay And Everything In-Between About WWE 2K22
KEY POINTS
The long wait for WWE 2K22 is extremely worth it for fans of the pro wrestling game series
New features and game modes are set to give players countless hours of enjoyment
WWE 2K22 will be released on Friday, March 11
Following the negative reception that WWE 2K20 had from fans and critics upon its release, it was clear that things needed to change and WWE 2K22 is a great foundation for future WWE games.
(Note: this review was based off the PS4 edition)
Gameplay and Animations Bring Back Childhood Memories
Longtime fans of WWE games are in for a treat upon picking up the controller as the revamped control scheme has a very familiar feel to it.
Each face button does a striking attack or a grapple as the shoulder buttons and analog sticks are used to help modify the moves.
Interaction with the many environments that matches can take place in also feels very organic and well thought out, making it extremely intuitive in the long run.
The diverse move-sets help make superstars stand out from one another, with power wrestlers like WWE Universal Champion Roman Reigns having an emphasis on strong moves like powerbombs and suplexes while high-flyers like Io Shirai take advantage of their quick running attacks to setup high-risk attempts from the top rope, among others.
With the lack of a stamina meter, players have free reign to dish out punishment and combinations at any time they want.
As their attacks grow repetitive, patterns emerge for opposing players to take advantage of and figure out when to time their reversals at just the push of a button.
As a gaming experience, the extended development period for WWE 2K22 makes it an easy to pick up game that both old and new fans are certainly going to enjoy.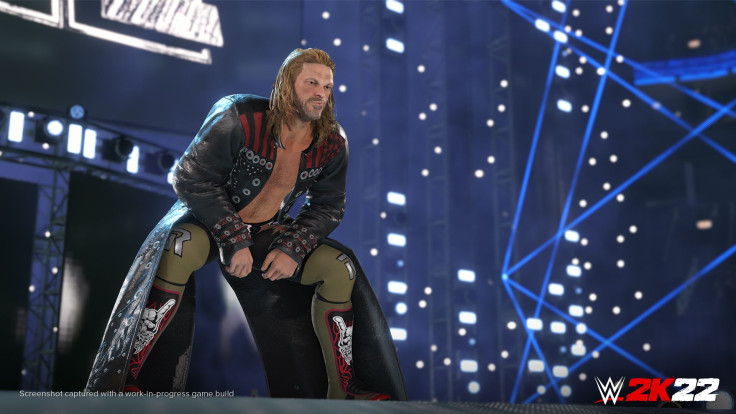 Well-Curated Soundtrack
Recording artist Machine Gun Kelly was tapped to be the executive soundtrack producer for this year's iteration and his song choices will have players feeling hyped once they boot up the game every single time.
Featuring the likes of legendary English rock band Motorhead, The Weeknd, Wu-Tang Clan and Bring Me The Horizon, the music will have fans hanging around the menu screens for much longer than they would have expected.
WWE 2K22 is also giving fans the option to have superstars' entrance themes play in the menus via the jukebox option to give that extra pro wrestling feel.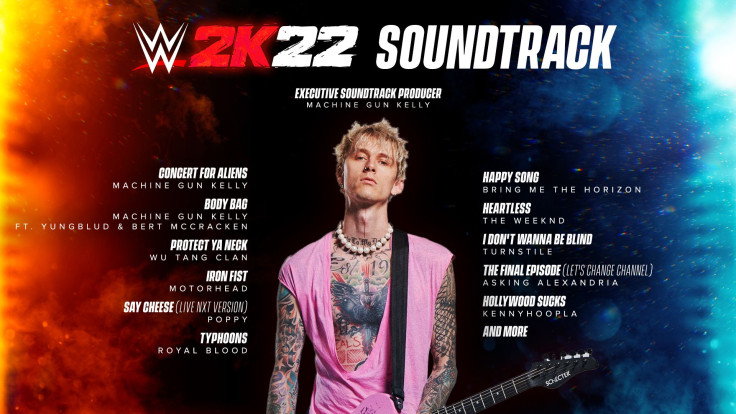 Showcase Mode Delivers On Nostalgia
WWE 2K acknowledged the 20-year career of Rey Mysterio by giving him his own Showcase and it is a great way to relive the biggest moments of the two-time World Heavyweight Champion.
Mysterio himself appears to narrate the matches and give additional context at key points.
In each match, players are given objectives to complete as they play through the matches with some sequences leading into match-cuts to the real-life moves happening as they appeared on TV.
There are some beloved superstars who can only be unlocked by completing each match and should provide fans with great memories of their younger years.
Extensive Creation Suite
A healthy online community of creators has been the lifeblood of pro-wrestling games in recent yearsand WWE 2K22 is no different.
Visual Concepts offered a ton of customization options for players to fiddle around with, from customizing a superstar's appearance to offering piece-by-piece adjustments of the entire arena.
Those who are just about to receive their copies of the game when it drops on March 11 are in for a good time as players who bought the nWo 4-Life and Deluxe Editions that were released on March 8 have already made a ton of quirky creations and uploaded them for everyone to download and enjoy.
The developers also dropped some sly references within the creation suite that will surely put a cheeky smile on the faces of players who are very much in-tune with the world of pro wrestling.
MyGM Meets Expectations
It took quite some time for the fans' desire to live out their general manager fantasies from the comforts of their own home, but the wait has paid off.
The fan-favorite mode made its last appearance back in 2007 and WWE 2K22's version carries similarities to its predecessors while creating its own quirks.
As before, the goal of MyGM is to produce the best show against competing brands (can be controlled by the player or the AI) by booking matches, creating rivalries and setting up how one's show would look.
It is as competitive as ever and friendships are set to once again be taken to the limit, similar to that of the popular "Battle of the Brands" competition between Tyler Breeze and Xavier Woods on the UpUpDownDown YouTube channel.
High-Quality Career Mode
Fans looking to live out their pro wrestling dreams can do just that with the revamped career mode called MyRise.
Players are thrust into the creation suite once they select the mode and will almost surely spend a few hours customizing every aspect of their character before going on their road to becoming a WWE legend in their own right.
It all begins at the WWE Performance Center where players get to experience part of the rigors of being a WWE superstar and can then have the option of moving to NXT, SmackDown or Raw after they have accomplished everything they can in training.
Where one's player goes completely depends on whether they are a heel or face character, with some story options being locked based on their alignment.
As for the cutscene animations within MyRise, it certainly feels as if the player is there in the moment, face-to-face with the promotion's most recognizable names and faces.
A First For The Franchise
Similar to publisher 2K Sports' well-renowned NBA 2K games, WWE 2K22 also features its own card-collecting bonanza known as MyFaction.
In this mode, players get to collect and upgrade the superstar cards that they own as they battle it out in creating the perfect faction that ranges from current superstars to legends of the past.
MyFaction is a single-player-only experience so everyone can get to experience creating their dream stable without worrying about the need to compete with fans who are willing to invest tons and tons of money right from the get-go.
It is highly recommended that players give the mode a few hours' worth of attention as the weekly events and regular updates might have some fans missing out on great rewards.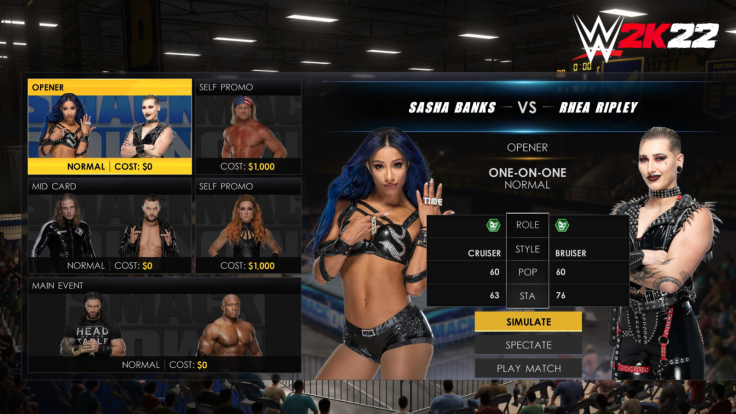 Overall, WWE 2K22 is a love letter from the developers that is waiting to be opened by fans once the Standard Edition drops on Friday, March 11.
WWE 2K22 is available for the PlayStation 4, PlayStation 5, Xbox One, Xbox Series X/S, and Microsoft Windows platforms.
© Copyright IBTimes 2023. All rights reserved.