Novak Djokovic Defeats Roger Federer in Five-Set Comeback Thriller [U.S. OPEN 2011]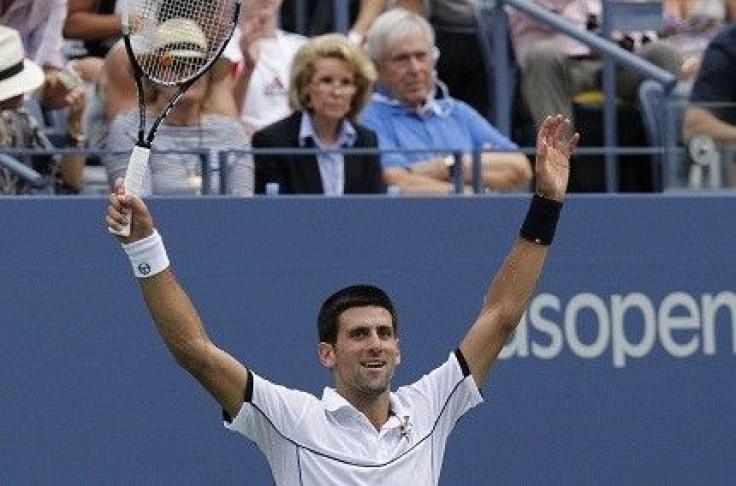 Down by two sets, Novak Djokovic proved that he had a fantastic comeback in him, as the world's number-one player defeated third-ranked Roger Federer at the U.S. Open semifinals on Saturday afternoon.
Djokovic fought back in the fifth set, down a break, with a thrilling 6-7 (7), 4-6, 6-3, 6-2, 7-5 win to set up a rematch in the final against second-ranked Rafael Nadal who beat No. 4 Andy Murray 6-4, 6-2, 3-6, 6-2 in the second semifinal.
The victory improved Djokovic's record to 63-2 on the year. On Saturday, he proved to be a crowd favorite with some theatrics during and after the match, and at one point he pointed to his ear to let the New York crowd know that he wanted to hear them cheer after an exciting fifth-set point. A crowd that was pulling for Federer, turned to chanting No-vak late in the match.
Federer may have been rattled by the Djokovic's playing to the crowd, but the Swiss star had chances to pull off the win and simply couldn't close out the red-hot 24-year-old.
In the fifth set, Federer had a match point, but Djokovic responded with a fantastic forehand winner.
To lose against someone like that, it's very disappointing, because you feel like he was mentally out of it already, said Federer. Just gets the lucky shot at the end, and off you go.
For me, this is very hard to understand. How can you play a shot like that on match point? Maybe he's been doing it for 20 years, so for him it was very normal. You've got to ask him.
John McEnroe described Djokovic's winner as one of the all-time great shots.
The forehand return, I cannot explain to you because I don't know how it happened, Djokovic said. I read his serve and I was on the ball and I had to hit it hard, and it got in, luckily for me.
Djokovic had 48 winners on the afternoon, compared to Federer's 49. Djokovic also had less aces (8) than Federer (11).
For the first time since 2002, Federer will not have a Grand Slam title.
Here's a look at the closing moments of the fifth set.
© Copyright IBTimes 2023. All rights reserved.