Number Of Electric Car Fast Charge Stations Worldwide Seen Hitting 199,000 After 2020; There Were 1,800 EV Charging Stations Last Year
[UPDATE Aug. 30] Tesla Motors spokesman Alexis Georgeson told International Business Times the following by email about Tesla's compatibility with the fast-charge standard that is preferred by Japanese automakers: "We don't currently making CHAdeMo adaptors for Model S however we plan on offering these in the future in markets where there is demand." Tesla offers compatibility for fast-charger networks preferred by U.S. and European automakers. Currently the Model S sedan cannot be charged at CHAdeMO chargers, but the company has an adapter for CCS compatibility.
Original story begins here:

To give an idea of just how fast the infrastructure for plug-in vehicles is expanding, in 2012 the U.S. had only 12 rapid-charging stations fitted to top off plug-ins like the Toyota Prius and Nissan Leaf; last year that number grew to 154, not counting Tesla Motors' fast-growing proprietary supercharger network.
The verdict is still out on whether the world is ready to adopt all-electric vehicles, but with automakers rolling out new plug-in hybrids and 100 percent EV city cars, the quick-charge infrastructure needs are apparent.
Fast-charging is vital to wider adoption of plug-in and all-electric vehicles because with the current technology, charging time is knocked down from at least four hours to about 20 minutes. A partial fast-charge wouldn't take much longer than refueling a combustion engine. Reducing charge time, increasing range-per-charge and building more charging stations are the major prerequisites for wider EV adoption.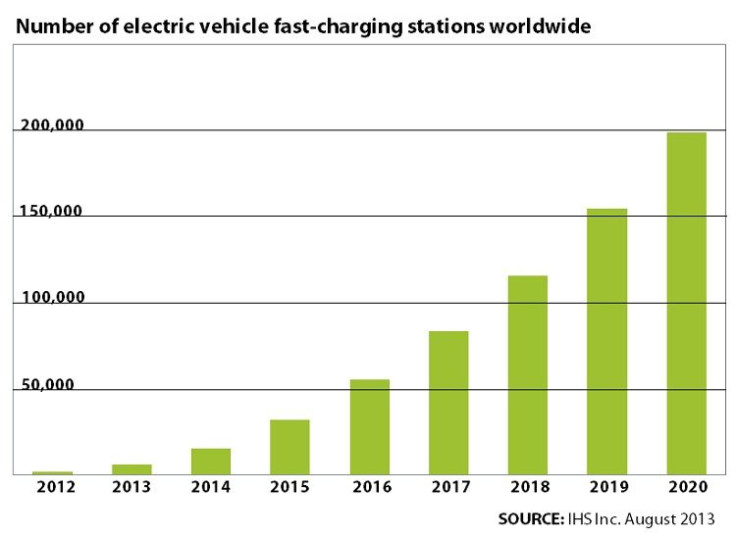 "The length of time it takes to recharge an EV continues to be one of the major stumbling blocks inhibiting the widespread adoption of electric vehicles," said Alastair Hayfield, associate research director at IHS Automotive. "If EV auto manufacturers could overcome this obstacle, it could lead to a high rate of adoption from environmentally minded consumers as well as those seeking to cut gasoline expenses. That's where fast charging comes in."
According to the IHS report issued Tuesday, the number of fast-charge networks is expected to grow from 1,800 last year to 199,000 by 2020. This bodes well for makers of these chargers, including Switzerland's ABB Ltd (NYSE:ABB), France's Schneider Electric SA (EPA:SU) and U.S.-based AeroVironment, Inc. (NASDAQ:AVAV).
But as the market for plug-in vehicles grows – fueled by more robust demand for hybrids than for 100 percent electrics, at least for the time being – two general standards are emerging: CHAdeMO, promoted by Japanese car companies, and CCS, embraced by the North Americans and Europeans.
With the world's top two automakers, Toyota Motor Corporation (TYO:7203) and General Motors Co. (NYSE:GM), using different standards, the makers of high-voltage direct current charging stations will for the long term have to accommodate both CHAdeMO (which the abbreviation for "Charge de Move") and CCS (which stands for "Combined Charging System") in order to offer the serve the widest possible audience.
Electric-only and plug-in hybrid vehicles that use the Japanese standard include the Nissan Leaf, Honda Fit EV, the Mitsubishi i-MiEv, the Prius Plug-in Hybrid and the Honda Accord Plug-in Hybrid. Automakers Volkswagen AG (FRA:VOW3), Daimler AG (FRA:DAI), Bayerische Motoren Werke AG (FRA:BMW), Chrysler Group LLC, Ford Motor Co. (NYSE:F) are all using the CCS standard.
There are currently almost 2,500 CHAdeMO charging stations servicing about 57,000 EVs worldwide, according to HIS, which doesn't sound like much until you consider that half of those chargers were installed last year, ahead of a rollout of new plug-in models (including hybrids) coming out this year. In the U.S., for example, the number of CHAdeMo charging stations increased to 154 from 12 the previous year, according to Nissan Europe.
Where does Tesla Motors Inc (Nasdaq:TSLA) fit into all of this?
It doesn't. The maker of (arguably, see below) the best-selling all-electric car in the U.S. is building its own proprietary network that it expects to cover the entire United States by 2015, rolling out service stations in a similar fashion to the way telecom companies gradually expand their service network footprints.
* Because Tesla only annouces auto sales in its quarterly reports while other auto makers report every month, claims in the media that the Model S is outselling the Nissan Leaf, which has been the most popular electric car by U.S. sales volume, are based on projecting Tesla's current monthly sales based on past performance. Nissan sold 11,703 Leafs in the U.S. in the first seven months of the year while Tesla sold 10,055 units in the first two quarters of 2013 ended June. In any case these two electric cars are competing in separate segments and are neck-and-neck in terms of claiming the No. 1 spot in U.S. electric car sales.

--

Correction: An earlier version of this story stated that Tesla's proprietary charging system means Tesla owners cannot use general public charging stations. As readers pointed out, the Model S comes with a mobile connector for use on J1772 charging stations. The adapter works with all CCS-compliant public stations. Tesla also offers universal mobile connectors for common NEMA electric outlets, such as ones used for home washers and dryers. Earlier this year Tesla said it would offer CHAdeMo adapters in Japan as it rolls into that market this year.
© Copyright IBTimes 2023. All rights reserved.