Obama Calls For Immediate Cease-fire Of Ukraine Crisis, Demands Credible Probe Of Downed Malaysia Airlines Jetliner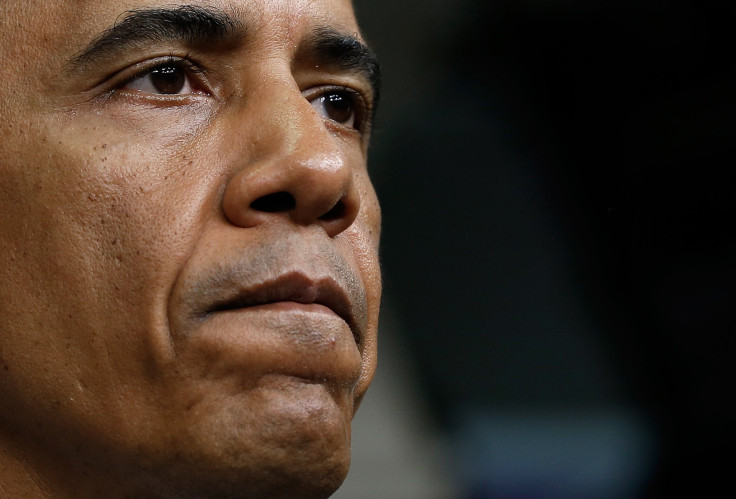 President Obama took a stern stance toward Russia on Friday, criticizing the country's role in the ongoing Ukrainian conflict that set the stage for the Malaysia Airlines plane crash.
In remarks at the White House, Obama confirmed that the jetliner was likely shot down by a surface-to-air missile launched from an area that is controlled by Russian-backed separatists in eastern Ukraine – separatists Obama said have received a "steady flow of support" from President Vladimir Putin's administration.
Russia has "continued to violate Ukrainian sovereignty and to support violent separatists. It has also failed to use its influence to press the separatists to abide by a ceasefire," Obama said. He hinted that the pro-Russian separatists might be to blame for the tragic crash, reminding that in recent weeks the fighters have shot down a Ukrainian transport plane and helicopter and possibly a Ukrainian fighter jet.
Experts contend that the missile that downed flight MH17 was a Buk system made by Almaz-Antey, one of Russia's largest military manufacturers and one of the companies targeted by the latest U.S. sanctions against Russia. Samantha Power, the U.S. ambassador to the United Nations, said separately on Friday that if pro-Russian groups are found responsible, investigators "cannot rule out technical assistance from Russian personnel in operating the system."
Obama added in his remarks that the U.N. Security Council would hold Russia to its word in participating an international investigation into the incident. He called for an "immediate ceasefire" between Russia, pro-Russian separatists and Ukraine in order to facilitate that investigation.
Obama confirmed that at least one U.S. citizen – Quinn Lucas Shantzman – was among the 298 adults, children and infants killed in the crash.
"Now is, I think, a somber and appropriate time for all of us to step back and take a hard look at what has happened," he said. "Violence and conflict inevitably lead to unforeseen consequences. Russia, these separatists and Ukraine all have the capacity to put an end to the fighting."
© Copyright IBTimes 2023. All rights reserved.