Obama Campaign, DNC Raised $53 Million In March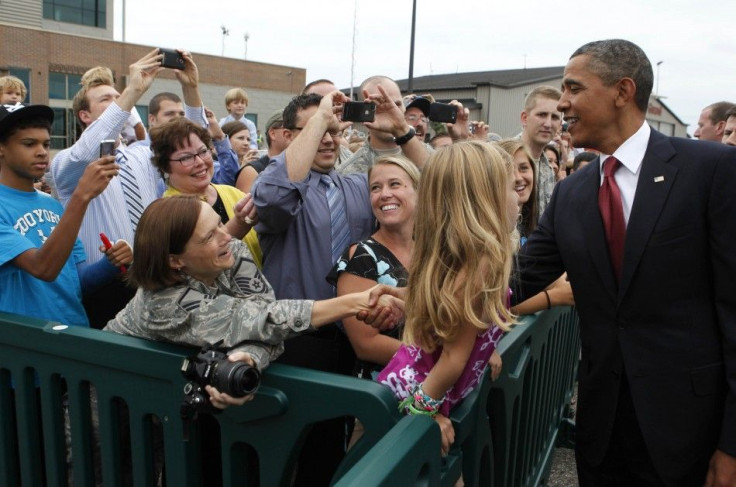 President Barack Obama's reelection effort pulled in $53 million March almost entirely from small-dollar donors, the campaign announced on Monday.
The total is a considerable increase from the campaign's February fundraising, which brought in a combined $45 million along with the Democratic National Committee. All in all, the campaign has raised $127 million in the first quarter of 2012, a stark improvement from the $68 million the two raised during the fourth quarter of 2011.
The figures were released in a Obama campaign video targeting grassroots donors, featuring testimonials by first-time donors who contributed between $5 to $160 to the president's reelection bid. According to the video, 190,000 of the 567,000 March donors were first-time contributors, with 97 percent giving $250 or less. The average donation was reportedly $50.78.
About forty-five percent of the individual contributions toward the president's 2012 campaign have been below $250, according to data from the Center for Responsive Politics. In the video, campaign manager Jim Messina called on the grassroots activism that launched Obama from a little-known Senator to the leader of the Democratic Party in 2008.
This really is how it works, Messina said. People building this organization five or ten bucks at a time to take on Mitt Romney.
Presidential hopefuls are required to file a monthly fundraising report with the Federal Election Committee during an election year, something Messina said will allow the campaign to tell its supports what this is organization is raising and how.
Neither Romney, the presumed nominee, or remaining GOP hopefuls Newt Gingrich and Rep. Ron Paul (Texas) have released their March fundraising figures. The disclosures must be submitted to the FEC by April 20.
Messina likely referenced Romney in the new video to highlight the severe discrepancy between he and Obama when it comes to small dollar donors. While Obama, like Romney, relies on a network of wealthy supporters known as bundlers to bring in large campaign contributions, the Republican frontrunner has depended on it for a majority of his fundraising. Only 10 percent of the approximately $74 million raised by the campaign through February has come from small-dollar donors, a fact that critics say is evidence of the former Massachusetts governor's inability to inspire a passionate Republican base.
Romney and the Republican National Committee began fundraising together earlier this month. The RNC reportedly had its best fundraising month to data in March, when it pulled in $13.7 million.
© Copyright IBTimes 2023. All rights reserved.