Obama Expected To Veto Keystone XL Pipeline Construction, But Has Yet To Give 'Hard Assurance,' Top Dem Says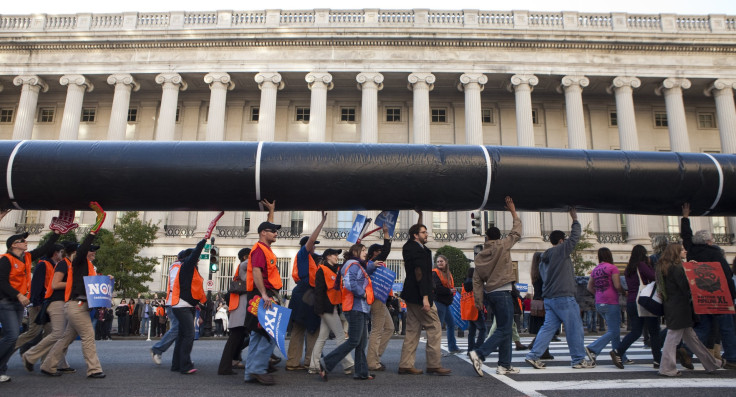 U.S. President Barack Obama is expected to veto construction of the proposed Keystone XL oil pipeline, but he has yet to give any "hard assurance" of that decision, a prominent Democrat said on "Fox News Sunday." The Senate is scheduled to vote on the issue within days.
Sen. Sheldon Whitehouse, D-Rhode Island, said that, if forced, Obama will likely negate any congressional votes in favor of building the pipeline. First proposed in 2008, the massive oil-transport system would run from Alberta, Canada, to Illinois to the Gulf Coast of Texas. The pipeline has been backed by oil companies and conservative lawmakers, but serious environmental questions and ongoing protests have helped push the issue to the forefront of national debate.
"I don't have hard assurance" of a presidential veto, Whitehouse said, then added, "I hope and expect that [Obama] will" terminate any legislation.
The senator sat down with Fox News just days after the Republican-controlled House of Representatives authorized construction of the pipeline by a 252-161 vote. If the Senate also approves, the issue will be up to Obama to decide. In a news conference in China Friday, the president refuted two assertions about the Keystone XL pipeline, saying he had "to constantly push back against this idea that somehow the Keystone pipeline is either this massive jobs bill for the United States or is somehow lowering gas prices."
Instead, "It is providing the ability of Canada to pump their oil, send it through our land, down to the Gulf, where it will be sold everywhere else," the Washington Post quoted Obama as saying. "That doesn't have an impact on U.S. gas prices."
© Copyright IBTimes 2023. All rights reserved.