Obama Job Approval Ratings: Hispanic Poll Shows Boost After Immigration Executive Actions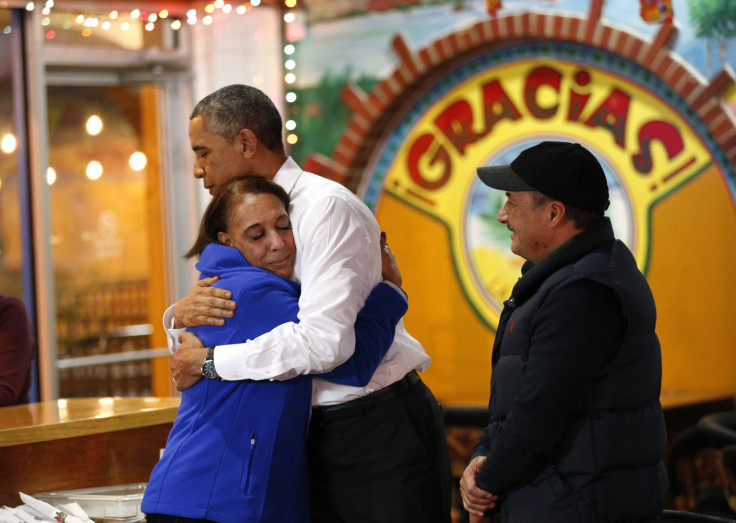 President Barack Obama's executive actions on immigration have boosted his support among Latinos by 10 percent, according to a NBC News/Wall Street Journal/Telemundo survey. Before Obama announced the controversial executive actions that protected some 5 million illegal immigrants from deportation, less than half of Latinos -- 47 percent -- said they approved of his job performance as president.
The survey released Wednesday showed Obama's support among Latinos now stands at 57 percent, according to NBC News. Obama's highest rating among Hispanics was in April 2013, when 62 percent approved, according to the Wall Street Journal.
While Obama's immigration executive orders were a hit with Hispanics, most Americans disapproved of them. Roughly 45 percent of Americans approved of them, according to a poll conducted last week by the Pew Research Center.
On immigration overall, 56 percent of Latinos approve of Obama's handling of the issue, according to NBC News. Only 45 percent of Latinos said they felt that way in 2013, before an immigration reform bill passed the Senate but was held up in the House.
Obama's growing support among Latinos is being boosted by growing approval among younger cohorts, the poll showed. Just 46 percent of Hispanics between 18 and 39 years old approved of Obama's job in September, but that support soared to 63 percent in the latest poll.
The 2013 slump in Latino support came after Hispanics cast their ballots in large numbers for Obama for his re-election in 2012. Obama garnered 71 percent of the Hispanic vote against Republican nominee Mitt Romney. The 44-point advantage among Hispanics for Obama was the largest margin in a presidential race since 1996, when Bill Clinton had a 51-point advantage among Latinos against Republican Bob Dole.
© Copyright IBTimes 2023. All rights reserved.
FOLLOW MORE IBT NEWS ON THE BELOW CHANNELS