Obama In The Middle East, Day Three: Syrian Refugees Flood Into Jordan Ahead Of The President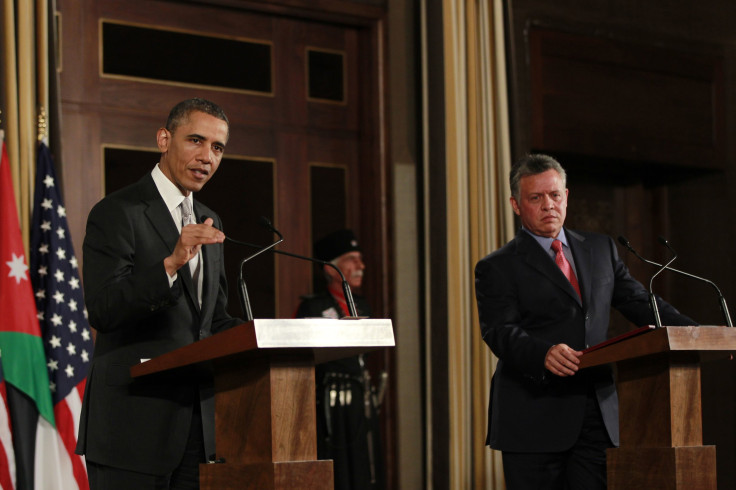 U.S. President Barack Obama spent time Friday morning at the Yad Vashem Holocaust memorial and the tomb of former Israeli Prime Minister Yitzhak Rabin in Jerusalem. He then departed for Jordan for a meeting with King Abdullah II.
But before Obama arrived on Friday afternoon, CBS News estimated that 1,800 Syrian refugees crossed the border into Jordan on Thursday night. In all, there are almost 310,000 registered refugees in Jordan, according to the Office of the United Nations High Commissioner for Refugees. However, the government of Jordan itself put the number at about 460,000, and said it may double by the end of this year, Reuters reported.
The plight of the refugees was one of the talking points the king and the president discussed in their meeting. The king emphasized that "this is a challenge we just cannot turn our backs on," but noted that the refugees were costing Jordan $550 million per year. Obama said he had pledged an additional $200 million in humanitarian aid this year, up from the original $155 million he announced in January.
This will bring the total contribution of aid related to Syria from the U.S. to $430 million.
Both leaders reiterated their commitments to seeing Syrian President Bashar Assad step down, and to handling what could be a volatile aftermath of his departure. "I am very concerned about Syria becoming an enclave for extremism," the Associated Press quoted Obama as saying. "The outcome in Syria is not going to be ideal."
Abdullah and Obama also discussed the stalled Israeli-Arab peace process. Jordan and Egypt are the only two Arab countries to have signed peace deals with Israel, and Reuters reported that the king offered to host both Israeli and Palestinian leaders in Jordan to facilitate talks.
The two also discussed Iran, with Obama saying the U.S. is "open to every option that's available," AP reported.
© Copyright IBTimes 2023. All rights reserved.