Obama-Pena Nieto Meeting: US-Mexican Relations Marked By Missed Opportunities For American President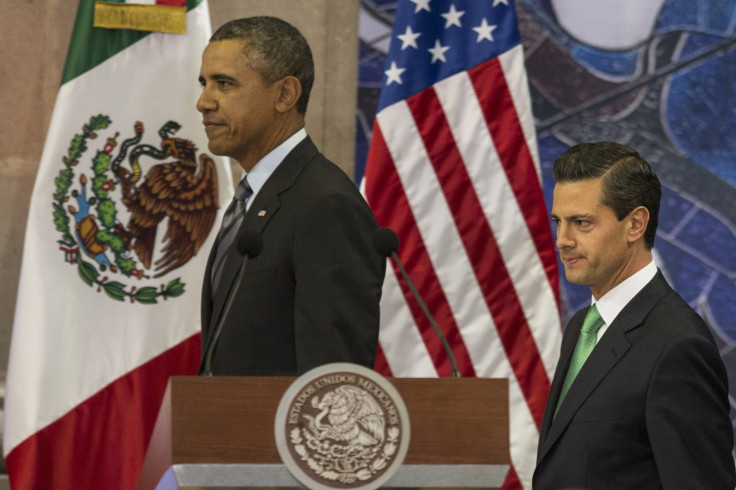 When U.S. President Barack Obama meets with Mexican President Enrique Peña Nieto on Tuesday, it will mark two years of missed opportunities for Obama to improve his standing with Mexico's business leaders and the American people on immigration. At the same time, the White House visit, Peña Nieto's first since he was elected president of Mexico in 2012, comes as he faces a security crisis engulfing much of Mexico -- a topic that could create tensions between the two world leaders.
The meeting is an extension of high-level economic dialogue that started over a year ago. The leaders will likely focus on security and social issues, including growing relations with Cuba and the U.S., according to the White House.
"From a Mexican side, it makes a lot of sense," said Shannon K. O'Neil, a Mexico expert and senior fellow for Latin American studies at the Council on Foreign Relations. "The U.S. is Mexico's largest trading partner. It's the largest location of its diaspora. The ties between the two countries -- it's the single most important bilateral relationship that Mexico has."
In the U.S., Obama's recent executive actions on immigration affects Mexicans more than any other group. Of the 5 million illegal immigrants that could temporarily seek protection from deportation under the president's executive orders, 3 million are Mexicans. Another increasingly important demographic are students and young people who were born in the U.S. to illegal immigrant parents. Mexico "is a country that will be affected most by these changes," O'Neil said.
The United States is Mexico's largest trading partner in terms of exports, and the U.S. has given Mexico about $350 million in aid annually since 2007 to fight drug violence and organized crime and improve security. Mexico's largest exports are manufactured goods, and 80 percent are shipped to America.
"For Obama, I think the challenge, the problem is that Mexico is actually quite important to the United States, but Obama is so embattled on so many fronts that he hasn't been able to give Mexico the bandwidth that it deserves or even enough to benefit himself," said David Shirk, a global fellow at the Woodrow Wilson Center for International Scholars in Washington, D.C., and director of the Justice in Mexico Project at the University of San Diego. "If he gave Mexico more attention, it would help him at home."
With a more direct focus on Mexico, Obama could have scored political points from Americans who think the president doesn't have a robust foreign policy, Shirk said. For instance, Obama could have done more to influence Mexico to address the root causes of illegal immigration and increase economic opportunities. "Because of Mexico's importance to the U.S., a general audience would ultimately benefit and favor Obama helping to address [Mexico's] issues because they're relevant to us," Shirk said.
Since the Mexican president was elected in 2012, Obama has met with him only twice -- in May 2013 in Mexico City and February 2014 in Toluca, Mexico. More recently, security concerns in the wake of the disappearance of 42 students from Guerrero state in September, allegedly a collaboration between corrupt police and a drug cartel, set off protests across Mexico and anger toward Peña Nieto for not doing enough to stop drug violence and corruption.
"At this point, there hasn't been any evidence tying the president to this affair or culpability, and I think that the issues that people are more concerned about are more generalized crises of governance that this exposes," said Raúl Hinojosa-Ojeda, a professor of political economy and Chicano studies at the University of California, Los Angeles. "People are mad at how could any government allow this type of mass murder repression to exist. He may not be directly responsible, but he has to respond. He has to come up with more than, 'I had nothing to do with it.'"
Peña Nieto is also dealing with personal corruption allegations. The Mexican president was accused of living in a $7 million mansion in a ritzy area of Mexico City owned by a company that was awarded the country's first high-speed rail contract. Peña Nieto's wife, Angélica Rivera, said in November that she would sell the home.
But the crises aren't enough to sideline the talks with Obama, according to O'Neil. "There are many tense moments in U.S-Mexican relations and times when presidents are meeting when difficult things have happened," she said, including in 1982, when Mexico's president nationalized the country's banks and kicked out American firms. What's more, Mexico not being a priority for Obama also means that Americans are not keenly aware of Mexican domestic issues, so the administration wouldn't face a backlash for hosting Peña Nieto, according to Hinojosa-Ojeda.
Meanwhile, several incidents viewed as excessive police force against unarmed black men in America this summer have put a spotlight on racial injustice and fueled demonstrations in Missouri, New York and beyond in the U.S. Peña Nieto's popularity is hovering near an all-time low, while Obama's approval continues to dip below 50 percent.
"What's ironic about these two men coming together at this moment is they have so much in common," Shirk said. "They're dealing with some of the same challenges and issues, and they arguably have a lot to talk about. What's unfortunate is they don't talk to each other more."
The anti-police protests in America make it difficult for Obama to chide Peña Nieto on the Mexican security crisis. "This is absolutely under no circumstances going to turn into an Obama lecturing Peña Nieto," Hinojosa-Ojeda said. "If anything, they might swap stories about how you change beliefs at the local level when you're a federal government."
Jorge Bustamante, a sociology professor who researches U.S.-Mexican relations at the University of Notre Dame in South Bend, Indiana, said the length and importance of the relationship is too great to not have Peña Nieto visit the U.S.
"I think [the meeting is] going to be the continuation of a harmonious relationship," he said. "It's been a stable relationship with no significant problems that might be disrupting that kind of stability and that relationship."
© Copyright IBTimes 2023. All rights reserved.