Obama-Romney Race In Swing State Wisconsin: What To Look For On Election Night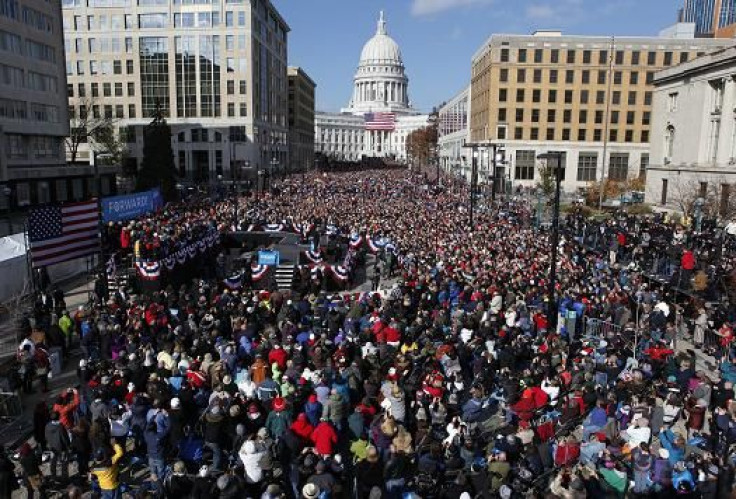 With Wisconsin looking like it could join Ohio in determining the 2012 election, both President Barack Obama and Republican nominee Mitt Romney are locked in a fierce battle for the Badger state. And, polls show it might just edge Democrat on election night.
A true toss-up at this time, Wisconsin has not voted Republican in a presidential election since 1984. Wisconsin joins Ohio and Iowa in building a "Midwest firewall" favoring Obama.
The two nominees were tied less than a week before the election. Last week's Rasmussen Reports telephone survey of likely voters showed Obama and Romney each with 49 percent support. There were only 2 percent of voters who remained undecided.
Real Clear Politics' average results show Obama with 50.4 percent support while Romney gets 46.2 percent in Wisconsin. Moreover, Wisconsin and its 10 electoral votes have been trending Obama for months now. Romney hasn't opened a lead there in public polls since the summer.
"If the turnout is high, President Obama may do good," said Thomas Whalen, a political historian at Boston University.
Obama carried Wisconsin by a 56 percent to 42 percent margin in 2008.
Nearly 30 million early votes have been cast nationwide with Wisconsin submitting a reported 256,277 votes.
The fact that Democrats have carried Wisconsin for six straight presidential elections may discourage Republicans about their chances of winning, but it is not yet a done deal for the Romney campaign.
Vce presidential nominee Paul Ryan is a local boy, from Janesville, and represents the state's 1st Congressional District. Republicans believe Ryan could appeal to the state's independent voters, giving the GOP ticket some advantage.
But for now Obama will have the last word, as he is visiting Wisconsin, Ohio and Iowa on Monday, the final push before Tuesday's election.
© Copyright IBTimes 2023. All rights reserved.