Obama Speaks Movingly At Boston Bombing Memorial Service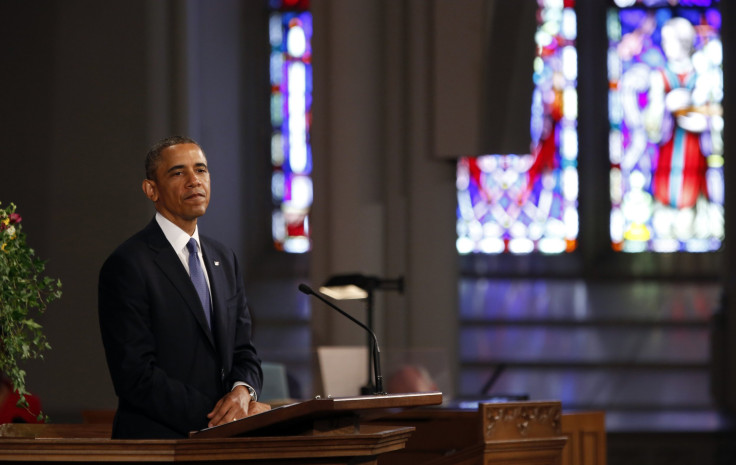 President Barack Obama visited Boston on Thursday morning to offer a message of love, solidarity and compassion to the people of the heartbroken Massachusetts capital.
Delivering one of his most memorable speeches, Obama spoke about his belief in the enduring power of Bostonians to get through this dark period in the city's long history.
And he emphasized his, and America's, dedication to ensuring that not only will the perpetrators of the Monday bomb attack at the Boston Marathon be found and punished for their crimes, but that they will also be unsuccessful in their attempts to shake the nation's core values.
"Yes, we will find you, and yes you will face justice," he told an emotional crowd gathered for an interfaith service at the Cathedral of the Holy Cross in Boston's South End. "We will find you, we will hold you accountable. But more than that, our fidelity to our way of life, to a free and open society, will only grow stronger."
His remarks mentioned each of the three people killed in the bombings by name, and he painted an evocative, heart-wrenching picture of each of their lives, particularly that of Martin Richard, twice reciting the words "No More Hurting People. Peace," which Richard had scrawled on his now-iconic blue paper sign.
"Our hearts are broken for 8-year-old Martin with his big smile and bright eyes," Obama said. "His last hours were as perfect as an 8-year-old boy can hope for -- with his family, eating ice cream."
And he offered a paean to the people of Boston, praising them for their spirit, strength and resolve.
"Your resolve is the greatest rebuke to whoever committed this heinous act," Obama said. "If they sought to intimidate us, to terrorize us … well, it should be pretty clear by now that they picked the wrong city to do it. Not here in Boston. Not here in Boston. You've shown us, Boston, that in the face of evil, Americans will lift up what's good."
Obama was joined in speaking at the service by Massachusetts Gov. Deval Patrick and Boston Mayor Thomas Menino, as well as a procession of religious leaders from a wide range of the world's faiths.
Patrick listed the many things he is thankful for even in the wake of such tragedy.
"I am thankful maybe most especially for the countless numbers of people in this proud city and storied commonwealth who in the aftermath of such violence let their first instinct be kindness," he said, adding later, "Just as we cannot permit darkness and hate to triumph over our spiritual faith, we cannot permit darkness and hate to triumph over our civic faith. That cannot happen and it will not ... The grace this tragedy exposed is the best of who we are."
Menino declared, "We are one Boston" to booming applause before delivering a message of love.
"Since the clock struck that fateful hour, love has covered this resilient city," he said. "I have never loved it and its people more than I do today. We have never loved it as people more than we do today."
© Copyright IBTimes 2023. All rights reserved.