Obama the Sports Fan: How the President's Sports Knowledge Works For and Against Him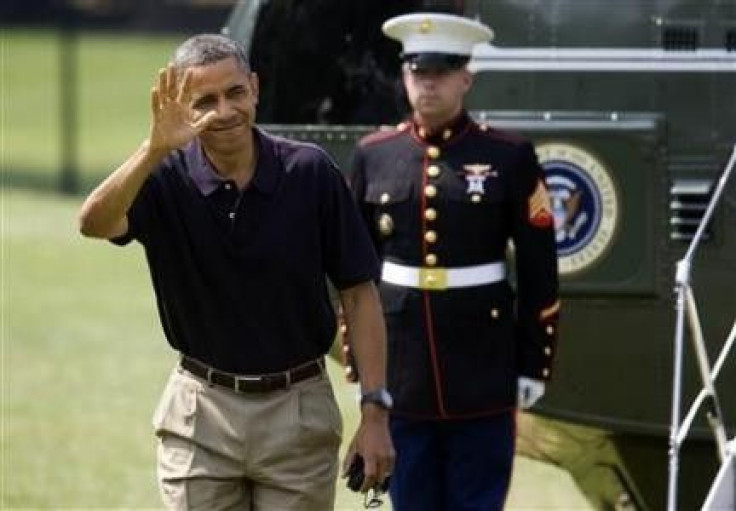 With the Nov. 6 Election quickly approaching, President Barack Obama is expected to be involved in a fierce campaign against Republican challenger Mitt Romney.
To wind down from tense moments that go along with being Commander-in-Chief, Obama likes to sit back and enjoy what many fellow Americans look to for solace and comfort: sports.
Obama has made little effort to hide his immense interest in sports, with basketball being one of his lifelong passions. There is Barack-Etology, in which the president unveils his NCAA Men's Basketball Tournament picks during March Madness. Then there are his brief appearances on Monday Night Football, pickup games with friends and colleagues, and an occasional coaching role on his daughter Sasha's youth basketball team.
In March, the President even invited British Prime Minister David Cameron to an opening round game of the NCAA men's tournament before discussing relations between the two allies.
Last week, Obama immersed himself in the Olympic spirit as he watched the U.S. men's basketball team rally from an early deficit to beat Brazil, 80-69, in a friendly.
During that game, the President gave a brief halftime interview with ESPN regarding Team USA's chances in London.
Obviously the talent that we've got at this point is unbelievable. ...So there's no reason that we shouldn't bring home the gold. We just have to stay focused, he said.
Obama's interest and enthusiasm for sports extends far beyond basketball. He frequents the green on many Sundays for a round of golf, regularly follows college and professional football, and is a knowledgeable baseball fan, and the White House is not shy about sharing the President's fandom.
While there is nothing particularly unique about fondness of sports, Obama's highly visible job means his hobbies and interests are scrutinized more than the average sports fan. For example, when Obama fills out his NCAA college basketball bracket his critics complain of him spending time on frivolous matters as opposed to issues that affect all Americans such as unemployment, the debt issue, or violence.
Others note that in only takes 20 minutes out of a busy schedule to assess the bracket and select picks, and it actually helps connect Obama to the average American. Having a president who can analyze teams and matchups thoroughly, like many sports fans, helps diminish the perception that the most powerful person in the world is incapable of enjoying everyday activities.
Meanwhile, Romney took the opposite approach when it came to the NCAA tournament. The Republican nominee said he wouldn't fill out a college basketball tournament bracket.
I'm not plugged in well-enough this year to do that, Romney briefly told reporters in March.
To most voters, Romney's lack of interest in the NCAA tournament has little to no significance on their opinion of him. Some may view Romney's indifference as a sign that he is simply too busy working on settling important political and economic matters to take time to follow sports, while others may argue that this demonstrates that Romney's inability to relate to the average citizen, whether true or not.
Another example politicizing a candidate's interest in sports took place in Boston when the President addressed voters in June on Romney's home turf. Obama jokingly thanked Boston for trading Kevin Youkilis, a much-beloved infielder for the Boston Red Sox, to Obama's favorite baseball team, the Chicago White Sox.
The crowd either began either booing or shouting Youuuk in a loud but joking manner.
I didn't think I'd get any boos out of here. I guess I should not have brought up baseball. My mistake, Obama replied, with a smile.
Of course, the incident was politicized when a member or Romney's camp, though not Romney himself, criticized the President for mocking a beloved franchise when the team is struggling in an email blurb via The Associated Press.
It is unlikely that anybody took the President's comment to heart or that anybody found it to be of any significance at all. But for politicians it's part of the territory. They are often criticized or praised for obscure matters, and if Romney had made a similar comment, a critic would almost certainly pounce on the perceived flub.
Obama is certainly not the first president to have an active interest in sports. Richard Nixon had famously stated that he had a desire to be a sports writer. Cameras caught Bill Clinton pounding his palm on an arm rest in frustration when his beloved Arkansas Razorbacks played poorly in an important college basketball game. George W. Bush owned the Texas Rangers, and publicly lamented trading slugger Sammy Sosa.
While some might take issue with the idea of a world leader checking scores on a mobile device before and after being briefed on political events, it seems as though Obama's fandom is here to stay, whether it has advantages or not. He often is unapologetic about his love of sports.
Regardless of political views or feelings towards the President, it appears hard to deny Obama's charisma. It is undeniable that when voters can find something in common with the leader of a country such as a passion for basketball or baseball, people can take a step back and look at a figure as just another person, even if just for a quick moment.
© Copyright IBTimes 2023. All rights reserved.