Obama On VA Scandal: 'We're Going To Fix What's Wrong'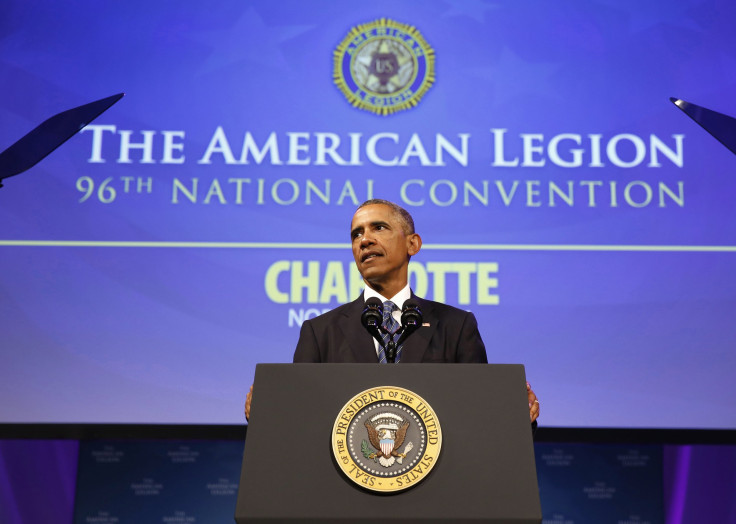 President Barack Obama pledged Tuesday to get to the bottom of the veterans affairs' hospital scandal that led to the resignation of Eric Shinseki earlier this summer and announced 19 executive actions to improve veterans' health care. Obama promised to push for a system that would provide "tailored care" for the country's newest veterans "that treats our women veterans with respect and dignity."
"Upholding our trust with our veterans is not just a matter of policy; it is a moral obligation," Obama said at the American Legion convention in Charlotte, North Carolina. "We're going to fix what's wrong and we're going to do right by you and your families. That is a solemn pledge."
Shinseki resigned as the veterans affairs secretary in May in the wake of the VA hospital scandal, which uncovered the existence of secret waiting lists for veterans at the Phoenix VA. The lists were used to hide long waiting times. The scandal grew to other VA facilities, where veterans were waiting up to 60 days to see a doctor.
Obama said the federal government also needs to do more to address suicides among veterans.
"We can't stand idly by on such tragedy. So we're doing even more, more than ever. More awareness, more outreach, more access to mental health care," Obama said. "So as long as any service member or veteran is suffering, or feels like they have nowhere to turn, or doesn't get the support they need, that means we haven't done enough."
Obama vowed to expand suicide prevention training across the military and the VA "so colleagues and clinicians can spot the warning signs and encourage our troops and veterans to seek help." Another executive action would increase peer support so veterans can help counsel other veterans at VA hospitals and clinics.
© Copyright IBTimes 2023. All rights reserved.