'This Is Not Obama's Baggage': Veterans Say VA Scandal Runs Deeper Than Shinseki, President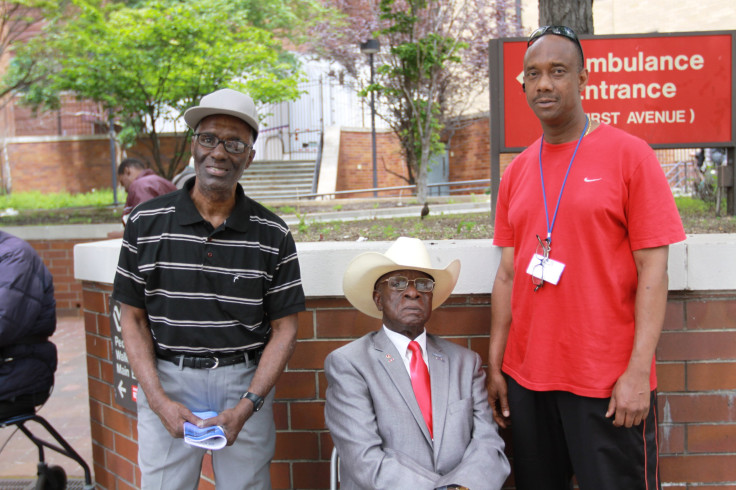 Arthur Code, a 74-year-old Vietnam veteran, often sits on a plastic chair outside the Manhattan campus of the VA New York Harbor Healthcare system, dishing advice to younger veterans who ask him about the health-care system. But on this day, he's offering suggestions to people who can't hear him.
Code, nattily dressed in a grey suit, white shirt, red tie and cowboy hat, says the systemic problems at the Veterans Affairs department will not be solved by the ouster of Eric Shinseki, the VA secretary whose resignation was accepted Friday by President Barack Obama.
"It stays the same. The problem is still going to be there. It's a nationwide problem," Code says, between cigarettes.
It's not just the Phoenix VA hospital, the epicenter of the scandal that plagued Shinseki and Obama, where veterans are waiting too long to see a doctor. Code said his wait for an appointment at the Manhattan VA can be as much as 60 days. Another veteran passing by says the hospital lost his order for prescription eyeglasses and he needs to wait two weeks for another appointment.
Earl Harding, an Army veteran stationed in Korea and Fort Ord, California, during his service from 1977-1980, says the blame for the substandard care shouldn't rest on Shinseki's shoulders -- or even Obama's.
"This is not Obama's baggage," said Harding, 56. "This has been going on since Vietnam."
A change at the top -- Obama said Deputy Veterans Affairs Secretary Sloan Gibson would be acting secretary following Shinseki's resignation – isn't what's needed to correct the systemic problems, Harding says. For the VA to better its reputation, it has to start with the doctors and nurses.
"These days, you don't have veteran doctors in the VA hospital," Harding said. "They're not sympathetic to vets as opposed to veteran doctors."
Obama announced Friday that he was canceling any possible performance bonuses for senior Veterans Affairs executives – a move that was lauded by Code and other veterans who said money is clouding the VA's perspective on caring for former military members.
"Those bonuses are part of the problem," Code explained, suggesting that the issue also exists at the Manhattan VA, where he said doctors who are rewarded for efficiency allot 20 minutes for a patient's concerns before moving on to the next appointment.
"Everything is not about money and that is something that government really needs to think about," said Vietnam veteran Bruce Williams, who suffers from PTSD. "How can you put a dollar sign in front of people's mentality, spirituality? What are you really telling us? That we're just statistics."
Shinseki does bear some responsibility, said Williams, who questioned the retired four-star general's compassion towards veterans. "A real veteran is not going to do that to his fellow vets," he said. "I don't understand."
Bradford Reece, a 66-year-old Vietnam vet, said he believed the terminations at the Phoenix VA will prompt the nationwide VA to address its issues. "When they start firing people, everybody starts tightening their game," he said.
"It's going to change now."
Reece said he didn't believe Shinseki should bear sole responsibility. "I was surprised that Shinseki resigned today," he said. "Inherently, when you go into any organization, you can't go in alone. You have to come in with the bureaucrats and the deputies and they become your palace guards."
Williams said he believed the scandal will make those thinking about a military career reluctant to serve their country. "For you to deny us that which was guaranteed to us, I think that's one of the biggest sins you can commit in government service," he said.
"We are the country. You don't have no respect for us." Unless "they put people in office that respect what's important," nothing will change, Williams said.
© Copyright IBTimes 2023. All rights reserved.