Obama's 2016 Budget Pushes Social Spending, Tax Reform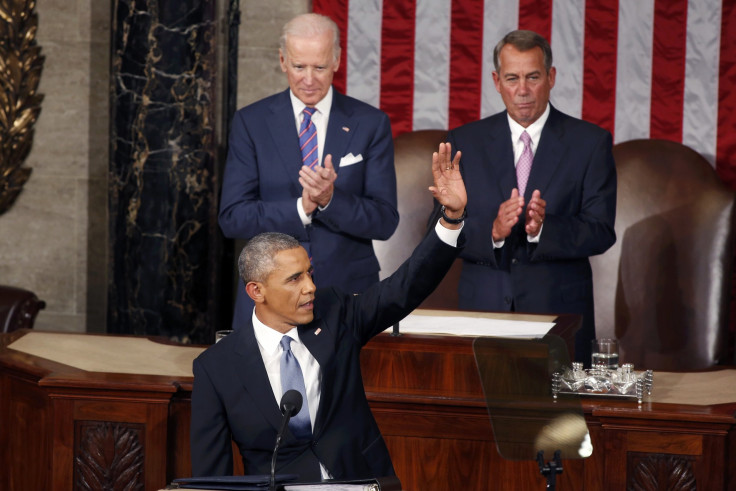 President Barack Obama's $4 trillion budget for the 2016 fiscal year extends social spending and tax reform for middle-class families in multiple areas, including funding for child care and higher tax credits. The proposals follow Obama's vows made last month during his State of the Union speech to expand opportunity by making necessities including education, health care and housing more affordable, even as the plan has met with resistance from Republicans.
In addition, the budget proposal strengthens "key elements of our safety net," Melissa Boteach, vice president of the Half in Ten and the Poverty and Prosperity Program at the progressive Center for American Progress, said by phone. "It does a decent job of investing in economic mobility and opportunity for low-income families," she said, citing new investments in child care -- which she called "historic" -- and the expansion of earned income tax credit as well as the rebalancing of the Social Security Trust Fund, among other components of the budget, which was released Monday.
Earned income credit, a tax credit that increases the income of low-wage parents, would be expanded under Obama's budget, which proposes to include childless adults, not merely parents, as it currently stands. It also would triple the Child and Dependent Care Tax Credit from its current maximum of $1,000 per child for up to two children. The State Paid Leave Fund, meanwhile, increases state funding to give parents paid leave "so that parents don't have to make these impossible choices between losing a paycheck and not staying home with a sick child," Boteach added. The budget "make[s] room for job creation, investments in our social safety net."
Specifically within that safety net, Obama's proposed budget shores up support for the Preschool for All initiative, paid for by a hike in tobacco taxes, with Preschool Development Grants increasing 2015's levels by $500 million, up to $750 million in the proposed 2016 budget. It also increases early intervention services for disabled children by $115 million, to $907 million. The budget would drastically increase funding for the Head Start program, which supports children no older than 5 hail from low-income families, providing educational, health, social and other services. An addition of more than $1.5 billion would be used to expand access to child care and home-visiting programs, as well. A near doubling of tobacco taxes aims to generate $95 billion to help cover these kinds of programs and similar ones, such as an extension of the Children's Health Insurance Program and universal access to preschool.
Though the budget increases social spending in these particular areas, one notable line where it did cut spending is the controversial issue of vaccination. The budget chopped $50 million from the 317 Immunization Program of the Department of Health and Human Services, dropping its budget from $611 million to $561 million. A White House Official told BuzzFeed News that the 317 Immunization Program was less necessary now that the Affordable Care Act was expanding access to immunizations for those who were uninsured or underinsured.
Nicole Kaeding, a budget analyst at the conservative Cato Institute, however, believes the budget ignores "the country's long-run fiscal crisis." "The president is throwing money at everything," including "a litany of new spending programs, like subsidized child care and free community college tuition" that "grow the federal budget," she wrote in an email.
Kaeding previously criticized the lack of Social Security and Medicare reform in the budget, pointing out, "Waste is ... rampant within these programs," even as "half of the entire increase in federal spending over the next 10 years is these two programs." She said that the "budget does not include real reform to our major entitlement programs, Social Security, Medicare and Medicaid," because the $400 billion in health care savings came from cuts to health care providers or raises in drug costs for pharmaceutical companies.
The proposed budget is supposed to stabilize the country's deficit when measured against the economy, as well as decrease debt in terms of its percentage of the GDP, although the absolute amount of debt itself will increase. It also aims to raise taxes on America's wealthiest, as well as on corporations with overseas accounts. In his State of the Union address last month, Obama promised to support the middle class and bolster those aiming to rise into it. "Middle-class economics means helping working families feel more secure. ... That means helping folks afford child care, college, health care, a home, retirement," he told Congress. "My budget will address each of these issues," he promised, "lowering the taxes of working families and putting thousands of dollars into their pockets each year."
© Copyright IBTimes 2023. All rights reserved.