Obama's $3B Climate Change Pledge Could Be The Most Effective US Climate Outlay So far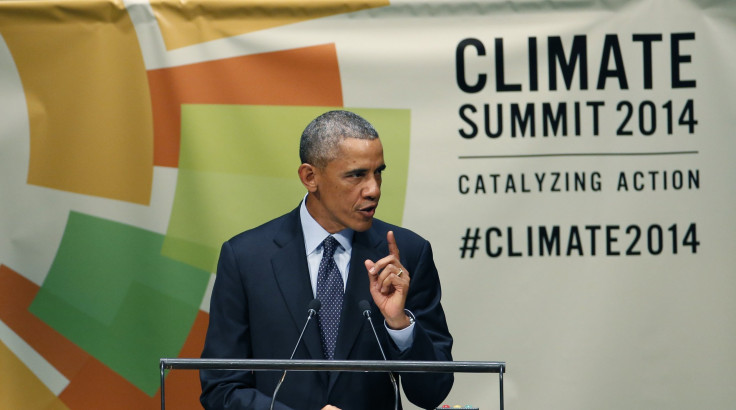 The Obama administration's $3 billion pledge to help poor countries combat climate change has potential to be the U.S.' most effective climate outlay so far. The funding, announced Friday, will stream into a new international fund that aims to squeeze more from public dollars by attracting private investment in clean energy technologies and climate resiliency projects, such as storm surge barriers and more durable buildings.
The goal is "to figure out how to use the smallest amounts of public money necessary to unlock much larger flows of private capital," says Peter Ogden, a former White House adviser who now directs the international climate and energy program at the Center for American Progress, a liberal think tank in Washington. "It's going to give an opportunity for the public money to stretch even further than it has in previous funds."
President Barack Obama's commitment is about a third of the initial money the United Nations aims to raise for its Green Climate Fund, which launched in 2010 but has not yet disbursed any money. Developing nations are urging richer countries to give $15 billion, saying that they need greater financial and technical support to meet international goals for curbing greenhouse gas emissions.
The Green Climate Fund builds on the earlier U.N.-backed Climate Investment Funds, a temporary program that raised $7.6 billion in 2008 from more than a dozen countries, including a $2 billion pledge from the George W. Bush administration. Unlike the previous bucket, the Green Climate Fund has an entire segment devoted to luring private money into the clean energy and resiliency sectors.
The details of the so-called Private Sector Facility are still being hashed out, but it could include a mix of generous loans, partial-risk guarantees and venture capital dollars that would make it less risky and expensive to invest in fledgling technology projects in developing economies, Gilbert Metcalf, an economics professor at Tufts University and a former U.S. Treasury official, said by phone.
Metcalf was the first U.S. participant on the Green Climate Fund's advisory board. The United States is a permanent member of the 24-nation board, though the fund has more than 190 participating nations and is managed by the World Bank.
He pointed to an example of public-private investment in Oaxaca, Mexico, where climate financing was used in 2009 to reduce investment and regulatory risks on several wind farm projects. "It helped provide a proof of concept that this really could work, and private investors followed with subsequent wind projects in Mexico," he said.
The Green Climate Fund would aim to do the same on a much broader scale. Through that program and others, the U.N. aims to raise $100 billion per year in public and private aid from 2020 onward.
The Obama administration has not yet specified whether its $3 billion pledge will come from existing sources of funding or require new appropriations from Congress. Attempts to raise more money are likely to face stiff resistance from Republicans lawmakers, who argue that spending U.S. taxpayer dollars to fight climate change -- at home or abroad -- will drain the American economy and threaten job growth.
But proponents of U.S. climate finance remain optimistic that both Republican and Democratic policymakers will keep writing checks. "It hasn't been a strictly partisan issue historically, and I hope they [Republicans] don't try to make it into one," Ogden said.
Over the past four fiscal years, Congress has approved nearly $1.4 billion for the Climate Investment Funds, according to a Congressional Research Service report.
In total, the United States has provided $7.5 billion in climate financing for poorer countries through a handful of avenues, including funds dedicated to restoring and protecting rainforests -- which absorb carbon dioxide emissions -- as well as initiatives for installing solar and wind energy projects and developing drought-resistant crops.
Obama's latest pledge to the Green Climate Fund is expected to pressure other developed nations, including Japan and the U.K., to make bold pledges ahead of the global climate talks in Peru next month. So far, France and Germany have each committed $1 billion each, while a handful of other countries have pledged smaller amounts.
Alex Doukas, a research analyst with the World Resources Institute's finance center, said the U.S. announcement is a "great starting point" that builds on the momentum of a U.S.-China climate deal reached earlier this week, when Obama and Chinese leader Xi Jinping set targets for slashing their nations' respective greenhouse gas emissions.
But the $3 billion boost "only makes a dent in the overall need" when it comes to financing the fight against climate change, Doukas said. "The needs are orders of magnitude greater."
© Copyright IBTimes 2023. All rights reserved.
FOLLOW MORE IBT NEWS ON THE BELOW CHANNELS