UN Climate Summit: Countries Promise To Give Billions In Climate Change Financing, But Road From Promise To Project Uncertain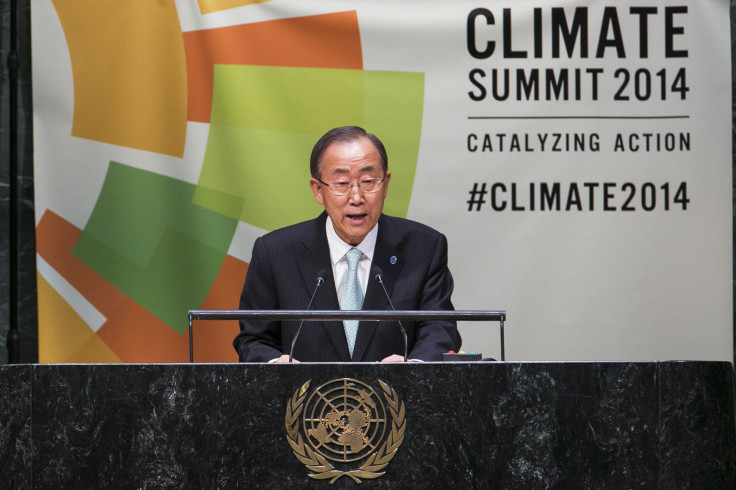 Rich nations are promising to pony up billions more dollars to help developing countries stem climate change. At a United Nations summit this week, world leaders pledged more than $20 billion for projects to curb greenhouse gas emissions or help communities adapt to effects like rising sea levels and devastating droughts.
But ensuring that money is actually spent and produces benefits is a complicated and uncertain process, according to interviews with climate finance experts.
Analyses of previous commitments show that countries occasionally pledge the same bucket of money for multiple initiatives, making it hard to tell whether they are offering new dollars, or simply re-pledging existing funding. On the receiving end, it's often tough to discern how the dollars are used, since recipient countries don't have rigorous reporting requirements under the U.N.
"It is very, very challenging" to track climate finance, Alice Caravani, the principal research officer for the online database Climate Funds Update, said from London.
Climate financing is considered a crucial part of the U.N. negotiations. Many poorer nations say they can't meet an international pact to cut emissions without substantial financial and technical support. And they are ill-equipped to protect their infrastructure and economies from the consequences of global warming -- a phenomenon largely caused (so far) by centuries of fossil fuel burning by industrialized nations in Europe and North America.
Caravani's project monitors public financing flows from developed to developing countries. By its count, rich countries have pledged roughly $38 billion in recent years and deposited about 75 percent of that sum, or $28.4 billion, into accounts. About $22 billion of it has been approved for spending.
The amount of money actually disbursed, however, is dramatically lower -- just $3 billion, or about 8 percent of all pledges.
Caravani cautioned that the disbursement numbers are likely incomplete, given the gaps and delays in reporting by countries and climate funds. But she said that generally, even if richer countries do fulfill their pledges, poorer countries still have trouble accessing the money. National financial institutions might be too weak to secure the funding, or countries might not be able to meet specific project criteria. "The result is that the funding doesn't get disbursed," she said.
Another significant headache for climate finance watchers is figuring out what should count as "climate finance," and what should not, said Athena Ballesteros, a director at the World Resources Institute's Sustainable Finance Program.
She pointed to the U.N.'s Fast Start Finance program, which raised $35 billion from developed nations in 2010-2012 -- slightly above its initial goal. Policy leaders and climate experts are still debating whether the initiative was a success, or whether participants avoided making any meaningful commitments.
Only about a third of the Fast Start money can be considered "new," while the rest was "recycled" from earlier pledges, according to research by Oxfam International, the confederation of aid groups. The United States, for instance, said it gave $7.5 billion to the program, but Oxfam found that amount includes existing development aid that the State Department said produced "climate co-benefits," Vox noted.
On top of that, policy experts say it's not clear how much funding has been disbursed or where it's going. "There's serious accounting and definitional issues" with the program, Ballesteros said.
The Fast Track initiative is considered a prelude to the U.N.'s Green Climate Fund. Developed nations have promised to fill it with $100 billion per year in public and private aid from 2020 onward. Their goal in the meantime is to raise up to $15 billion over the next six years.
At the U.N. summit in New York, France and Germany each pledged $1 billion toward the Green Climate Fund, while a handful of other countries pledged smaller amounts. Still others indicated they'd make commitments in later climate meetings ahead of the formal 2015 negotiations in Paris. The European Union separately committed about $18 billion in public finance to outside partners, though it's not clear how much of that is new money.
In total, governments, businesses and institutional investors on Tuesday promised to make $200 billion in climate financing available by 2015 -- a figure that includes a vast array of approaches, such as philanthropic groups divesting from fossil fuel assets, corporations investing in renewable energy, and development banks offering up "green" bonds. Ballesteros said this scale of private sector commitment is a first in the two-decades-long U.N. climate process.
She and Caravani agreed that in order for the Green Climate Fund to be transparent and effective in the future, developed nations will have to start disclosing which pledges are new, and which are existing. Emerging economies will need to more rigorously report the way they receive and use the climate funding. "It all depends on whether there is clarity," Caravani said.
FOR FREE to continue reading
✔️ Unlock the full content of International Business Times UK for free
offer available for a limited time only
✔️ Easily manage your Newsletters subscriptions and save your favourite articles
✔️ No payment method required
Already have an account? Log in
© Copyright IBTimes 2023. All rights reserved.