Is Obama Going To Ferguson? Why A Presidential Visit Is Complicated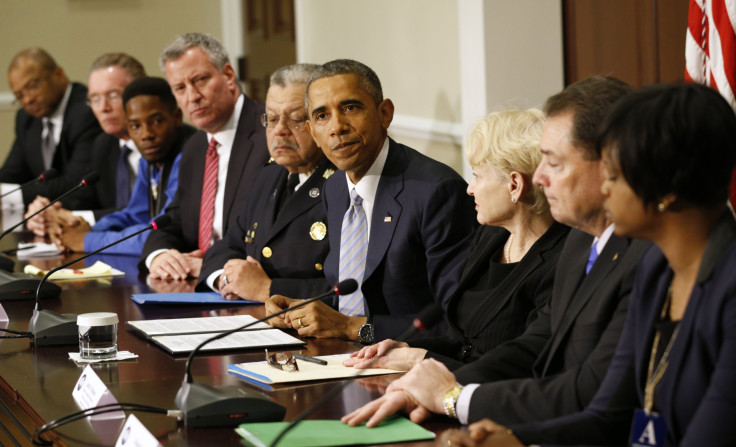 President Barack Obama had been mulling a trip to Ferguson, Missouri, but that was scrapped and replaced by a meeting Monday with civil rights leaders and cabinet members to address how to improve community policing in the wake of the Michael Brown shooting. The complexities of Obama traveling to Ferguson, including who would appear with him at a speech he was considering making in the torn St. Louis suburb, led administration officials to scuttle the visit -- at least for now.
"It's complicated, a high wire," an unnamed White House official told Politico. "We have done complicated trips before. But for us, it is more of a substantive way to take the challenges head-on." There were also concerns that an Obama visit to Ferguson would be disruptive.
Tensions have been high in Ferguson since Brown, an unarmed, black 18-year-old, was shot by Ferguson Police Officer Darren Wilson in August. Riots broke out in the days shortly after the shooting and businesses were looted. Mostly peaceful protests followed, but tensions were inflamed again last week when a grand jury chose not to indict Wilson in Brown's death.
Obama's absence from Ferguson was seen as heartbreaking by some in the black community there. One protester told International Business Times that the unrest in Ferguson was "Obama's Katrina," referring to Hurricane Katrina, and that the nation's first black president should have been there to offer support.
While Obama hasn't visited Ferguson, his administration hasn't been completely absent from the St. Louis suburb. Outgoing U.S. Attorney General Eric Holder stopped by Ferguson in late August. Holder said the federal investigation into the shooting will be conducted "as expeditiously as possible, but we are not going to present it in a half-hearted manner."
In lieu of a visit, Obama held a meeting with civil rights activists, elected officials, cabinet members and law enforcement officials and touted a plan to use $263 million over three years to outfit police with 50,000 body cameras. Some activists in Ferguson said Brown's death could have been prevented if Wilson had been wearing a body camera.
© Copyright IBTimes 2023. All rights reserved.