For Holder, Ferguson Prosecution Presents Civil Rights Quandary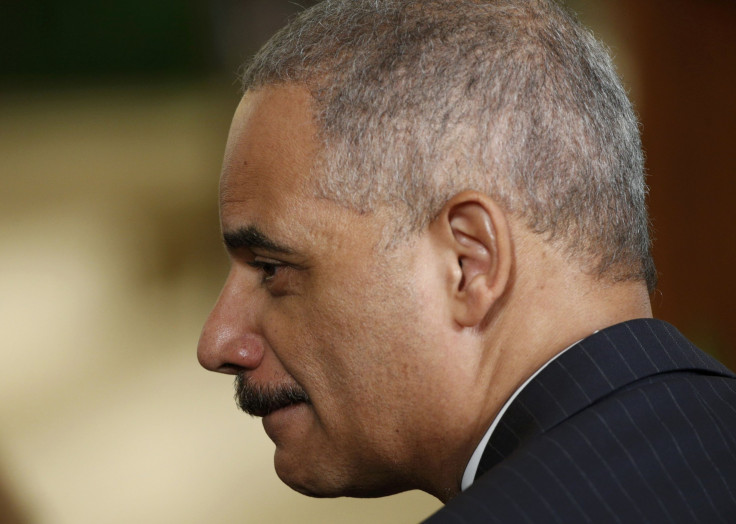 WASHINGTON – Attorney General Eric Holder's final big decision in office could be how his department will proceed now that a St. Louis County grand jury has declined to indict Ferguson Police Officer Darren Wilson in the shooting death of unarmed teenager Michael Brown. "The department's investigations will continue to be thorough, they will continue to be independent and they remain ongoing," Holder said Tuesday. But legal experts agree there is only a slim chance the Justice Department will move forward with a case against Wilson.
Widespread disappointment and anger in the wake of Monday's grand jury announcement prompted calls for Holder to step in. The Rev. Al Sharpton urged federal action during a press conference Tuesday; lawmakers including Rep. Lacy Clay, who represents Ferguson, also said they hoped the Justice Department would pursue a case.
"The Department of Justice will continue its review of this incident and the entire Ferguson Police Department, and I am confident that investigation will bring us closer to the justice that Brown's family and the entire Ferguson community deserve," Rep. Elijah Cummings, D-Md., said in a statement.
While the federal government doesn't often get involved in a shooting, this case could be an exception because Wilson is a police officer. Federal prosecutors would have to prove Brown was deprived of his constitutional rights -- the right to life -- because of his race. (Wilson has denied that race played any role in his decision to shoot.)
The process would require Justice to seek its own indictment using civil rights laws that were originally crafted in the wake of the Civil War. The laws don't allow for the kind of criminal charges that people usually think of, like murder and manslaughter. Instead, the charge would be "deprivation of rights under color of law."
With the federal standard for intent so high, said Duke Law Professor Darrell Miller, a civil rights expert, the likelihood of a prosecution is low.
"The problem here is 'willful' doesn't mean accidental or reasonable mistake," Miller said. "It actually means in some cases the person actually deliberately wants to deprive the person of their constitutional rights. … In this case it would be really, really tough to prove that the officer is willfully depriving Brown of his constitutional right to life."
"The facts I've seen so far make that a pretty tough case to win," he said.
If he chose to move forward, Holder would work in conjunction with St. Louis U.S. Attorney Richard G. Callahan. "If the federal government was concerned that there was a pattern of racial oppression by the police in this area, maybe this is the kind of case that they will be more interested in because they can't trust the local authorities to take proper action," said Jack Beerman, a professor at Boston University who specializes in civil rights law. "And when you have lives being lost, maybe that's an area where the federal government actually might get involved."
The instances when this part of the law have been used successfully are rare. Four New Orleans Police officers were indicted and later convicted under the same law in 2010 because of a shooting on the Danizger Bridge during Hurricane Katrina. Those convictions were tossed out because of prosecutorial misconduct. Federal prosecutors used civil rights protections to charge the four officers who beat Rodney King in 1991. Holder has suggested using the law before, including after the acquittal of George Zimmerman for the shooting death of Trayvon Martin. After a two-year investigation, however, Justice decided against pursuing a case.
If Holder did act, it could represent a historic level of federal involvement in a local dispute involving race relations and police. While the Kennedy administration is often thought of as having taken strong action during the civil rights era, it took few actual steps, said Rob Widell, a University of Rhode Island history professor who focuses on civil rights history.
"I think the danger is in overestimating how responsive the federal government was to violence against civil rights protesters, even in instances of murder," Widell said. "The Kennedy administration, despite its reputation as a strong supporter of the civil rights movement, was most interested in 1) the Cold War and 2) maintaining peace, even if that peace did not equate with justice."
Neither President John F. Kennedy nor Attorney General Robert Kennedy "showed much inclination to use the power of the federal government, including the Justice Department, to intervene on behalf of civil rights," said Widell. "In those instances where there was federal intervention, the credit belongs not to the Kennedys, but to civil rights activists who forced them into action and who, in too many instances, gave their lives to force action."
If Holder wants to address systemic problems within the Ferguson Police Department, rather than a prosecution of Wilson individually, Justice could move forward with a civil process, something commonly done to address concerns with local agencies. This would allow Justice to address both the shooting of Brown and how police responded to the ensuing protests.
NYU Law Professor Erin Murphy said a situation where federal prosecutors use the leverage of a civil suit to compel changes in the department is the most likely outcome.
"They tend to try to exercise a great deal of restraint because they appreciate there are mechanisms in local, democratically run places, there are alternatives to being top-down," Murphy said. "This is the kind of case where I think we've seen time and again, real public concern about the way the Ferguson Police Department is run and was operating. The release of the grand jury transcripts may give additional rise to concern whether the proper policies and procedures in the aftermath of the shooting were in place. Whether officers are adequately trained as to when and how to discharge their weapons."
Holder said Tuesday his department is developing programs to work with communities to develop best practices for responding to protesters.
"The Department of Justice has begun this work and will continue to work with communities across the country," Holder said.
"I was disappointed that some members of the community resorted to violence," the attorney general said on Tuesday. "It is clear that acts of violence threaten to drown out those who have legitimate voices, legitimate demonstrators, and those acts of violence cannot and will not be condoned."
To complicate the matter further, Holder already has one foot out the door. He
announced in September
he would be leaving the administration as soon as a replacement is approved by the Senate. Earlier this month, President Barack Obama nominated
Loretta Lynch
as the next attorney general, and her confirmation process isn't expected to be controversial.
"Does an attorney general on his way out of the office feel emboldened to take somewhat controversial steps, or does the fact that he's kind of on his way out and able to pass the buck mean this could drag out?" Murphy asked. "It's really hard to tell. I don't even have a good sense from Eric Holder's time as the attorney general what kind of mark he would care to leave."
FOR FREE to continue reading
✔️ Unlock the full content of International Business Times UK for free
offer available for a limited time only
✔️ Easily manage your Newsletters subscriptions and save your favourite articles
✔️ No payment method required
Already have an account? Log in
© Copyright IBTimes 2023. All rights reserved.