Obama's Tough 'Cliff' Offer Spurned By GOP; No Meetings Scheduled, But Talks Continue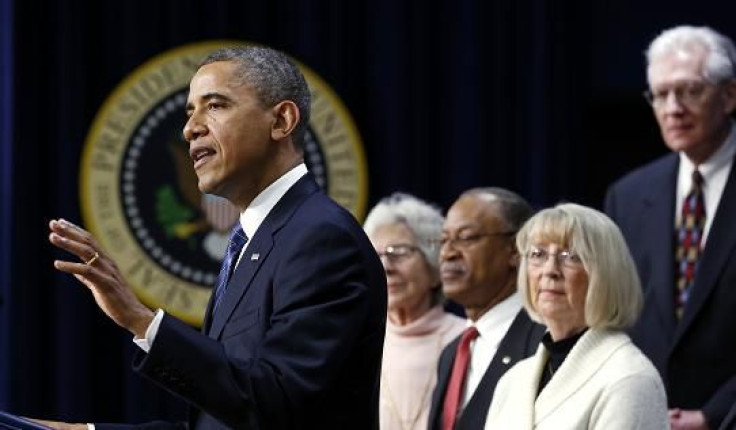 President Barack Obama made an opening gambit Thursday for averting the "fiscal cliff" that concedes nothing to Republicans with $1.6 trillion in new taxes, $50 billion in fresh spending on the economy and an effective end to congressional control over the size of the national debt, the Washington Post reports.
House Speaker John Boehner, R-Ohio, quickly rejected the terms and was trying late Thursday to decide how to respond, aides told the Post.
The proposal, delivered to the Capitol by Treasury Secretary Timothy Geithner, mirrors previous White House deficit-reduction plans and satisfies Democrats' demands that negotiations begin on terms dictated by the triumphant re-elected president.
The offer lacks any concessions to Republicans, most notably on the core issue of tax rates for the richest. After two weeks of talks between the White House and Boehner aides, it seemed to take Republicans by surprise.
After meeting with Geithner for 45 minutes Thursday, the speaker announced his frustration with negotiations in which nearly three weeks have passed since the election with "no substantive progress."
"I'm disappointed in where we are, and disappointed in what's happened over the last couple weeks," Boehner told reporters. "Going over the fiscal cliff is serious business. And I'm here seriously trying to resolve it. And I would hope the White House would get serious as well."
Senate Minority Leader Mitch McConnell, R-Ky., called the proposal a "step backward" from compromise — with time running out for policymakers to agree on a plan to prevent more than $500 billion in tax increases and spending cuts that could rattle the economy.
"This is a real problem. Every day, the delay brings us one step closer to the fiscal cliff that we simply must avoid," McConnell said.
Markets dipped briefly into negative territory on Boehner's comments before finishing higher, Reuters reported, continuing a pattern of hair-trigger reactions to the latest utterances about the outlook for an agreement to avert the fiscal cliff.
"Until the fiscal cliff is solved, the madness of the crowd will not subside," James Dailey, portfolio manager at TEAM Asset Strategy Fund in Harrisburg, Pa., told Reuters.
In the plan, sources told Politico, Geithner proposed a two-step process to ultimately achieve about $1.6 trillion in new revenue. The first step would net $960 billion immediately by allowing the Bush-era tax cuts to expire on top earners along with raising rates on dividends and capital gains.
Another $600 billion would come from overhauling the tax code — presumably next year — reaching the administration's $1.6 trillion goal.
The administration also pressed for a patch of the alternative minimum tax and the extension of targeted business tax breaks at a cost of $236 billion.
Republicans haven't put any comparable offer on the table, The Wall Street Journal reported. They have indicated willingness to accept $800 billion in revenues over 10 years, half the amount Obama proposed. And they have sought far more in spending cuts in exchange for their concessions on taxes.
The debate seemed about to get even more complicated with a renewed fight over raising the U.S. debt ceiling. That explosive issue, which could have been handled separately in the spring, was thrust into the fray Thursday in an exchange between Republicans and Democrats.
Boehner said any debt limit increase needed to be matched or exceeded by spending cuts to be proposed by Obama as part of the negotiations.
White House spokesman Jay Carney responded by demanding that Congress go ahead and raise the debt ceiling as part of any year-end deal. To do otherwise, he said, would be "deeply irresponsible."
And Geithner requested in his meetings on Capitol Hill that the president be given new powers to raise U.S. borrowing authority, a Republican aide told Reuters. Currently, Congress must pass legislation.
The last partisan fight over the nation's borrowing limit in 2011 was settled by a law that led directly to the fiscal cliff and to a downgrade of the government's credit rating.
Boehner's hand may be weakening as a small but growing number of House Republicans say some type of tax increase on the rich must be part of a fiscal cliff deal.
"I wouldn't have a problem with letting those tax rates go up," if they are coupled with spending cuts, Rep. Mike Simpson of Idaho told Reuters on Thursday, echoing earlier comments by Rep. Tom Cole of Oklahoma, a member of the GOP leadership.
A similar sentiment expressed by about a half-dozen House Republicans in recent days likely will increase pressure on Boehner to reach a bipartisan agreement with Obama and his fellow Democrats.
The next step in the negotiations isn't clear. That GOP aides chose to describe the offer in detail suggests relations are cool. Yet both sides remain confident talks will continue.
"There's the public choreography, then there is the real choreography," Rep. Rob Andrews, D-N.J., told the Journal. "To reach a deal, it has to look like there was a lot of fighting before the deal was reached."
© Copyright IBTimes 2023. All rights reserved.