Occupy Wall Street Now Occupying Courtrooms With First Amendment Lawsuits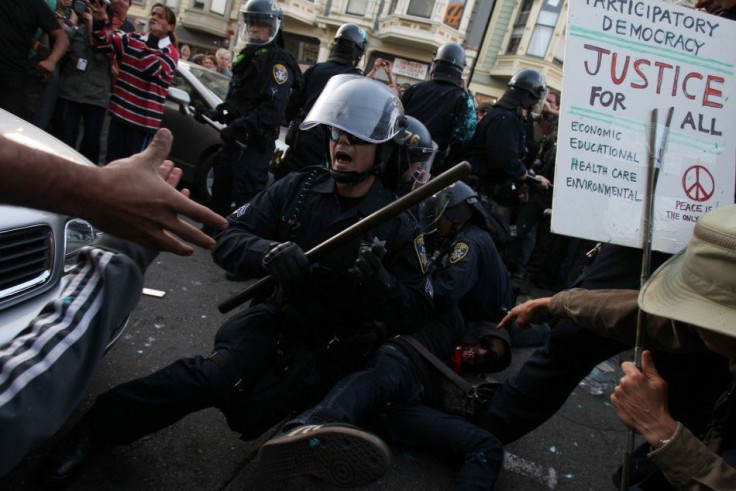 Now that Occupy Wall Street has grown from a handful of demonstrators taking over a Lower Manhattan park to spawn offshoots in cities around the U.S., the movement is now occupying courtrooms.
The young movement has lawyered up and filed lawsuits asserting freedom of speech and assembly in federal courts in Cincinnati, Sacramento, Nashville, Dallas and Atlanta, to name a few places.
These lawsuits, launched throughout October and November, are attempts by demonstrators to remain in their encampments while protesting government policies and influential corporations that they hold responsible for America's lopsided economic system.
Unlike past First Amendment lawsuits filed over arrests during anti-war rallies, for instance, these complaints challenge ordinances and policies used to drive protesters from parks and other public areas.
But the defining characteristic of these demonstrations, according to Nashville, Tenn., attorney Patrick Frogge, may undercut protesters' argument that they have a right to assemble.
They want to occupy, Frogge, who filed a lawsuit on behalf of demonstrators, told the International Business Times. And if they do it in a place where their government has a policy and is enforcing the policy fairly, and the policy is content neutral, that's a harder argument to make.
Attorney Mark E. Merin, representing Occupy Sacramento, said he would argue that this is a 24/7 movement different from other expressions of political speech.
There are protesters who only have time to participate at night. Even the global reach of the Occupy movement testifies to the need of protesters in Ohio to be allowed to camp out in public, he said.
We're live-streaming to China. When are you going to do that? Merin said. It has an actual and symbolic purpose and we have to try and make that clear to the courts. I haven't seen the courts be that receptive and I don't think they will be, frankly.
Right to Assemble
The Occupy Wall Street encampment is unique in that its base, Zuccotti Park in Lower Manhattan, is owned as part of a public-private partnership, in which property owners, in this case Brookfield Properties, get zoning concessions in exchange for creating public space.
That partnership means that the park's owners can allow the protesters to stay, though the company can ask the city to remove them.
In other Occupy encampments on city- or state-owned land, the government can order police to forcibly remove demonstrators.
Occupy Nashville, described in the complaint as an unincorporated organization, challenged a park regulation created to limit usage of a popular plaza. The new regulation from a state agency was made by fiat, the Oct. 31 suit said. David Smith, a spokesman for Tennessee Gov. Bill Haslam, declined to comment.
Meanwhile, at Occupy Atlanta, five protesters and a Georgia state senator say in a suit that a local law regarding nighttime park use bars protected political speech. About 52 protesters were arrested and charged under the regulation.
These lawsuits have produced mixed results for Occupy groups.
Occupy Nashville won a 21-day temporary restraining order preventing the state from enforcing the new plaza regulation.
But an Occupy group in Cincinnati won only a 28-hour reprieve from receiving citations, which had totaled $22,000 at $105 each, according to a complaint. On Oct. 20, the police cleared a camp site in Piatt Park and arrested protesters for the first time since demonstrations began.
Just the existence of the place for this group to come together is at the heart of our clients' interest in exercising their free speech, said J. Robert Linneman, an attorney representing Occupy Cincinnati.
The group's suit says the city's park board has unbridled discretion to regulate political demonstrations.
Cincinnati's top attorney, Solicitor John Curp, pinned the city's decision to deny the group a permit on the park's inability to handle a crowd of about several dozen staying overnight.
Curp said the city is trying to find a place to let the rallies continue, but said camping overnight is out of the question. He is also confident that the law prohibiting a tent city could withstand constitutional muster.
We believe the Supreme Court has already ruled that out as a valid form of First Amendment expression, Curp told the IBTimes.
Time, Place and Manner
In 1984, the U.S. Supreme Court upheld the National Park Service's decision to deny a permit to a group that planned to erect symbolic tent cities in Washington, D.C.'s Lafayette Park and the National Mall to raise attention to homelessness.
Expression, whether oral or written or symbolized by conduct, is subject to reasonable time, place, or manner restrictions, Justice Byron White wrote for the majority in Clark v. Community for Creative Nonviolence.
Theodore M. Shaw, a Columbia Law School professor, said there is a cultural assumption in the U.S. that First Amendment protections are more expansive than case law suggests.
If cities can show that their ordinances are applied evenly and without regard to content, these rules may be enforceable.
If what they're really doing is trying to stop this particular protest ... and going after these individuals because of who they are and what they're doing, that would violate our notions of what the First Amendment allows and does not allow, Shaw said. That's the crucial point.
Ruthann Robson, a professor at the City University of New York School of Law, said new permitting processes and regulations can be problematic and have been targets of these federal lawsuits from Occupy groups.
They seem responsive or they don't seem neutral, she said of local permit regulations.
But as the innovative nature of the Occupy Wall Street protests has affected the legal case for camping on public property, the groups' mode of operation has made legal representation a different experience for its attorneys.
Decision by Consensus
Lawyers representing Occupy groups and protesters in their cities have been soliciting advice from each other about their own federal lawsuits. Linneman, the Cincinnati attorney, estimated that he has spoken to a few dozen lawyers about their cases, as well as a few legal organizations.
It's mostly a brainstorming session, Linneman told IBTimes. They ask us what we went through, what we considered before we filed the complaint.
One experience many of the Occupy lawyers went through was navigating the loose structure of Occupy Wall Street and its offspring. There are no leaders, committees were established to handle issues such as sanitation and media relations, and major issues are debated and decided by consensus at a general assembly.
Merin, representing Occupy Sacramento, said he was able to represent a group with a consensus-based decision-making process.
As a lawyer, you get more involved with your organization because you're dealing with a much bigger group of decision makers than is traditional, said Merin, whose legal career spans more than four decades.
Frogge, co-counsel to Occupy Nashville, said the legal team attended a general assembly meeting to find out what its client wanted. Without a traditional hierarchy to make decisions, determining the group's goals was sometimes challenging, Frogge said.
You can't just call up in-house counsel for Occupy Nashville and say, 'Hey do you think we should go this way in a lawsuit, Frogge said. But that's part of the fun.
FOR FREE to continue reading
✔️ Unlock the full content of International Business Times UK for free
offer available for a limited time only
✔️ Easily manage your Newsletters subscriptions and save your favourite articles
✔️ No payment method required
Already have an account?
Log in
© Copyright IBTimes 2023. All rights reserved.