Occupy Wall Street Vows to Retake Zuccotti Park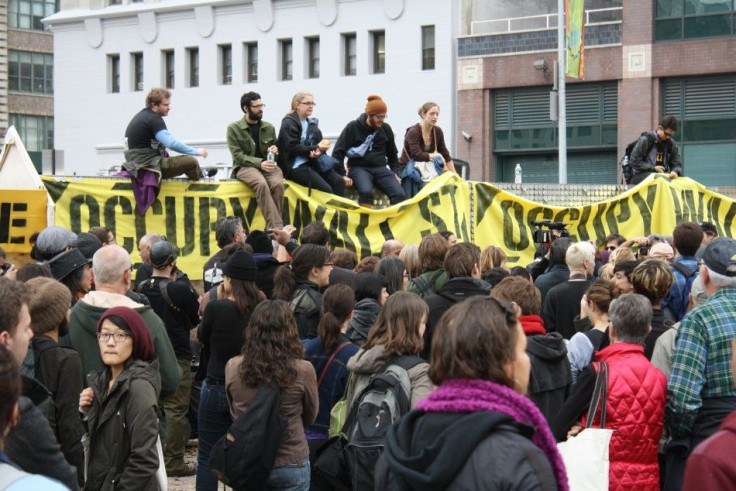 Occupy Wall Street activists vowed to take back Zuccotti Park Tuesday afternoon, hours after New York City Mayor Michael Bloomberg ordered police to clear the park.
The city said the park was a place where health and safety conditions became intolerable. The Occupy Wall Street movement seeking economic and fiscal reform had camped out in the park for two months.
Hundreds of police swamped the park in the early hours after midnight Tuesday, and made about 200 arrests, Reuters reported.
Occupy Challenges Action in Court
The police action was quickly challenged by lawyers representing Occupy Wall Street, and the coalition obtained a temporary restraining order barring the city and the park's private landlord from evicting demonstrators. Judge Lucy Billings of the State Supreme Court in Manhattan scheduled a Tuesday afternoon hearing, The New York Times reported Tuesday, and as of 4:30 p.m. EST both sides were awaiting the court's decision.
Occupy then sought to camp at Manhattan's Duarte Park, but as soon as protesters swept into the park Tuesday morning, scaling a wall and cutting their way through a chain-link fence to gain access to a private section owned by a nearby church, the NYPD cleared them out.
In the Duarte Park raid, dozens of cops in riot gear stormed the private section of the park, which had clearly posted no trespassing signs and arrested many of the protestors, loading them into a police bus.
Don't Abandon the Ship
Don't abandon the ship, protesters chanted as helicopters circled overhead in the moments after the park was cleared.
But shortly thereafter there were just a few dozen people left at Duarte, all in the public areas. All the private property and people were cleared out of the private area within less than an hour by police. A stream of protesters chanted All Day, All Week, Occupy Wall Street as they headed back to Zuccotti.
International Business Times Writer Connor Adams Sheets contributed to this story.
See Also: To Read More News Stories and Analyses Regarding Occupy Wall Street, Click Here.
© Copyright IBTimes 2023. All rights reserved.