Office For Android Is Here; Run Office, Word, PowerPoint On Your Google Smartphone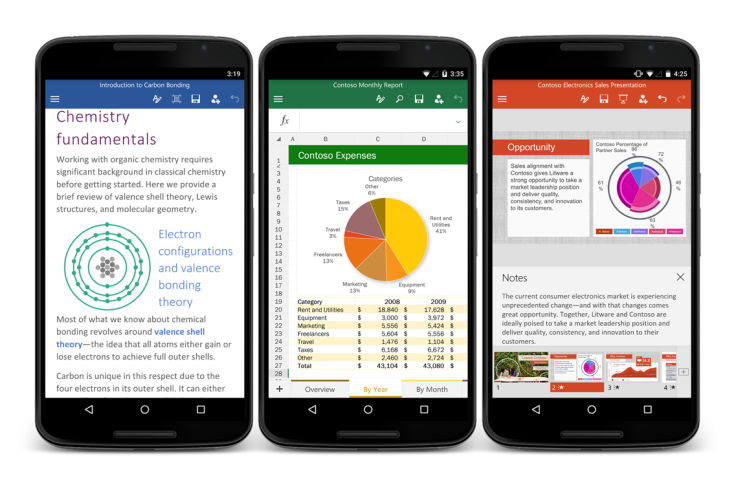 Office is giving Android smartphones some love. Microsoft on Wednesday made its Office apps -- Word, Excel and PowerPoint -- available to all of Google's smartphone users.
The three individual apps can be downloaded for free through the Google Play Store and require Android 4.4 or later. Users will be able to edit documents and deliver presentations with each app. In addition to Microsoft's OneDrive, subscribers will also be able to access their documents from a variety of services such as Dropbox, Google Drive and Box.
Though users will be able to edit and view Microsoft Office documents through each app, additional functions are available only through the purchase a subscription to the Office 365 service.
Meanwhile, Android users in China will also be able to download Microsoft's Office suite through app stores from Tencent, Xiaomi, CMCC and the Samsung Galaxy Store.
The individual apps replace Microsoft Office Mobile, an older Android app which previously included support for reading and editing Office documents.
Microsoft launched a beta test for its Android Office phone apps in May, where users and developers were able to test them on over 1,900 Android smartphone models in 83 countries, according to the company. With the Android Office release, Microsoft completes its Office rollout on Google's operating system, which was previously limited to Android Tablets.
Later this year, Microsoft's Office apps will be preloaded on Android devices from over 30 companies, such as Samsung, Sony and LG.
© Copyright IBTimes 2023. All rights reserved.