Ohio Autoworkers Begin Manufacturing 2014 Honda Accord Hybrid; 47 Combined MPG, Besting Toyota Camry Hybrid, Tying With Ford Fusion Hybrid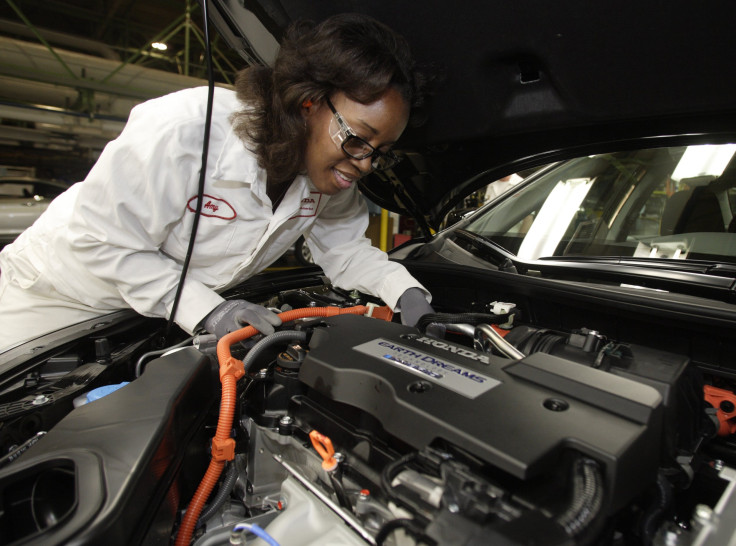 Honda Motor Co Ltd (TYO:7267) was touting its 2014 Honda Accord as the most fuel-efficient hybrid in its segment as workers at the company's Marysville, Ohio, assembly plant began on Friday assembling the hybrid version of the second best-selling mid-sized car in the U.S., which is expected in U.S. showrooms in time for the holidays.
Honda invested $19 million to expand the 30-year-old, 94,000-square-foot Marysville assembly plant, which is the main source of Accords in the U.S. Marysville will be the sole U.S. source of the Accord Hybrid. The Tokyo-based automaker already makes the Civic Hybrid for the U.S. market in Greensburg, Ind.
"With more than 30 years of experience producing the Accord in Marysville, our associates have continued to advance our capabilities," Rob May, Marysville plant manager, said in a statement.
The first automaker to sell a hybrid in the U.S. -- the Insight in 1999 -- is claiming that the gasoline-electric Accord will top comparable models from Toyota Motor Corporation (NYSE:TM) and Ford Motor Co. (NYSE:F) with a combined 47 miles per gallon.
Toyota's Camry hybrid gets a combined 41 miles per gallon. While Ford claims its Fusion hybrid gets 47 miles per gallon, matching the Accord hybrid rating, it's not without some controversy.
Last month, Ford conceded the C-Max compact multi-purpose vehicle hybrid's mileage was overstated and agreed to reimburse owners $550 and lower its estimated mpg to 43. However, the company maintains that the Fusion's 47 mpg is accurate.
For the time being, the hybrid versions of the Fusion and Accord are technically tied as segment leaders. The Toyota Prius, a mid-sized hatchback, is still the top-rated hybrid with 50 mpg, but it's a smaller car.
Honda says the new Accord hybrid gets 50 mpg in city driving and that it can travel 673 miles on one tank of gas. The company claims this is more than 46 miles farther than any vehicle in the mid-sized sedan segment.
According to the Environmental Protection Agency, here are the top hybrids by combined miles per gallon. The price is the starting manufacturer's suggested retail price for the latest model in the U.S.
Combined 50 mpg
Toyota Prius mid-sized hatchback: $24,200.
Combined 47 mpg
Honda Accord Hybrid: Price pending.
Ford Fusion Hybrid mid-sized sedans: $27,200.

Combined 45 mpg
Lincoln MKZ Hybrid mid-sized entry-level luxury sedan: $35,925.
Volkswagen Jetta Hybrid compact sedan: $24,995.

Combined 44
Honda Civic Hybrid subcompact sedan: $24,360.

Combined 43
Ford C-Max Hybrid compact multi-purpose vehicle: $25,200.

Combined 42
Honda Insight compact sedan: $18,600.
Lexus CT 200h entry level luxury hatchback: $32,050.
Toyota Prius V compact multi-purpose vehicle: $26,650.
© Copyright IBTimes 2023. All rights reserved.