OK, You Were Here First: Australia Moves To Recognize Aboriginals As 'First Inhabitants'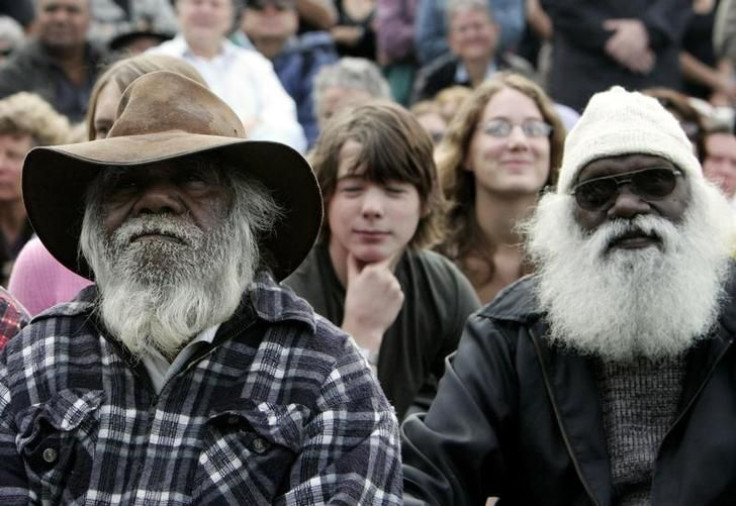 The Australian government is moving forward with legislation to formally recognize the indigenous Aboriginal people as the country's first inhabitants, or rather the land that eventually became the country.
On Wednesday, the Australian House of Representatives voted unanimously to approve the Aboriginal and Torres Strait Islander Peoples Recognition Bill, which will now move on to the Senate. (The Torres Strait Islands are in the north, between Australia and New Guinea.)
The vote came upon the fifth anniversary of then-Prime Minister Kevin Rudd's apology to Australia's Aboriginal community for past transgressions committed against them by British settlers and their descendants. The "saying sorry" issue had riled Australia for years.
Prime Minister Julia Gillard is backing the bill and told Parliament that the current situation of Aborigines in Australia remained "the unhealed wound that even now lies open at the heart of our national story," the Telegraph reported.
"We must never feel guilt for the things already done in this nation's history, but we can -- and must -- feel responsibility for the things that remain undone," she added.
Opposition leader Tony Abbott also expressed his support for the bill, telling Parliament that "we have never fully made peace with the first Australians," according to the Telegraph.
"We have to acknowledge, that pre-1788, this land was as Aboriginal then as it is Australian now, and until we have acknowledged that we will be an incomplete nation and a torn people," he added. "We need to atone for the omissions and for the hardness of heart of our forebears to enable us all to embrace the future as a united people."
The First Fleet of British settlers, mainly exiled convicts, landed in 1788.
The bill is largely symbolic and does not establish or guarantee any particular rights for Aborigines.
Nevertheless, Gillard is considering whether to hold a referendum to have it included in the constitution. A review would be conducted in a year to gauge public support for it before any decisions were made.
"I do believe the community is willing to embrace the justice of this campaign because Australians understand that indigenous culture and history are a source of pride for us all," Gillard told Parliament, the AFP news agency reported.
In 1967, Australians voted in a referendum to grant full citizenship rights to the Aborigines, who previously were governed under separate laws and had no right to vote.
© Copyright IBTimes 2023. All rights reserved.
FOLLOW MORE IBT NEWS ON THE BELOW CHANNELS