Oklahoma Earthquake Tied To Fracking Wastewater Draws First Lawsuit, Joins Growing Legal Effort In Arkansas, Texas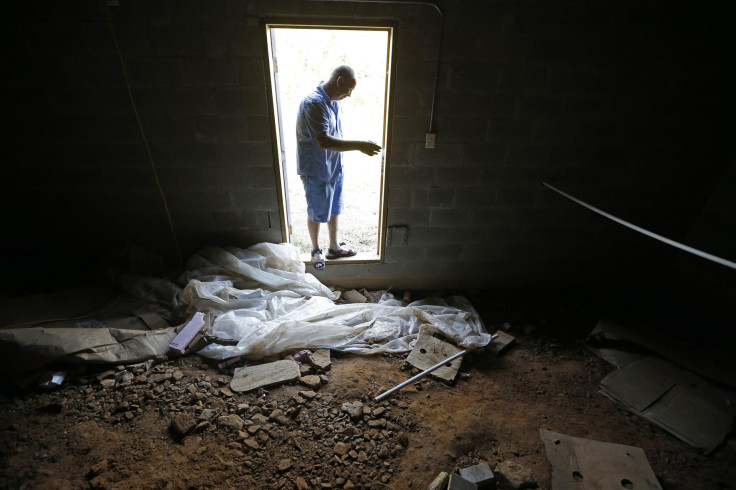 Sandra Ladra was sitting in her Oklahoma home on a November morning in 2011 when the walls suddenly shook and her chimney toppled, sending bricks tumbling down on her legs. The earthquake, she later learned, was triggered by injections of oil-and-gas wastewater in a nearby well. Now, nearly three years later, Ladra is suing dozens of energy companies for the damages, seeking at least $75,000 to compensate for her injuries.
The lawsuit, first reported by the Journal Record, is the first case related to the 2011 Prague earthquake, according to a search of county court records. It also joins the small but growing legal effort to link damaging earthquakes to wastewater injection wells used in drilling operations like fracking.
In Dallas, Texas, two families filed suit last year against drilling companies and well operators over quake-related damages to their homes and properties. And in Arkansas, nearly 40 homeowners are suing Chesapeake Operating Inc. and BHP Billiton Ltd. (NYSE:BHP) after a swarm of minor earthquakes shook the state in 2010 and 2011.
"The people in my lawsuits … are concerned about more earthquakes and bigger earthquakes," Scott Poynter, the attorney for the Arkansas homeowners and a partner at Emerson Poynter LLC, previously told Law360. Poynter is also one of Ladra's attorneys in the Oklahoma lawsuit. He could not be reached for comment by deadline on Friday.
The 5.7-magnitude Oklahoma quake was the most powerful of the hundreds of temblors that have rippled across the state since the boom in oil and gas production got underway in 2008. So far this year, Oklahoma has experienced more than 290 earthquakes of magnitude 3.0 or greater, up from an earlier state average of just two a year.
Scientists are increasingly convinced that the spike in earthquakes in Oklahoma and other fossil fuel-rich states like Texas, Arkansas and Ohio can be tied to wastewater injection wells. In Arkansas, the outbreak of more than 1,000 small earthquakes caused state regulators to shut down injection wells near the town of Greenbrier; the shaking soon subsided.
But some geologists and energy firms dispute that any link can be proven, arguing that the evidence is so far inconclusive or that natural causes are to blame. It's even harder to target individual companies for negligence or nuisance in operating the wells.
"In the fracking world, the science at this point is quite controversial," Gail Wurtzler, an environmental defense attorney and a partner at Davis Graham & Stubbs LLP in Denver, told International Business Times.
She said that several years ago, she and others in the legal defense community anticipated a groundswell of fracking-related claims for property damage or personal injury. That hasn't happened yet, in part because of this difficulty of proof, she said. Wurtzler is currently representing an energy company in a fracking case now in the Colorado Supreme Court, though she declined to comment further.
Poynter, the Little Rock lawyer, is undeterred. In an interview with Reuters last year, he said that companies in Arkansas should have known about the risks of operating in a historically seismic area. "The scientific proof is absolutely there," he said.
© Copyright IBTimes 2023. All rights reserved.