Olympic Women's Soccer Final 2016: Time, Prediction, TV Channel For Germany vs. Sweden In Gold Medal Match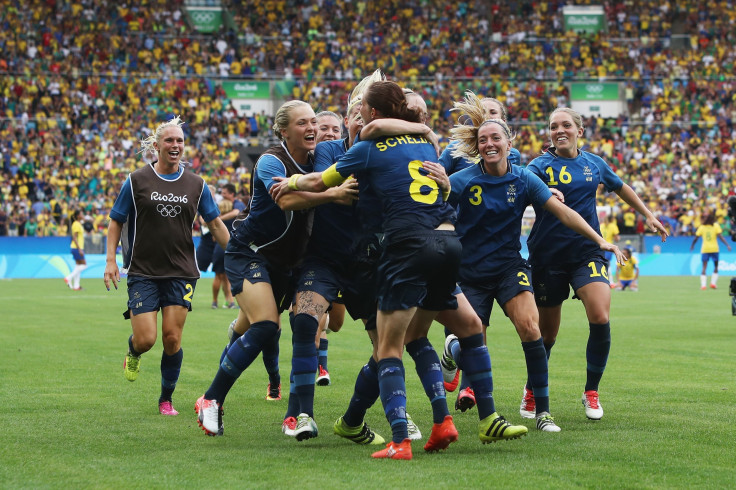 There will be no United States, the three-time defending gold medalist and winner of four of the five gold medals ever awarded in women's soccer. There will be no Brazil, the home favorite aiming to deliver some long overdue glory for the greatest female player in history, Marta. Instead, Germany and Sweden will be vying to capture Olympic gold for the first time in Friday's final of the women's football event at the famed Maracana stadium in Rio.
Of the two, it is certainly Germany for which a place in the final was more of an expectation. After all, Germany is a two-time World Cup winner and six-time defending European champion. Only Olympic gold has so far eluded the team, having had to settle for bronze on three occasions. Now there is the chance to make it glorious golden double, with the men's side taking on Brazil in the final the very next day.
For women's coach, Silvia Neid, it presents a chance for a dream farewell. Neid, who represented Germany as a player more than 100 times, will step down from her role following the Olympics after 11 years in charge. Along the way Neid has tasted the highest of highs, having won the World Cup in 2007, but also the low of losing in the World Cup quarterfinals on home soil four years later and then not even making it to the 2012 Olympics. There was disappointment, too, at last year's World Cup when a Germany team that began the competition as favorites lost in the semifinals to the U.S.
Expectations were lower this time around, with the U.S. a strong favorite to retain gold. And Germany's progress through the competition has largely gone under the radar. Certainly it didn't set the event alight in the group stage with a 2-2 draw with Australia and a 2-1 defeat by Canada following a 6-1 dismissal of minnows Zimbabwe. In the quarterfinals, it took until the 76th minute to break down China's stubborn defense in a single-goal win.
It was midfielder Melanie Behringer who got the crucial goal on that occasion and the 30-year-old, in perhaps her last major tournament, has proved a vital contributor, scoring the opening goal, too, as Germany got revenge over Canada in a 2-0 semifinal win.
The drama, though, if indeed that's the right word, has been on the other side of the draw. Sweden has long been one of women's soccer's established powers, but, coming into the Olympics ranked sixth in the world and a year on from a Round of 16 exit at the World Cup, was not expected to do much in Brazil.
Yet under coach Pia Sundhage, who led the U.S. to gold medals in 2008 and 2012, Sweden has reached its first Olympic final in a style that has won it few fans but which has so far proved effective. There is little subtlety to Sweden's tactics of sitting behind the ball and inviting opponents onto its defense, either hoping to take a rare chance on the counter attack or more likely to hold its nerve better in a penalty shootout.
The U.S. was the first to taste the immense frustration of coming up short against that approach, prompting goalkeeper Hope Solo to describe Sweden as "cowards" in the immediate aftermath of its shootout loss. Next, Sweden coldly dashed the hopes of a nation and of five-time World Player of the Year Marta following another dour goalless draw concluded by the drama of penalties.
"I'm delighted that Pia has put her faith in me, and that confidence is crucial to our tactic of inviting opposing sides on and then hitting them on the counter-attack," Sweden goalkeeper Hedvig Lindahl told Fifa.com after pulling off two saves in the shootout against Brazil. "It's all down to the whole team, though. To play that way, we have to know exactly what we're about."
Lindahl has now conceded just one goal in her last 334 minutes on the field in this Olympics since a 5-1 defeat to Brazil in the group stage. Germany will certainly know what it is going up against in Friday's final.
Prediction: There will be few neutrals, certainly not among Brazilians, cheering on Sweden in the final. But, while not popular, there is certainly an argument that its tactics have maximized the chances of a fairly limited side. And the longer the final remains goalless the greater Sweden's chance becomes of walking away with the gold medal. Germany will be desperate to get an early goal, which would force Sweden into a dramatic and uncomfortable change in its approach. It has to be expected that Neid will have studied Sweden's past two games intently and formulated a plan to break down the resistance of Sundhage's side. And given that Sweden has for two straight games survived in large part making itself a hostage to fortune, those fine margins may well fall the other way in the final.
Predicted Score: Germany 1-0 Sweden
Kickoff Time: Friday, 4.30 p.m. EDT
TV Channel: NBCSN
Live Stream: NBCOlympics.com
© Copyright IBTimes 2023. All rights reserved.