Olympus Admits It Hid Losses for Decades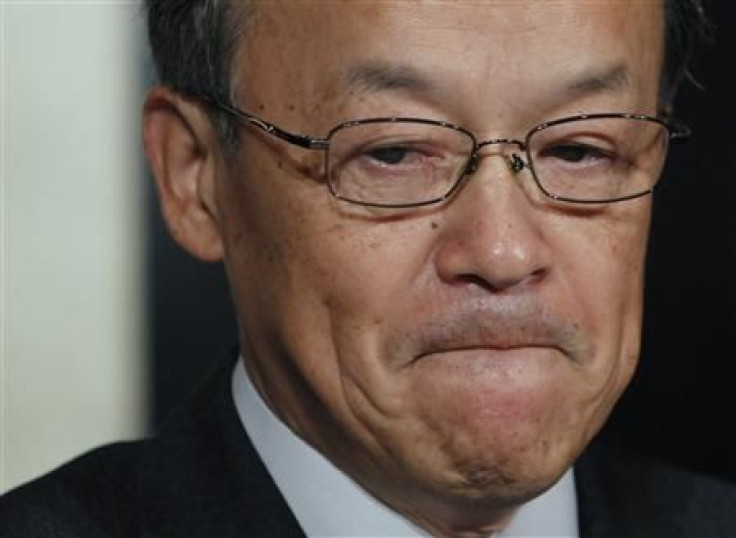 Japan's Olympus admitted Tuesday it hid losses on securities investments dating back to the 1980s, bowing to weeks of pressure to explain a series of baffling transactions that have put the future of the firm in doubt.
The revelations by the 92-year-old maker of endoscopes and cameras appear to vindicate ex-CEO Michael Woodford, who has staged a campaign since being sacked on October 14 to force the firm to come clean on nearly $1.5 billion in questionable payments.
Olympus President Shuichi Takayama blamed Tsuyoshi Kikukawa, who quit as president and chairman on October 26, Vice-President Hisashi Mori and internal auditor Hideo Yamada for the cover-up, saying he would consider criminal complaints against them.
I was absolutely unaware of the facts I am now explaining to you, a subdued Takayama, who had staunchly defended the deals when he took over from Kikukawa last month, told a news conference packed with some 200 journalists.
The previous presentations were mistaken.
Olympus said it had found that funds related to its $2.2 billion purchase of British medical equipment maker Gyrus in 2008, which involved a huge advisory fee of $687 million, as well as payment of $773 million for three tiny domestic firms, were used to hide losses on the securities investments.
The investment in the three domestic firms was largely written off a few months after the deals closed.
The disclosure leaves Olympus, its directors and its accountants open to possible criminal charges for suspected accounting fraud and shareholder suits, lawyers and analysts said, raising questions about the future of the firm, founded in 1919 as a microscope maker.
This is very serious. Olympus admitted it has made false entries to cover its losses for 20 years. All people involved in this over 20 years would be responsible, said Ryosuke Okazaki, chief investment officer at ITC Investment Partners. There is a serious danger that Olympus shares will be delisted. The future of the company is extremely dark.
Olympus' announcement sent its shares tumbling 29 percent to a 16-year low on Tuesday. The company has lost 70 percent of its value, or $6 billion, since it fired Woodford, who had questioned the deals. The Briton had been one of the few foreign CEOs of a Japanese blue chip.
Olympus said it discovered the cover-up while working with an independent panel set up last week to investigate the deals. Kikukawa and Mori confessed to their roles on Monday night, Takayama said.
Mori was sacked earlier in the day while the internal auditor offered to resign. Olympus said it would decide whether others were responsible after further investigation.
The independent panel's head, retired Supreme Court justice Tatsuo Kainaka, told Reuters his team may recommend criminal charges in its report, to be completed early next month.
The Olympus affair -- initially given little attention by most domestic media -- is the biggest corporate scandal to hit Japan since a series of scandals at brokerages in the 1990s including one that led to the demise in 1997 of Yamaichi Securities, then the country's fourth largest brokerage.
It's big. Olympus was supposed to be a paragon of corporate society, said Darrel Whitten, managing director at Investor Networks Inc, an investor relations consultancy.
DEFERRING LOSSES
Takayama said he believed the loss-postponement scheme had started before the 1990s.
The firm said it had funneled money related to the acquisitions through various funds and other measures to defer posting the unspecified losses, similar to practices seen after Japan's bubble economy of soaring asset prices burst in 1990.
While Olympus did not offer concrete details, Takayama said he believed the company may have initiated the loss-postponing scheme when its earnings had taken a drastic turn for the worse, possibly during a period of yen strength.
Such a scheme may have involved creating a fund or special purpose vehicle to buy battered securities at book value, getting them off Olympus' balance sheet. The cost to fund that scheme would have ballooned over time.
Nippon Life Insurance, the biggest shareholder in Olympus, urged the company to be more transparent in its explanations.
The members of the board appear to have breached their fiduciary duty owed to the company and to the shareholders, said Keiji Isaji, an attorney with K&L Gates law firm in Tokyo.
A spokesman for the Tokyo Stock Exchange said the bourse needed more information before deciding whether to put Olympus shares under supervision, a step toward possible delisting.
The spokesman said Olympus needed to examine the size of the deferred losses and whether they had an impact on shareholder investment decisions before taking further action.
POSSIBLE CRIMES
Lawyers said if Olympus had knowingly falsified its consolidated financial statements that were deemed material in nature, its representatives could face up to 10 years in prison or a fine of up to 10 million yen.
Legal experts also said outside auditors might be criminally liable.
Reuters reported last week that Olympus replaced its auditor, KPMG, in 2009 after a disagreement over how to account for the controversial acquisitions.
In a confidential internal document obtained by Reuters, Kikukawa, the firm's then president, wrote to Olympus executives in the United States and Europe, revealing there had been a disagreement with KPMG which he did not plan to disclose to the stock market.
In May 2009, Kikukawa announced the contract with KPMG had ended and that another global accounting firm, Ernst & Young, would take over. Ernst & Young said it had no comment on the Olympus disclosure.
Olympus has come under growing pressure to reveal more information to address shareholder concerns in the escalating scandal, which has prompted law enforcement agencies in Japan and the United States to investigate.
The company suddenly fired Woodford on October 14, when he was just two weeks into the job, saying he failed to understand the company's management style or Japanese culture.
Woodford said he was forced out for questioning the $687 million paid for advice on the Gyrus acquisition, the biggest fee in M&A history and a departure from the 1-2 percent fee normally applied to the value of such deals.
He also questioned the acquisitions of the three small Japanese firms.
Woodford told Reuters on Tuesday the Olympus board should resign. The position of the board and non execs is untenable now, Woodford said by phone from London.
He added that it was his desire to return to manage the endoscope maker should shareholders wish to reinstate him.
Olympus, founded as a pioneering Japanese manufacturer of microscopes, branched into cameras in the 1930s and two decades later expanded into gastrocameras, which became its mainstay profit earner as its endoscopes captured 70 percent of the global market.
Some market players said Tuesday's disclosure could mean the worst of the news was over.
But there are still investors who won't take chances and will continue to sell their holdings so the company could fall to its book value, after which it could be a potential acquisition target, said Fujio Ando, senior managing director at Chibagin Asset Management.
($1=78.0 yen)
(Additional reporting by Chikafumi Hodo, Tim Kelly, Lisa Twaronite, Antoni Slodkowski: Writing by Linda Sieg; Editing by Michael Watson, Edmund Klamann and Miyoung Kim and Dean Yates)
© Copyright Thomson Reuters 2023. All rights reserved.
FOLLOW MORE IBT NEWS ON THE BELOW CHANNELS