Omar al-Bashir Can Still Be Arrested Anywhere, By Anyone Who Wants To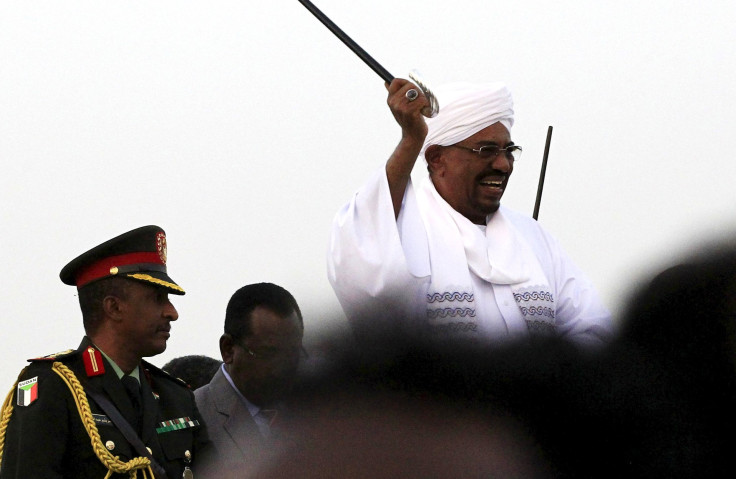 Sudan's President Omar al-Bashir successfully departed South Africa Monday, continuing a long streak of defiance in the face of the International Criminal Court's warrant for his arrest for genocide and crimes against humanity in the Darfur conflict. Returning to Sudan, Bashir found himself in a murky status quo concerning his place in the international justice system: internationally wanted and susceptible to arrest but a free man due to a global lack of will to turn him over to authorities.
Under international law, anyone in any country can arrest someone like Bashir -- a person with an outstanding international arrest warrant for involvement in mass atrocities. But Bashir has escaped the clutches of the ICC for years, simply because authorities in Sudan and countries he's visited haven't turned him in.
"As much as we try to pretend it doesn't exist in the rule of law and the legal dimension, it looks like that's what it's really coming down to -- political will of states to carry out legal obligations," said Monica Feltz, executive director of the International Justice Project (IJP).
"It's such a shame that this happened," she added, referring to Bashir's successful exit from South Africa Monday. "It's a real stain on the ICC."
The ICC's outstanding warrant for Bashir's arrest alleges he was responsible for the deaths of thousands of people during the Darfur conflict. The warrant includes counts for murder, torture and extermination, genocide by killing and indirect command of attacks against civilians as leader of the Sudanese army during the conflict.
Many international law experts say that any country, as a member of the United Nations, can exercise authority through the U.N. charter to arrest Bashir. Signatories to the Rome Statute, the treaty that created the ICC and established its areas of jurisdiction, are specifically required to comply with international arrest warrants.
Bashir's visit to South Africa for the African Union summit, which began June 7 and concluded Monday, presented the ICC with its best chance in years to arrest the Sudanese leader, given that South Africa is a signatory to the Rome Statute and is considered to have a strong, independent judiciary. But Bashir landed back in Sudan on Monday despite a court ruling that ordered him to stay in the country and another calling for his arrest.
Technically, Bashir is still susceptible to arrest. But since Sudan doesn't recognize the ICC's warrant or jurisdiction, chances remain slim that Bashir will face arrest in his home country. He's also freely traveled to several countries since the arrest warrant was issued in 2009, including Qatar, Egypt, Saudi Arabia and Libya, none of which took any action to turn him over to ICC authorities.
Hypothetically, an outside actor can come into Sudan and arrest him as well. It would be legal under international law but would also prompt a host of controversies over sovereignty, said Raymond Brown, one of the co-founders of the IJP.
"There's tension between a sovereign that says, 'We're supreme within our own borders,' and international law that says you can't anywhere, ever, commit these kinds of crimes," Brown said. "But in reality, international law's position that genocide is a crime is not subject to much dispute."
Sudan has rejected the ICC's jurisdiction, saying the court has no bearing over Sudanese nationals regarding the Darfur conflict. Sudan and a number of other countries, as well as the African Union, have long criticized the international court, arguing that it has disproportionately targeted African leaders. The African Union granted diplomatic immunity to the heads of state at the summit, which allowed Bashir to attend.
But other countries that are signatories to the Rome Statute, like Nigeria, Chad and Kenya, declined to turn Bashir in after he visited them in recent years.
One of the main obstacles in arresting Bashir is the fact that there are no penalties for refusing to turn him in, Feltz said. "At the end of the day, you might get a 'Shame on you' and a wrist slap, but there are no real sanctions or punishments if you don't follow through with your legal obligations," she said. "There's no police force at the ICC, so it's all about state will and cooperation."
It's still unclear whether South Africa will suffer repercussions for failing to arrest Bashir despite the court orders. Meanwhile, the episode has dealt another blow to the ICC's image, amid existing criticism that the court is toothless against those accused of genocide and crimes against humanity.
But Brown said the incident, with the ensuing international uproar, would still be a lesson for Bashir. "I think he'll be more careful from this point on. This was an exercise in hubris," he said. "The best I can tell is that he made the calculation that he would slip in and out before anybody would take action. And it turns out that the civil society around the world is more focused than we thought."
© Copyright IBTimes 2023. All rights reserved.
FOLLOW MORE IBT NEWS ON THE BELOW CHANNELS