Online Shopping Forcing Earlier And Earlier Black Friday Openings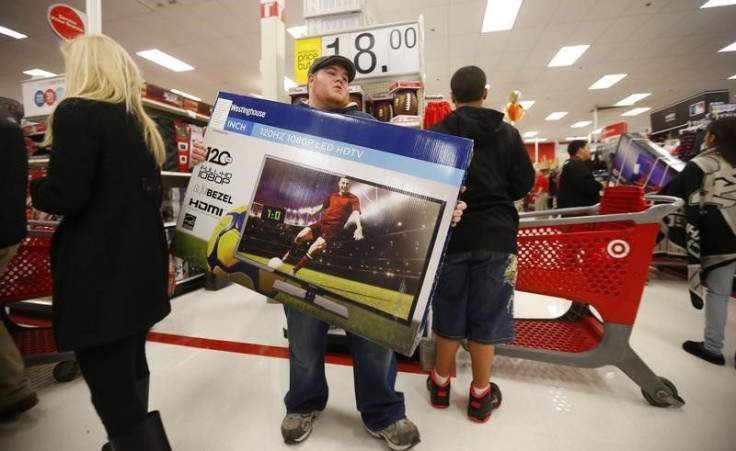 Blame online shopping for the earlier and earlier Black Friday sales events at brick-and-mortar stores. Retailers like Macy's and Best Buy are opening their doors earlier than ever Thanksgiving Day in an attempt to lure customers who may otherwise shop online from rivals like Amazon.
Opening earlier won't boost sales — shoppers have the same number of relatives on gift lists and the same amount of cash — but it will likely end the Thanksgiving holiday spending frenzy sooner.
"What used to be a Friday-Saturday-Sunday blitz has turned into a Thursday-Friday-little-bit-of-Saturday blitz," Marshal Cohen, chief industry analyst at market researcher NPD Group, said.
What this means is that Black Friday–after a decade of prominence as the biggest shopping day of the year—may be losing its impact. Fewer than a third of Americans say they'll shop on Black Friday. Last year, brick-and-mortar retail sales on Black Friday fell 13.2 percent from 2012, according to ShopperTrak. Before the 1990s, the biggest shopping day of the year in the U.S. was "Super Saturday," the Saturday before Christmas Day.
Consulting firm Deloitte forecasts online sales over the holiday season will rise by 14 percent from last year, compared to 4 percent growth for retail sales overall. ShopperTrak forecasts brick and mortar in-store sales during the November-December period will increase by less than 3 percent this year from last year.
Adobe, which analyzes e-commerce data of the more than 5,000 retailers that use its software, forecasts record sales of $1.35 billion on Thanksgiving Day, a 27 percent increase over last year. The company expects $2.48 billion in e-commerce on Black Friday, a 28 percent increase from last year, but $2.6 billion on Cyber Monday, a comparatively modest 15 percent increase.
Just three years ago, online stores had Thanksgiving Day nearly all to themselves. Then retailers saw their market share fall. So the next year, a few stores opened their doors on the holiday. Now, retailers feel pressure to follow suit because if they don't they risk losing customers to competitors who open.
This year, Best Buy, J.C. Penney and Toys R Us will open at 5 p.m. Thanksgiving Day, an hour earlier than Target, Sears, Kohl's and Macy's. Last year, the same four retailers opened at 8 p.m. on Thanksgiving. RadioShack is opening at 8 a.m. Thanksgiving, only to close at noon and reopen at 5 p.m. And Kmart will stay open for 42 hours straight, beginning at 6 a.m. Thanksgiving.
Still, dozens of retailers are vowing to stay closed on Thanksgiving, pitching their decision as the best one for employees and shoppers to spend time with family and friends. Costco, T.J.Maxx and Barnes & Noble, among others, won't open for the holiday.
Michael C. Fina, a family owned jeweler and fine goods retailer in Manhattan, won't open Thanksgiving Day either. Since the 1960s, the store has made luxury gifts like clocks for companies to honor employees. Helping companies to recognize employees and increase workers' engagement has become 90 percent of its business.
"These companies closing on Thanksgiving really focuses in on the culture they're trying to be," said Cord Himelstein, Michael C. Fina's vice president of marketing and communications. "You're going to lose some business, but they make up for that with their employee engagement and how that adds into the time after Thanksgiving Day. They come into work on Black Friday and they're ready to go."
But these are outliers; most of the retail industry is plowing ahead full speed.
"Thanksgiving is not a religious holiday. Thanksgiving is an American heritage," Cohen said. "We have commercialized every other holiday. So if you think about, Thanksgiving is just another one on the list. Who could get mad at you?"
© Copyright IBTimes 2023. All rights reserved.
FOLLOW MORE IBT NEWS ON THE BELOW CHANNELS