Only Afghanistan Is Worse: Crisis Looming In Yemen As Malnutrition Rises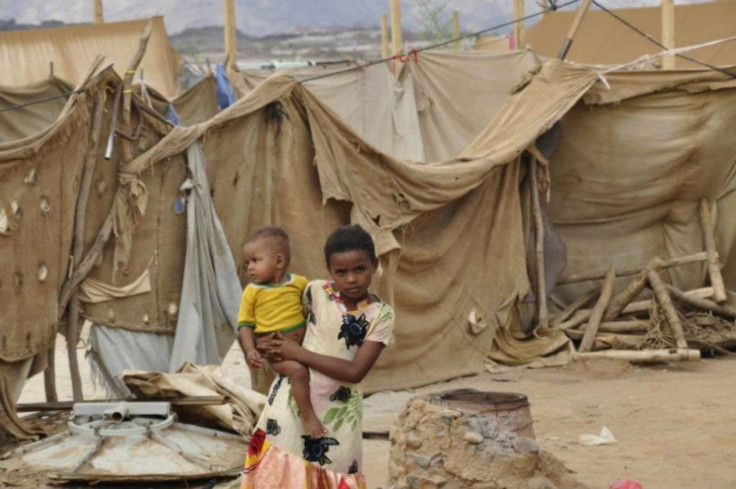 CAIRO, Egypt -- The poorest country in the Middle East has been plagued for years by political violence, and now the risk of a humanitarian disaster due to malnutrition has added to Yemen's woes. The United Nations Children's Fund reports that 1 million children in Yemen are acutely malnourished, while hundreds of thousands more face starvation.
Close to 60 per cent of Yemeni children under the age of five today are suffering from chronic malnutrition, said Gert Kapelari of UNICEF, ranking Yemen second only to Afghanistan as the country with the highest level of malnutrition in the world.
Yemen has seen hunger among its population double since 2009, according to the World Food Program. The spike is due largely to soaring food and fuel prices amid political and economic turmoil.
Relief group Oxfam estimates that 44 percent of the population, or about 10 million people, is going hungry. Additionally, a May report from the WFP claims 5 million people are in need of urgent emergency aid and, according to UNICEF, over a quarter of a million children under the age of five are at risk of dying.
Various aid agencies insist that the country is facing an imminent humanitarian disaster, with conditions unlikely to improve. Food and fuel prices are expected to keep rising, an especially grave problem because the country is dependent on international food markets. (Yemen imports upwards of 90 percent of its staple foods, such as wheat and sugar).
Adding to the dire situation, unemployment numbers continue to skyrocket, and more than half of the population lives on less than $2 a day. And the recent political instability has greatly increased the number of internally displaced people, which has led nearly 670,000 people in the country to be reliant on food aid, according to Al Jazeera.
"It's worse than we had thought," said Jamal Benomar, the United Nations envoy to Yemen. "The latest figures for Yemen are not far from the situation in the Sahel in Africa or Afghanistan, but unfortunately this is not attracting attention from the world," he told the New York Times.
Following violent protests and external pressure in 2011, Ali Abdullah Saleh agreed to step down after a 33-year rule as president and allow for a smooth democratic transition, which has not happened yet under new president Abdu Rabbu Mansour Hadi.
The European Union recently said it would provide an extra $6 million in humanitarian aid. But other international donors remain wary of contributing until security in the country is enhanced.
© Copyright IBTimes 2023. All rights reserved.