OPEC Meeting Preview - Five Things You Should Know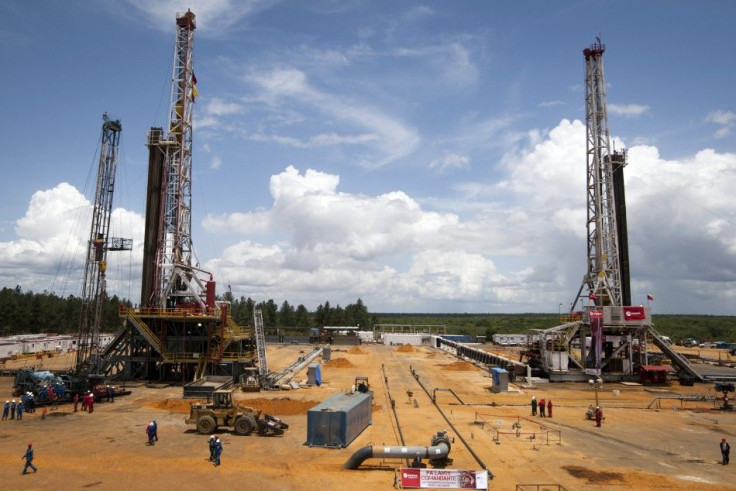 Leaders of the world's 12-member crude oil cartel gather this week in Vienna in a meeting likely to result in rubber stamping the group's current level of production. It is also expected to feature a fierce if gratuitous tug-of-war between Saudi Arabia, the cartel's dominant producer, and Iran, its perpetual nemesis.
The Organization of Petroleum Exporting Countries meeting Thursday comes amid low economic performance around the world and on the heels of high oil prices in the past couple of months sparked by tensions between Iran and Western powers.
Recently, Saudi Arabia increased its production to help ease the overheating oil market. Going into the meeting, crude prices in the U.S. fell on Monday by $1 to $82 a barrel. Brent crude in London, used to index the international price of oil, fell by more than $1 to $97 a barrel. While the world's economies welcomed the drop in price, OPEC members are now worried it has fallen too far.
As the world waits to see what will come of the meeting, here are five things you should know.
1) The usual suspects will engage in the usual skirmish
On one side are Iran, Iraq, Venezuela and Algeria, who will pressure Kuwait and the Persian Gulf emirates, but most notably, Saudi Arabia, to scale back production. The more these countries overproduce, the more the price of a barrel of oil will drop. Iran, hammered by Western sanctions, needs oil to be at $117 a barrel for it to have a balanced budget. War-torn Iraq, which suffered devastating Western sanctions under Saddam Hussein's regime before the U.S. invasion, needs oil at $95 a barrel for its budget to be balanced.
On the other side are Saudi Arabia, Kuwait and the Persian Gulf emirates. Because they have relatively long-lived reserves, it is in their interest to maintain robust crude oil output to keep prices down and, thus, preserve their global market.
The skirmishing has already begun. Saudi Oil Minister Ali al-Naimi said his country needs to be allowed to produce more than it currently does, citing OPEC estimates that demand for member-produced oil will reach 30.7 million barrels per day on average by the end of the year, which is just less than what it currently produces.
2) OPEC doesn't matter ... but Saudi Arabia does
OPEC is less and less important. One reason is that the cartel has competition from nonmember nations like Russia, the United States and Brazil. Hydraulic fracturing has led to a monumental increase in U.S. natural gas and oil production, which will only increase further as the country's demand for those resources grows. Federal policies have also helped lower by half the amount of oil the U.S. imports, leading some industry analysts to suggest the country could be energy self-sufficient within a decade.
Further, Brazil has experienced a surge in offshore oil production and is set to reap the benefits of some of the largest finds of oil and natural gas in several decades. The discoveries could cut into OPEC member exports and thus limit the bloc's influence.
As the cartel's influence wanes, the importance of its dominant member grows. Saudi Arabia, with its 9.8 million barrels a day of production, is the group's top producer.
3) In a dangerously unstable global economy, OPEC oil production is a rock of stability
The global economy is under threat from the euro zone's now-three-year-old sovereign debt crisis and, to a lessor extent, China's slowing growth. Greece is expected by many to leave the euro zone and Spain appears to be in dire financial straits. Such uncertainties make planning for investors, bankers and governments extremely difficult.
But in the middle of all the euro zone and Chinese uncertainties is OPEC oil production, steadily supplying what an increasingly fragile global economy demands. In other words, crude oil production from OPEC -- once excoriated in the developed world -- is now one of the world economy's most reliable forces.
That's good news for much of the rest of the world: OPEC affects the price of oil that in the end prompts the price of almost every other good the world consumes. Every facet of the global economy relies on oil. The more expensive the barrel, the more gasoline and jet fuel will cost. This means shipping goods across the country will rise as well and the most basic comsumer goods like milk and beef will rise as well.
4) Saudi Arabia neither needs nor wants to cut output
Any OPEC member can unilaterally decide to cut output, whether to put upward pressure on prices or for political reasons. But there is little reason for the cartel to take such steps now.
For one thing, Western powers are preparing another round of sanctions against Iran to begin in July. That will cut back on the amount of OPEC oil on the market, and so Saudi Arabia, if not OPEC itself, has no need currently to cut production, Capital Economics said in a note. In other words, the sanctions against Iran will cut production for OPEC.
For another thing, Saudi Arabia has every incentive to preserve its global market by keeping prices low enough to discourage a search for alternative fuels, that is, to preserve current demand. With China's economic growth slowing, the euro zone economic crisis worsening and economic data from the U.S. less than optimistic, Saudi Arabia wants to keep its customers healthy enough to demand lots of crude oil.
They're not going to want to rock the boat, Mike Wittner, head of oil research for the Americas at Societe Generale SA in New York, told Reuters. This is a very fragile time for the global economy so I don't think they're going to take any action. There's no way that OPEC is going to announce any cut or even say that very strongly.
5) The price of oil will keep sliding
No matter what OPEC countries decide to do, says Capital Economics, they will not be able to curb crude oil's price decline since member countries, either individually or as a single cartel, will continue exceeding their production quotas.
Last year, OPEC members had their own production quotas, but those were done away with in December in favor of a blanket 30 million bpd production limit. But that limit was also exceeded.
Prospects that the OPEC nations will find the discipline that has eluded them since they formed the cartel seem to be minimal.
FOR FREE to continue reading
✔️ Unlock the full content of International Business Times UK for free
offer available for a limited time only
✔️ Easily manage your Newsletters subscriptions and save your favourite articles
✔️ No payment method required
Already have an account?
Log in
© Copyright IBTimes 2023. All rights reserved.