#OpTurkey: Anonymous Hacks 145 Turkish Websites And Shares Free Internet Access To Protestors In Turkey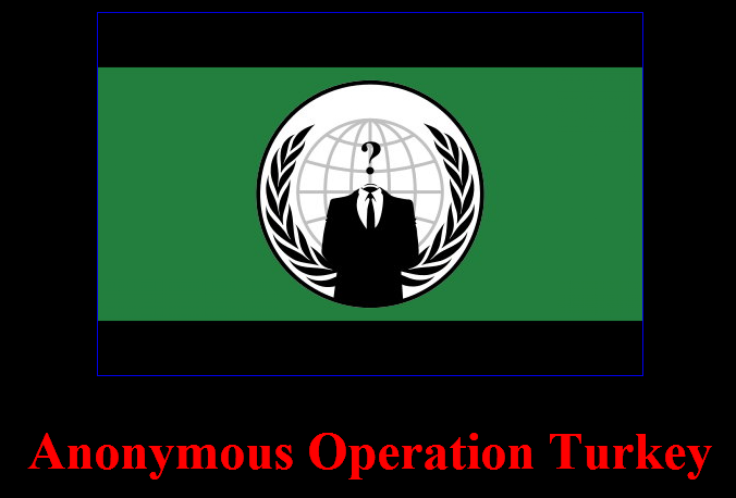 Anonymous, the international collective of hackers and activists, has continued its online cyberattack on Turkey's Internet infrastructure that began over the weekend. In response to a violent police crackdown of protesters and censoring communications, Anonymous launched #OpTurkey and have now hacked over 100 Turkish websites, including several belonging to the Turkish government.
"We will attack every Internet and communications asset of the Turkish government," Anonymous threatened in a YouTube video posted Sunday. "You have censored social media and other communications of your people in order to suppress the knowledge of your crimes against them. Now Anonymous will shut you down, and your own people will remove you from power."
Anonymous used distributed denial of service, or DDoS, hacks to overload servers and knock target websites offline. In addition to websites belonging to the Turkish government, political parties and police department, Anonymous hacked websites belonging to media outlets that support Prime Minister Tayyip Erdogan. One example was the private news broadcaster NTV, which was criticized for not reporting on the police brutality.
Other Turkish websites were hacked and defaced to include images supporting the protesters in Turkey. Several Tunisian hackers got involved with #OpTurkey and claim to have hacked more than 145 Turkish websites.
The Turkey protests began as a peaceful demonstration against plans to build over Gezi Park in Taksim Square. The protest changed to a call for Erdogan to resign and police responded with tear gas and pepper spray. Several international human rights groups have condemned the police action in Turkey as excessive use of force.
Turkish protesters have said that the government has shut down Internet connections and censored social media websites in an attempt to hide the police brutality. While these reports haven't been confirmed, Erdogan has expressed distaste for social media, calling it "menace." To combat, Anonymous has shared how to use encryption software to evade government censors and have tweeted passwords to free virtual private networks.
Earlier this year, Anonymous launched cyberattacks against North Korea and Israel and hacked several government websites. Last week, Anonymous joined a protest in solidarity with the hunger strike in Guantanamo Bay, effectively making the protest the No. 1 topic on Twitter.
© Copyright IBTimes 2023. All rights reserved.
FOLLOW MORE IBT NEWS ON THE BELOW CHANNELS