Pakistan Wishes For Prosperity As It Celebrates Its 67th Independence Day
As Pakistan celebrates its 67th Independence Day on Wednesday, United Nations Secretary-General Ban Ki-moon, who was on a two-day visit to Pakistan, addressed the nation saying that the promotion of democracy would take the country forward.
Ban was taking part in a function at the Convention Center in the nation's capital city, Islamabad, which was attended by Pakistan Prime Minister Nawaz Sharif and other government and military figures. And, in separate Independence Day messages, Pakistan's President Asif Ali Zardari and Sharif urged people to work together to make Pakistan a progressive nation.
Allvoices, a news website, reported that traditionally, the president and prime minister of the nation use their Independence Day address to highlight their achievements of the past year, and set goals for future development of the country.
According to reports, celebrations began early morning with a 31-gun salute in the national capital of Islamabad and a 21-gun salute in provincial capitals. Celebrations across the nation paid tribute to the country's founding father, Muhammad Ali Jinnah, and other prominent personalities. Special prayers for the nation's growth were also offered.
Independence Day is an official holiday in Pakistan, and flag-hoisting ceremonies were held at provincial capitals, district headquarters and important institutions across the country.
And, despite a surge in recent hostilities with neighboring India, the Pak Rangers -- a force that guards a section of its border with India -- offered sweets to Indian Border Security Force, or BSF, officials at a joint check post to mark the occasion.
"It is their Independence Day, they offered us sweets which we accepted, it is a border tradition," M.S. Farooqui, a BSF official stationed on the Indian side of the border in the state of Punjab, told the Times of India. He said they would reciprocate the gesture on Aug. 15, when India celebrates its Independence Day.
But, celebrations in some parts of Pakistan were marred by protests. The Express Tribune reported that supporters of Jamaat ud Dawa, a hard-liner party, torched an Indian flag during an event in Karachi to protest the fighting along Pakistan and India's disputed border.
Pakistan borders India on the east, and Iran and Afghanistan on the west, with China to its north. It is almost twice as big as California, and is the sixth-most populous nation in the world after China, India, the US, Indonesia and Brazil, according to the CIA's World Factbook.
Independence Day in Pakistan was originally celebrated on Aug. 15, as independence from British rule officially took effect on the midnight of Aug. 14. And, according to reports, the first postage stamps of the country also gave Aug. 15 as Pakistan's Independence Day. But, in subsequent years, Aug. 14 began to be celebrated as the nation's Independence Day as the 27 Ramadan, an auspicious date on the Islamic calendar, coincided with the day.
Pakistan means "land of the pure" in both Persian and Urdu.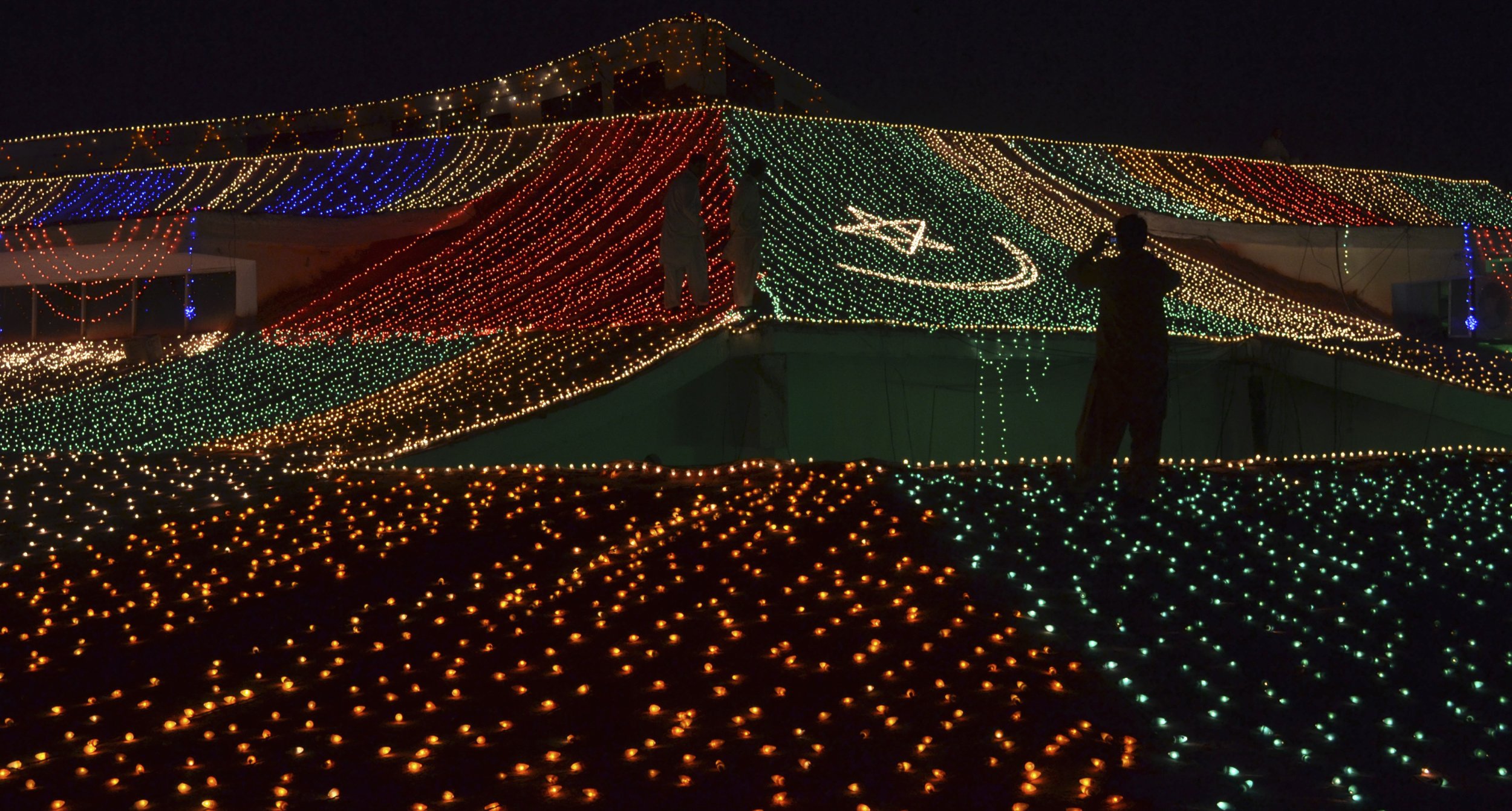 © Copyright IBTimes 2023. All rights reserved.