Palestinian Prisoners Stage Hunger Strike In Israel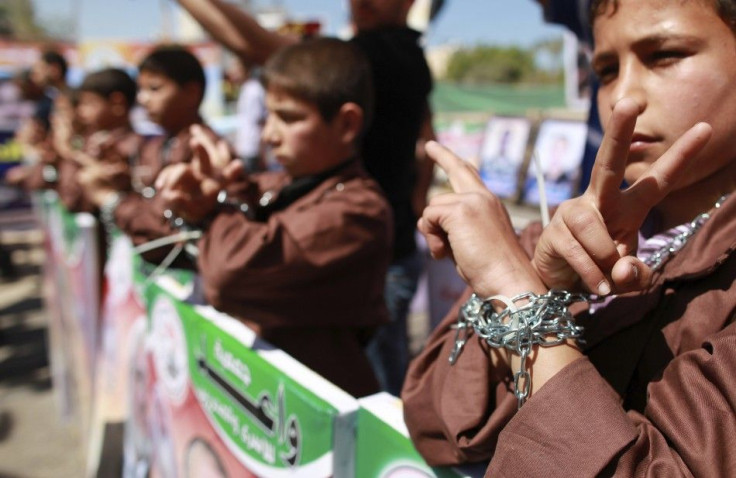 A total of 1,200 Palestinian prisoners across Israel's jails began an open-ended hunger strike on Tuesday, protesting against Israel's use of administrative detention and the intolerable treatment of inmates.
The Palestinian detainees who are on [a] hunger strike are protesting Israel's treatment [of] prisoners inside the Israeli prisons. They are protesting Israel's policy of administrative detention and solitary confinement for prisoners for months at a time. They are protesting the arbitrary fines imposed on prisoners by the Israeli authority, said Amani Sarahna, spokeswoman for the Palestinian Prisoners' Association club, according to CNN.
Despite the Israeli government's assertion that prisoners are treated fairly and humanely, the hunger strikers are also protesting against alleged strip searches of visiting family members and night searches of prison cells, reported Israel news agency, Haaretz.
According to Agence France Presse (AFP), three-quarters of the 4,700 Palestinians held in Israeli jails refused to eat their food, citing the Israel Prisons Service (IPS). Of that figure, 2,300 male and eight female prisoners warned they will refuse food throughout the day, while another 1,200 said they were starting a hunger strike, IPS spokeswoman Sivan Weizman said.
At IPS, we have coped with hunger strikes in the past and we are prepared to do so again now, she added.
Outside the jails, thousands rallied in cities and towns across the West Bank and Gaza to observe Prisoner's Day.
Marches were held and sit-ins staged while people waved Palestinian flags and held up pictures of relatives held in custody.
In Nablus, a city in the northern West Bank, 3,000 people gathered in Shuhada Square. Another 1,500 rallied together in Hebron, located in the southern part of the West Bank, reported the AFP.
Around 1,000 came together in Ramallah, West Bank for a planned sit-in near Ofer prison, according to Al Jazeera.
We are united and undivided when it comes to prisoners, and we will stand by them until they get their demands, said Qadura Fares, head of the Palestinian Prisoners Club, according to the AFP.
The hunger strike in commemoration of Prisoner's Day also coincides with the expected release of inmate Khader Adnan, who refused food for 66 days during his incarceration before this mass hunger strike.
Israeli Administrative Detention
The contentious issue provoking the mass protests and hunger strike is Israel's practice of administrative detention, used especially against Palestinian prisoners.
Administrative detention allows for individuals suspected of being a threat to national security to be pre-emptively imprisoned, without any formal charges, without a trial, and for an unlimited amount of incarceration time.
The practice of administrative detention is not illegal under international law. Article 78 of the Fourth Geneva Convention does indeed allow an occupying power to detain suspected people for imperative reasons of security, explained The Times of Israel.
However, critics denounce administrative detention as a violation of human rights as it bypasses the legal right of due process. On the other hand, proponents of the measure believe administrative detention is an effective last-resort tool against terrorism.
Indeed, administrative detention is a global practice, used by democratic countries and undemocratic countries unlike.
The War on Terror has spurred the United States, especially under the Bush administration, towards further use of administrative detention against suspected terrorists.
© Copyright IBTimes 2023. All rights reserved.
FOLLOW MORE IBT NEWS ON THE BELOW CHANNELS