Palestinians Chant 'Intifada' At East Jerusalem Funeral Held For Revenge Killing Blamed On Israel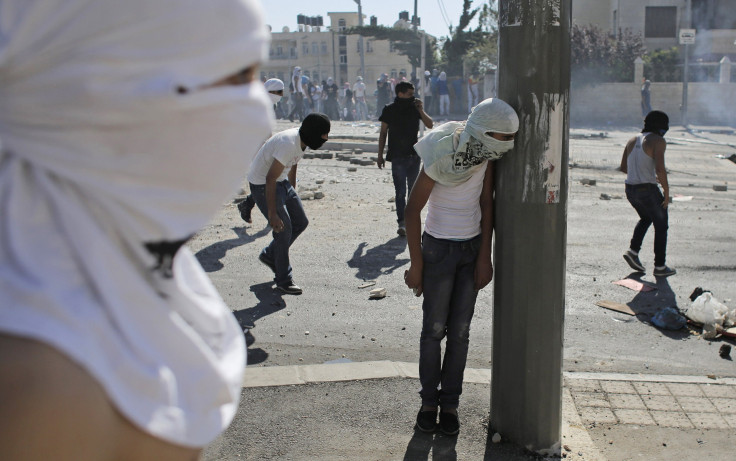 Thousands of people attended the funeral of a slain Palestinian teenager in East Jerusalem amid heightened tensions with Israel, the BBC reports.
Mohammad Abu Khdair's family says he was killed in revenge for the killings of three Israeli teenagers in June, but police have yet to establish a motive.
He was buried at a cemetery near the family's home in the Shufat district.
Hundreds of Palestinian youths clashed with Israeli police in East Jerusalem before and after the funeral.
The funeral came as Israel and Palestinian militants in the Gaza Strip continued to trade fire into each other's territory though with less intensity than in recent days.
Chanting "Intifada, Intifada," thousands of furious Palestinians called for a new uprising against Israel during the funeral on Friday for the teen they say was kidnapped and killed by far-right Jews, Reuters reports.
Stones thrown at Israeli police were met by teargas, stun grenades and rubber bullets in one of the most highly charged displays of enmity in Jerusalem in years as the Khudair's body, wrapped in a Palestinian flag, was carried through his neighborhood under a sweltering sun, Reuters reports.
Medics said 15 demonstrators were treated for injuries. There was no immediate word of arrests by the Israelis.
Earlier Friday, a Hamas source was quoted as saying the organization was ready to halt its rocket and mortar attacks on southern Israel if the Israeli military ceased its air raids on the Palestinian territory, as part of a cease-fire deal brokered by Egyptian officials.
However, another Hamas official, speaking to the BBC later, said an agreement had yet to be reached.
An Israeli security official told the BBC: "The ball is in Hamas' court. We informed Hamas that calm will be answered with calm."
Israeli officials handed the Khdair's body over to his family Friday morning.
It was said to be badly burnt following his abduction and murder, slowing the identification process and preventing the family from burying him on Thursday in line with Islamic tradition.
Shrouded in a Palestinian flag, it was carried by mourners through the streets of East Jerusalem after the first Friday prayer services of the Muslim fasting month of Ramadan.
A major Israeli security operation was launched in East Jerusalem, with police officers firing stun-grenades at stone-throwing Palestinians in the Ras al-Amud and Wadi Joz areas.
It was the third consecutive day of clashes in East Jerusalem.
Israeli Prime Minister Benjamin Netanyahu blamed the deaths of the three kidnapped Israeli youths on Hamas and called on Palestinian President Mahmoud Abbas to abandon a reconciliation deal his Fatah movement had struck with the group. Hamas has denied any involvement in the murders.
At another flashpoint, the Gaza Strip border, Palestinian rocket and mortar launches, followed by Israeli artillery shelling, persisted Friday but no one was hurt.
Palestinian officials trying to calm tensions in recent weeks have said they would prevent any intifada, or uprising, and seek a solution to a crisis that began when the Israeli teens were kidnapped in the occupied West Bank June 12.
The discovery of their bodies on Monday prompted an outpouring of national grief in Israel. Tensions spiked after Khudair, 16, was kidnapped Wednesday in his Arab neighborhood in Jerusalem and found hours later in a forest on the edge of the city.
Many Palestinians, including Abbas, assert he was the victim of far-right Jews incensed at the discovery of the remains of the three Israeli teenagers.
With Israel having mobilized ground forces outside Gaza on Thursday in a threat to invade, Egypt tried to mediate a truce. Israel and the Islamist Palestinian Hamas movement each said the other had to back down first.
Netanyahu called Khudair's killing a day after the seminary students were buried "loathsome" and ordered a swift police investigation. Israeli authorities said they did not yet know whether the Palestinian youth was indeed the victim of a hate crime.
The slayings of the young Palestinian and Israelis ramped up mutual aggravation that has festered since Netanyahu quit U.S.-sponsored peace talks in April over Abbas's surprise power-share with rival Hamas Islamists.
Netanyahu accused Hamas militants of seizing the three Israelis and the military mounted a 2 1/2-week-long search in the West Bank and a sweep against the movement's activists and institutions. Hundreds of Palestinians, many of them Hamas members, were detained.
© Copyright IBTimes 2023. All rights reserved.